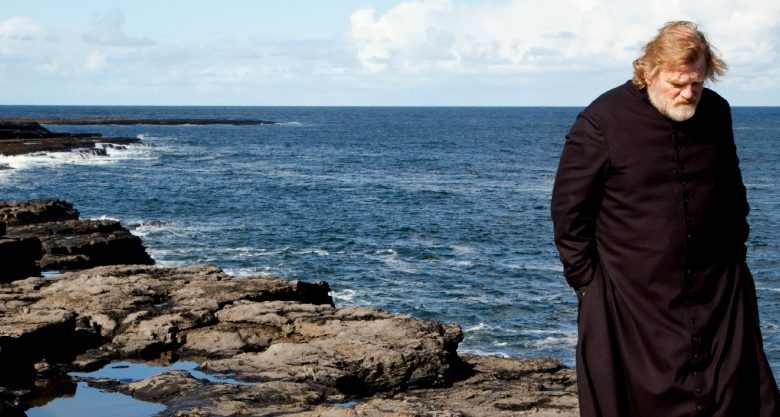 Starring popular Irish actor Brendan Gleeson, who in movies like "The Guard" and "In Bruges" has built a career out of making unlikable men likable, "Calvary" broke the mold of how Hollywood addresses the issue.
Rather than spotlighting the bad priests without showing the many more who are innocent of such actions, "Calvary" focuses on the tragedy of good priests being labeled for the sins of the evil ones.
CALVARY: Official HD Trailer
Gleeson played Father James, a small-town priest who in the film's opening, hears a disturbing confession from a man who says he was abused by priests as a child. Years later, the man wishes he could kill the priests involved as revenge for ruining his life. Since they have all either died or disappeared, his goal is to kill Father James instead.
He tells Father James that he has a week to get his affairs in order before he'll return to kill him in cold blood. Then the man disappears, leaving Father James to wrestle over whether to sacrifice himself for the sins of the other priests, run or refuse to go down for their crimes.
After a successful run in a few hundred theaters, "Calvary" makes its debut on DVD and Blu-Ray Dec. 9. Gleeson took a few minutes to share his thoughts on the movie and the issue of priestly abuse, and how his often dark journey making the film affected his own faith.
"It was obviously a subject fraught with trauma, intensity, pain and anguish. It goes to the heart of everything I suppose one way, in the sense that if you can't protect your children, where do you start?" says Gleeson. "I talked with [writer-director John Michael McDonagh] about it, going at it from the perspective of a good man, which allows us to ask the questions from a man who absorbs the pain in his ear and responds to it without it letting it go into a vacuum. It was difficult, but I felt John was very fair in the way he dealt with it. He didn't become didactic in any way. He held up a flag for compassion and the better side of human nature."
Even in the depths of the Catholic Church's crisis in America in 2002, when the sexual abuse revelations were exploding, one report says 4 percent of priests were even accused, much less proven, of such offenses. Yet for the remaining 96 percent who carry on their sacred duties on a humble daily basis, many had to endure being painted with the same broad brush strokes by the media.
It is that quiet frustration that Gleeson powerfully depicts in his performance.
"The consequences of abuse last through life. It would have been easy to take a bad priest and make a film about him. It's far better to take the reality that a good priest has to answer for the abuses perpetrated," Gleeson says. "What's essential is he tries to make atonement for some of that, and tries to re-instill hope and compassion in the people abused and the people who have given into despair and cynicism."
While Gleeson was raised Catholic, he chooses to keep his current faith status private. He feels any awareness people have will cloud their perception of his performance. He says that he didn't enter the role with either a pro- or anti-Catholic agenda.
"It's unusual to find a person with a simple faith, simple hope and compassion. The film has made a different impact on people than any I've done ever," says Gleeson. "I think the honesty allows people to be moved by the experience in the film in a very different personal way. You've done a piece of art when the relationship is personal like that."
This interview was originally conducted by Carl Kozlowski for the podcast "Kozversations" on www.radiotitans.com. Here is the full audio of the interview. Kozlowski is an occasional contributor to Breitbart.com's Big Hollywood, as well as a critic for the Catholic News Agency and Movieguide, He is the arts editor and film critic for the Pasadena Weekly and the founder of the podcasting station Radio Titans.
DID YOU KNOW: Brendan Gleeson has four sons including Domnhall Gleeson, who plays a convicted serial killer in "Calvary."