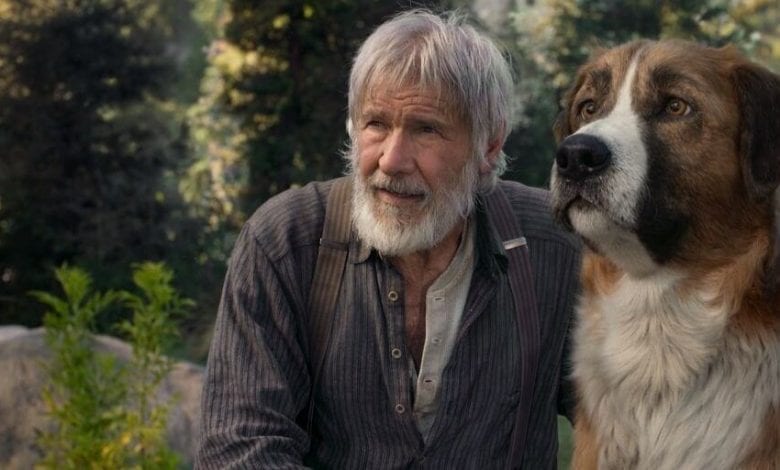 Few things connect with audiences like a devoted dog and his owner.
Even the silly "Beethoven" franchise scores points on that front. What happens when that dog is comprised of ones and zeroes, not fur and flesh?
It's impossible to watch "The Call of the Wild" without asking that question over and again. The film's creative team opted for a fully CGI Buck to revisit Jack London's classic yarn.
That allows for a dog who does everything on cue, including facial expressions the best trained pups couldn't match. But at what cost? Just know this family-friendly spin on London's yarn will intermittently win you over despite that baffling choice.
And you can blame the once and future Indiana Jones for that.
The Call of the Wild | Official Trailer | 20th Century Studios
Big, lovable Buck lives a relatively easy life. Sure, his antics give his owner grief, but he's loved and cared for like any doggie craves. Poor Buck gets stolen early in the film, and suddenly his posh life is now one of servitude.
He's forced to be part of a dogsled crew, and while he's big and strong the learning curve is steep. It's the first of several life changes for the massive mutt, but at every turn he bumps into John Thornton (Harrison Ford) an old timer with a soft spot for animals.
The two eventually team up, hardly a spoiler alert, but that's not the end of their trials, tribulations and absurd plot contrivances.
"The Call of the Wild" removes the challenging adult elements from London's book, replacing them with kid-friendly tropes and seriously goofy plot twists. Poor Dan Stevens, cast as a cad who keeps running afoul of Buck and John. His character proves as one dimensional as an old school cartoon.
Can Snidely Whiplash get royalties for this?
It's hard to shake Buck's CGI roots, but the FX team in question does integrate his presence with his fellow "actors' seamlessly. So when John cozies up to Buck, or just ruffles his fur, it's authentic. That's critical. Had the visual team missed those marks the film would essentially collapse.
#RT @IMDb: 'The Call of the Wild' stars Harrison Ford, Cara Gee, and Omar Sy reveal what drew them to this story, and how the film adaptation differs from Jack London's classic novel. pic.twitter.com/CgmFE8y3Oz

— Watch Latest Movies Online Free (@WatchLatestMov1) February 20, 2020
For a spell Ford phoned in his work, particularly in generic fare like "Hollywood Homicide" and "Firewall." His natural charisma delivered enough of the necessary goods, but longtime fans noted his lack of engagement.
He came alive again more recently. Think his turn as Branch Rickey in "42" and, of course, a swashbuckler named Han.
Here, despite the temptation to dismiss the proceedings, he's fully invested as Buck's loyal chum. Even better, he sells moments that on the surface deserve plenty of scrutiny.
It doesn't help Ford, or the story, that the screenplay humanizes Buck beyond the realm of animal antics. When Buck thinks John has had too much to drink, for example, he transforms into his unofficial AA sponsor.
That won't matter to younger audiences, who will cheer Buck's heroics and that man/dog bond that comes through despite the CGI gimmickry. Families deserve a movie like "Call," even if the parents in the crowd will wince a time or two.
Maybe more.
HiT or Miss: "The Call of the Wild" is perfectly acceptable family fare, and a chance for star Harrison Ford to remind us he's still bringing the movie star heat.