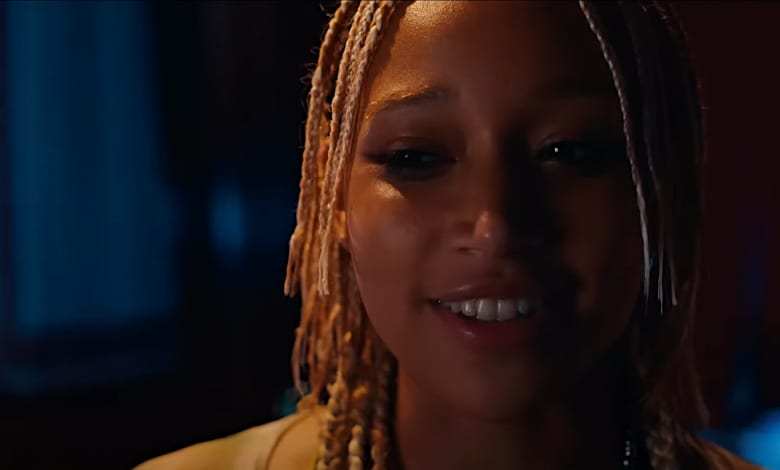 Few films earned as much hipster cred this year than "Bodies Bodies Bodies."
Modern critics are more amenable to horror of late, and that helped. The film's mostly female cast and director didn't hurt, either, nor its diverse cast.
The rest, alas, is a mystery.
The indie thriller is a mediocre pastiche of Gen Z types, one more detestable than the next. It's common for genre films to make potential victims worthy of their fate, but "Bodies" takes that to a grinding new level.
The biggest shocker? The film skewers the woke agenda, but somehow most critics didn't mind. That's progress, of sorts.
Bodies Bodies Bodies - Official Trailer (2022) Pete Davidson, Amandla Stenberg
Young lovers Sophie (Amandla Stenberg) and Bee (Maria Bakalova) open the film with a series of long, wet open-mouth kisses.
Take that, Red State America!
The sequence, like several others, exists for no creative reason. It just take up time, and even at an allegedly lean 95 minutes, "Bodies" should have snipped them away.
The new couple is en route to a friend's party, held at an extravagant mansion that should be a perfect setting for mayhem.
The attendees are alternately entitled or detestable, each with an ax to grind about something. Wannabe actress Emma (Chase Sui Wonders) tolerates the ill-mannered shtick served up by David (Pete Davidson, his tattoos covered up in expert fashion).
Alice (Rachel Sennott) and Jordan (Myha'la Herrold) leave little impression.
UPPER. MIDDLE. CLASS.#BodiesBodiesBodies is now available to rent and own on blu-ray & digital! pic.twitter.com/ueIa2Anc4f

— Bodies Bodies Bodies (@bodiesbodies) October 18, 2022
The oddball in the bunch is Greg (Lee Pace) who seems double everyone else's age. He keeps his composure despite serial indignities (There's a message here, y'all).
That leaves us with endless, mindless banter. We endure 15 minutes of just that, and there's little wrong with that approach assuming the film brings the goods later on. Horror movies often have to clear their narrative throats before the nastiness kicks in.
Here, it's a murder mystery game called, what else, Bodies Bodies Bodies. But what happens when a real dead body makes an appearance?
Paste Magazine called "Bodies Bodies Bodies" an "ode to Gen Z." If that's an "ode," we'd hate to see a roast.
The film skewers these pretty, petulant characters at every turn. They're emotionally fragile, quick to judge and loyalty means little to them. They think they know everything, and when that proves demonstrably false they cling to their alleged wisdom.
That, of course, is the folly of youth, and the film's gaggle of screenwriters (Sarah DeLappe, Kristen Roupenian, Chloe Okuno, Josh Sharp, Aaron Jackson) could weave something special out of that naïveté.
They don't, alas, nor does "Bodies" offer much in the way of scares. It's as shock-free as one of 2022's worst genre films, "They/Them."
RELATED: 'TERRIFIER 2' FLIPS BLOODY BIRD TO WOKE HORROR
The dialogue name checks plenty "of the moment" phrases like gaslighting, with Davidson mocking the character who utters it in a less than witty fashion. The riffs on social media, and living lives on the web and phone, are on-point but hardly original.
Director Halina Reijn handcuffs herself by setting a large portion of the story in the dark, thanks to a loitering hurricane that takes out the power. The dark can be ideal for horror high jinks. Consider how Neil Marshall weaponized light in his seminal horror film "The Descent."
Reijn's vision is devoid of both scares and thrills. It's visual chaos, and it's exasperating. The whodunnit part of the story is marginally better, but Agatha Christie-types still have little to feast upon.
Meanwhile, the young cast feeds on each other.
Accusations fly. Past sins are revealed. It's interesting, to a point, except we have little interest in any of these characters. They're not even hissable enough to root for their demise.
Here's where it gets interesting, at least on paper.
View this post on Instagram
"Bodies Bodies Bodies" makes sure we know these characters are woke to the core. One even uses the word "ally," and not in a sarcastic way. The more blood is spilled, the more they show their fraudulent natures.
They only care about themselves, even if they pretend otherwise. It's a perfect description of Woke, Inc.
That wrinkle, both unexpected and fresh, can't prop up "Bodies Bodies Bodies." Still, its emergence, along with the viral rant Cate Blanchett delivers to a snowflake in "Tar," suggests a few Hollywood scribes have had enough of the woke mind virus.
If only "Bodies Bodies Bodies" had more to say on the issue, or could eke out some thrills in this otherwise plodding affair.
HiT or Miss: The mediocre "Bodies Bodies Bodies" got more buzz than most horror films in 2022, making it one of the year's most overrated affairs.