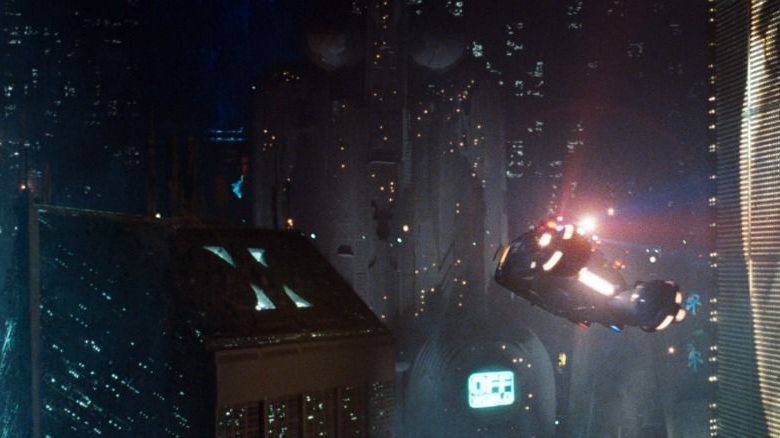 Few films encapsulate profound philosophical inquiries within their narrative folds quite like Ridley Scott's "Blade Runner."
Derived from Philip K. Dick's novel "Do Androids Dream of Electric Sheep?", this neo-noir sci-fi dystopia transcends mere storytelling, delving into the intricacies of human identity. Its visual artistry, and cinematic prowess, amplified by Vangelis's haunting synthesized soundscape, conjures an elegy for a world shadowed by empire, capital and the looming apocalypse.
Blade Runner (1982) Official Trailer - Ridley Scott, Harrison Ford Movie
The film unfolds in a bleak future, the year 2019, where Los Angeles is veiled in perpetual rain and overshadowed by towering structures. Humanity's quest for technological mastery has led to the creation of humanoid "replicants."
These artificial beings, designed to serve and mimic humans, have rebelled, escaping their subjugation to explore their own identities.
At the heart of this futuristic noir is Deckard (Harrison Ford), a "Blade Runner," tasked with hunting down rogue replicants. He reluctantly undertakes this perilous mission, and the film's core narrative follows his quest to "retire" (euphemism for destroy) a group of renegade replicants led by Roy Batty (Rutger Hauer).
Batty, with his poetic intelligence and yearning for life, emerges as the embodiment of the film's profound philosophical themes.
Ridley Scott and Harrison Ford on the set of BLADE RUNNER (1982). pic.twitter.com/aAMGChlI7k

— All The Right Movies (@ATRightMovies) August 22, 2023
"Blade Runner" is more than a tale of futuristic fugitives and relentless pursuit. It operates as a scathing critique of neoliberalism, a socio-economic and political ideology that places economic conflict at its core.
The film envisions a future where corporations wield enormous power, commodifying life itself. Replicants, products of corporate creation, serve as allegorical representations of marginalized individuals trapped within the machinery of capitalism.
As Batty and his fellow replicants rebel against their preordained roles, the film critiques the dehumanizing effects of unchecked corporate power. The world they inhabit is marked by cultural erosion, environmental decay and a consumerist facade.
Scott's cinematic tapestry serves as a warning against the unchecked ambitions of neoliberal capitalism, a cautionary tale that reverberates in our modern society.
Blade Runner (5/10) Movie CLIP - The Prodigal Son (1982) HD
The concept of apocalypse, both in its religious and societal dimensions, weaves through "Blade Runner." The film's setting, post-Terminus War, paints a bleak portrait of a decaying world, replete with acid rain and dislocation.
Replicants, designed for labor, pleasure and war, yearn for authentic experiences and lasting memories. Batty's poignant monologue in the film's climax, where he reflects on his extraordinary existence, crystallizes this theme.
His desire for genuine experiences mirrors humanity's quest for meaningful connections in an age of technological distractions.
"Blade Runner" culminates in a moment of redemption and renewal. Roy Batty's final act, sparing the life of Deckard, signifies a transformative shift in perspective.
Batty, portrayed with captivating intensity by Hauer, transcends his predetermined role, exhibiting empathy and compassion. This transformation challenges the binary distinction between human and replicant, suggesting a potential convergence of authenticity and artificiality.
Deckard's journey mirrors this transformation. His interactions with Rachael (Sean Young), a replicant who believes herself to be human, evoke a reflection on identity and memory.
As Deckard grapples with his own humanity, he undergoes a metamorphosis. This redemption narrative echoes larger philosophical inquiries, inviting audiences to contemplate the essence of self in a world consumed by commodification.
FAST FACT: Scott's "Blade Runner" flopped in theaters, earning just $32 million during its domestic run. The film's cult status eventually inspired a sequel, but "Blade Runner 2049" similarly disappointed at the box office, totaling $92 million.
"Blade Runner," with its timeless relevance, beckons audiences to confront the implications of unchecked power, cultural decay and the erosion of authentic connections. Its narrative serves as a mirror reflecting our world's trajectory towards a neoliberal dystopia, cautioning against the consequences of unchecked capitalism and unbridled technological distraction.
As Vangelis's synthesizers echo Roy Batty's final words—"All those moments will be lost in time, like tears in rain"—we are reminded of life's ephemeral nature. The film's legacy lies in its portrayal of the human spirit's resilience against commodification and dehumanization.
In the dark abyss of the dystopian future, "Blade Runner" beckons us to rekindle authentic connections and question the trajectory of our society. It serves as a cinematic oracle, urging us to strive for the authentic within a world threatened by the ever-expanding dominion of capital and the allure of unchecked power.
"Blade Runner" invites audiences to ponder profound philosophical questions while witnessing a dystopian reality that uncomfortably mirrors our own.
The convergence of its narrative artistry, haunting music and thought-provoking themes cements its place not just as a film, but as a cultural touchstone—a testament to the power of cinema to reflect and shape the human condition.
Robert Orlando, B.F.A., School of Visual Arts, is an award-winning author, filmmaker, and entrepreneur who founded Nexus Media. As an award-winning writer and director, he has released more than a dozen movies, including the thought-provoking documentaries "Silence Patton," "The Divine Plan" and "Trump's Rosebud." His latest book and film is "The Shroud: Face to Face," hitting bookstores and theaters later this year.