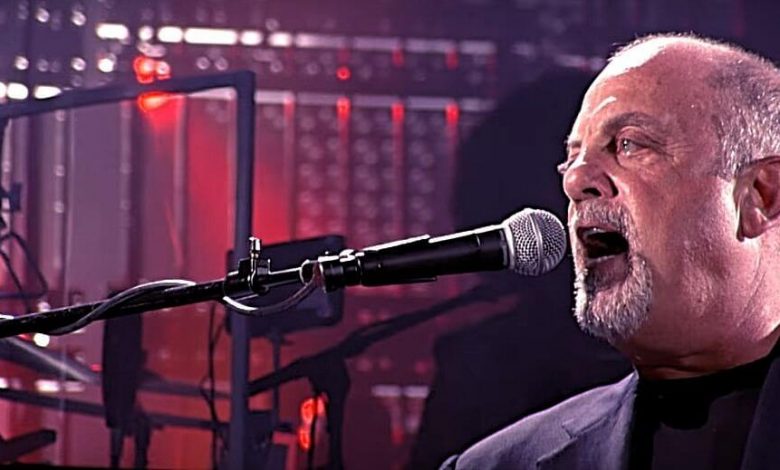 Billy Joel shared an obvious confession Thursday during his packed Coors Field concert appearance.
"I ain't got nothing new for you. It's the same ol' s***," the New York native growled to, what else, cheers.
They. Didn't. Care.
Check out Billy Joel on the cover of @billboard!

Read the full article here: https://t.co/nGaLwCJ7sK
📸: Miller Mobley pic.twitter.com/5QU8V8f3Y4

— Billy Joel (@billyjoel) July 18, 2019
That's Billy Joel circa 2019. His songbook, so full of pop music bliss it borders on overkill, hasn't added a new track since 1993's "River of Dreams."
So the 70-year-old cracked that dusty tome, again, and thumbed through the best pages. Turns out most Joel songs have aged to perfection. Kinda like the songwriter himself, at least creatively speaking.
He may be bald and husky, but the Piano Man endures for the right reasons. He puts on a helluva show. Still.
It didn't start that way.
The concert opened on such a quiet note it looked like an imposter had hit the stage. Joel calmly walked out and sang, "A Matter of Trust." He neither acknowledged the fans nor allowed his visage to be magnified on any JumboTron like screen.
The crowd, either confused or stunned by the dearth of energy, applauded meekly. What just happened? Hey, these tickets weren't cheap!
That fog quickly cleared. The stage, smack dab in centerfield, shared images of Joel and his brilliant band. The tone perked up, too, as Joel's voice grew in strength and timber. This rocker isn't ready to phone it in.
If looks were any indication, he was having a blast singing those same songs … again.
From "Pressure" and "Big Shot" to select curveballs ("Rocky Mountain Way," "Vienna") Joel gave each his all, his voice showing little sign of wear and/or tear.
He sat at the piano for much of the night, letting the concert cameras catch his nimble fingers at work.
Oldies acts are nothing new. Some try to camouflage the years with wigs, smoke and mirrors. Others go through the motions, knowing you already paid through the proverbial nose for your seats. A Joel show doesn't come cheap, but he's not here for a rock 'n' roll fleecing. And when he tears into songs name-checking his home state, it's clear the fires still burn.
We Didn't Start the Fire last night, @billyjoel did and Coors Field was ready for it. 🎹 pic.twitter.com/joqiKERP7C

— Colorado Chan MLB stadium.
This critic once saw Joel at an intimate Georgetown University appearance, where the singer/songwriter talked, and talked and played a few songs in between. He kept the banter brief during his Coors Field appearance, mocking songs with glaring historical inaccuracies ("The Ballad of Billy the Kid") and marveling at how a skinny Long Island kid found himself playing an MLB stadium.
Self-deprecation serves him well.
Joel's songs, many written when he was a rather young man, teem with ambition. He didn't just know how to write a killer hook. His songs flirt with richer themes, the kind Millennial singers might avoid. It's why they still resonate on the 653rd listen.
The brass-heavy songs also revealed a restless artist, one unwilling to pander to Top 40 sentiments. It gives his stories a timeless element sure to outlive him. Just ask Brenda and Eddie.
Even oldies like "Movin' Out" earned a fresh layer of sadness on this perfect summer night.
The stadium kept the massive Coors Field screen dark for the night, letting the pre-fab touring stage take the spotlight. The crowd got the usual images, from band close-ups to endless Big Apple visuals.
Seeing Joel tear into "New York State of Mind," with his face super-imposed against a backdrop of Manhattan's brightest lights, proved electric.
Billy Joel - The Stranger 30th Anniversary Teaser
The main set wrapped with, what else, "Piano Man." The ensuing encore dragged out one of Joel's lesser tracks, the gimmicky "We Didn't Start the Fire" as well as some perfect pop gems ("Uptown Girl").
Joel, like virtually every entertainer not named Voight, is no fan of President Donald Trump. He kept politics off the stage for two-plus hours. Yes, Joel once wore a yellow star on stage to protest the lie that Trump called Nazis "fine people."
This Entertainer knows the audience didn't show up for that. So he kept the polemics aside for one glorious, golden night.