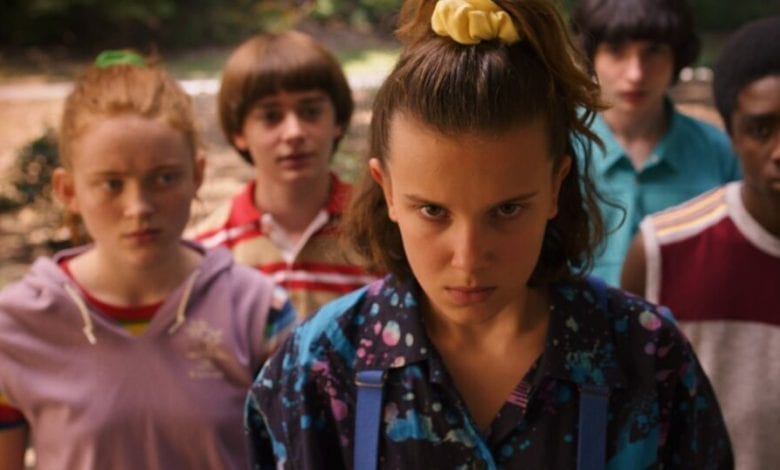 2019 could be the Platinum Age of Television's climax.
More and more streamers are diluting and distributing viewers across increasingly narrow bands of content.
How many viewers splurged for the extra $6.99 for Disney+ or the $9.99 for CBS All Access? If the à la carte streaming model replaces cable, what can we expect as viewers?
Will television get even better with more and superior shows with increasing production quality? Or will it start to fall apart as streamers crunch the numbers and realize movie-quality shows like "The Mandalorian" and "The Expanse" aren't financially viable?
It's hard to predict the future, but what I do know is this year was jam packed with entertaining television. Here are my top 20 shows.
Minor spoilers ahead…
1. "The Marvelous Mrs. Maisel" — Amazon Prime
There's nothing like this show out there: it's funny without being vulgar, real without appearing dark or broody. The program avoids schmaltz but is genuine without being dry.
The Marvelous Mrs. Maisel Season 3 - Official Trailer | Prime Video
There's a "throwback" element to it with the music and simpleness of the era that's deeply comforting in our troubled times. The cast and writing are brilliant, top to bottom. Season 3 has a number of twists and many laugh out loud moments. If television is escapist fantasy than this is a great place to escape from the present.
Not since "Cheers" has there been a show so welcoming.
2. "The Expanse" — Amazon Prime
When Amazon picked up "The Expanse" from SyFy I wasn't sure what to think.
The show had been one of the best science-fiction programs for three years running (along with "Rick and Morty"), and the source material could last at least three or four more seasons.
What changes would Prime make?
The Expanse Season 4 - Official Trailer | Prime Video
More profanity, to be sure, and maybe a sex scene here or there. What I didn't anticipate was that the show would be even more grounded by the lives of the main characters. This season was much smaller in scope (no massive ring gate) and more disciplined. "The Expanse" proved once again it's the best "Star Trek" show since "DS9."
3. "Stranger Things" — Netflix
This streaming smash captures my childhood in near perfection: Stephen King, D&D, friends and forts, the discovery of girls and an eerie sadness that can only be found in suburbia.
The neighborhood swimming pool, the arcade, and the cheap carnival feature prominently in this year's story arc. It makes me wonder if everyone who was a teen in the '80s actually had the same experiences.
Ours camped out in Southglenn Mall's parking lot, and you could see the carnival go up from the playground. The smell of cotton candy and diesel would waft across the park into the classroom.
Look, I love this show, and while for some the nostalgia has begun to wear thin It hasn't for me. This season was the best of the three so far. Have you watched the new "Ghostbusters" trailer? Or seen the movie "It"? Both have "Stranger Things" to thank for setting the pitch perfect aesthetics and feel for '80s nostalgia.
4. "Fleabag" — Prime
Phoebe Waller-Bridge is beyond talented. Anyone who can bring both "Fleabag" and "Killing Eve" to life is a wonder. If she can save "James Bond" from irrelevancy (she co-wrote 2020's "No Time to Die") she'll have my undying gratitude.
This season of "Fleabag" was shockingly good television, and I have to borrow a sportscaster's call on a recent Liverpool goal to describe how good this season was, "Cheekily, disdainfully, tellingly!"
Yup, that sums it up.
Fleabag Season 2 - Official Trailer | Prime Video
Breaking the fourth wall was brilliant, but then having the one man who truly gets our heroine break it, too, was sublime. I've been that boyfriend, trying to step into "her world," and that hit home to perfection.
That he also had the best definition of love also counts for something:
"Love is awful. It's painful. Frightening. It makes you doubt yourself, judge yourself, distance yourself from the other people in your life. Makes you selfish, makes you creepy, makes you obsessed with your hair, It takes strength to know what's right. And love isn't something that weak people do. Being a romantic takes a hell of a lot of hope."
5. "Rick and Morty" — Cartoon Network
Can a season that only had five measly episodes really land in the top five? Yes, if it's "Rick and Morty."
This show is so dark, so funny, so broken with family pathos but nested in brilliant science-fiction storytelling that it's beyond good. That this season went out of its way to lampoon heist films (my most despised genre) felt like they wrote an episode just for me. "Remember Morty, stealing is about the stuff not the stealing."
Rick and Morty Season 4 Trailer | adult swim
I'm still a little grumpy from the short episode drop, but it's better than waiting until 2020 for all 10. What more can be said about this show? To paraphrase Don Draper from "Mad Men," like Jesus you either get it or you don't, and if you do you get why this is in the top five.
6. "Succession" — HBO
"Succession" may have not cracked the top five, but it did have the single best episode this year. "Tern Haven" is perfection. If you don't regularly watch this show I hope you binge watch everything up to that point just to appreciate how good it is when the Roy and Pierce clans clash at the Kennedyesque like ancestral palace of the liberal-leaning Pierces.
The battle-hardened conservative Roys give as good as they get, and if you don't walk away hating both I'm not sure what's wrong with you.
Succession: Season 2 | Official Trailer | HBO
This show is a hard ask for some because everyone is highly unlikable. It's like a "Game of Thrones" with only the Boltons vying for the throne. If you love strategy and gamesmanship "Succession" is the show for you, and if you're like me in that you hold out hope for a middle to return in politics, watch "Tern Haven" to be inspired that a middle is still possible and desperately needed.
7. "Hanna" — Prime
The 2011 film "Hanna" starring Saoirse Ronan, Cate Blanchett and Eric Bana drew a small but passionate audience. How would that source material fuel an Amazon Prime series?
It's roughly the same story while being very different from the film, and I'm okay with that. The first season with Joel Kinnaman, Esme Creed-Miles and Mireille Enos reprising the roles of Erik, Hanna, and Marissa connects on every level.
The only thing I miss is Blanchett's OCD-like obsession with her teeth, a brilliant character trait that worked well for a screen villain. The show's Marissa Wiegler (Enos) is a bit more warm and good but either way the results are some great storytelling.
8. "Sex Education"/"Euphoria" — Netflix/HBO
Two coming-of-age shows about teens essentially tell the same story, albeit HBO's "Euphoria" is much much darker and depressing.
Both shows feature teens facing the heartbreaks and drama around sex, frenemies, social media, and drugs (although "Euphoria" goes much deeper into that topic). "Sex Education" confronts abortion head on.
These shows are made for adults and honestly I'm not sure teens would relate (thankfully). It's good for parents to be reminded of how hard it can be a teen even if it's not as dramatic as showcased here.
"Sex Education" is more sweet and tender towards its kids, and the premise that the son of two sex therapists has a knack for sex therapy for his school chums while struggling with virginity is brilliant.
"Euphoria" will make you cringe with themes of addiction and sex between a minor and adult (and make you thank your lucky stars you've graduated high school). What both shows convey is the awkwardness of the teen years, a time when privacy and boundary issues may require adult intervention. That's a hard balance to strike.
euphoria | season 1 | official teaser | HBO
The best element of "Euphoria?" The show proves Zendaya, who plays Rue Bennett, is the real deal, an actress of the highest caliber.
9. "Lodge 49" — AMC
I'm not surprised we won't be getting a third season of this highly underrated show. We probably don't deserve a series this good.
It's sweet, funny, and Liz Dudley (Sonya Cassidy) is my favorite character on television. Her journey in the corporate world is interesting to watch in all its small betrayals and humiliations. Her arc could be a stand alone show.
Lodge 49: 'Dud's Life' Season Premiere Official Trailer
The problem with "Lodge 49" has always been the marketing around it. They tried to frame the series as a kind of "Big Lebowski," but it's more Gabriel García Márquez meets "The Office," if anything. It delivers on the corporate mythos/pathos unlike anything we've seen before.
If you've ever wished there was a secret elevator in your office building that could take you to someplace magical, or you'd open a conference room door and you'd step into the Arctic than this was/is the show for you.
It was about finding meaning in the secular-material-corporatist world we find ourselves, and it will be missed.
10. "His Dark Materials" — HBO
Philip Pullman's "His Dark Materials" trilogy are three of my favorite books of all time, and the first novel, "Northern Lights" (known as "The Golden Compass" in the States) was horribly mutilated by a 2007 movie starring Daniel Craig and Nicole Kidman.
In the deepest of irony they did to the book what the Magisterium did to the kids.
So I was extremely cautious going into this, and after the first five episodes I was frankly disappointed. Once the show shifted to the North it found its footing.
His Dark Materials: Season 1 | Official Trailer | HBO
When Lyra Belacqua (Dafne Keen) and Mrs. Coulter (Ruth Wilson) go at it head-to-head I was riveted. The show hadn't built up to that payoff but nevertheless it worked. What the movie (and the show) seem to miss is that Lyra is in a world of men at Jordan College and hadn't ever experienced a loving mother or a woman of power until she meets both in stylish and powerful Mrs. Coulter.
Lyra is swept off her feet by the love, charm, and power Mrs. Coulter exudes, and that's why the betrayal is so powerful. Keen has proved herself twice now to be a future Oscar winner, but they they hadn't built the relationship up enough in my opinion before that confrontation. Boy, oh boy am I happy with where things stand now, and I'm looking forward to season two.
11. "The Boys" — Prime
I'm not a big superhero guy. I've seen maybe half of Marvel's Phases 1, 2 and 3. I get burned on the topic pretty quickly, but the postmodern deconstruction of the genre, the monomyth and the humor found in "The Boys" is something I can jump into. "The Boys" is irreverent in its take on the superhero genre and let's be honest… Elisabeth Shue just makes everything better.
12. "Killing Eve" — BBC + AMC
It's not as dangerous, or as interesting, as the first season, and it's unclear what they'll do going forward as I've not read the books. I'd imagine something has to change as Eve's (Sandra Oh) flirtation with Villanelle (Jodie Comer) can't continue like this indefinitely, trading wound for wound.
Can it?
Yet Villanelle is still one of the best characters ever written, so I imagine there's more that can be done here.
13. "Peaky Blinders" — Netflix
I wish this were higher on the list. It's amazing to see "Peaky Blinders" out of the top ten, but this season (while having great moments) was a bridge to set up for the next couple of seasons as they push their way towards World War II. I know I'm not the only one who'd like to see this show extend well into WWII.
14. "Warrior" — Cinemax
It's interesting to imagine how this show might be received if it were not on Cinemax, a low level premium network in the age of streamers.
Maybe Prime or Netflix will pick it up, and they should. It's amazing. Truly!
It's set during the Tong Wars in late 1800s San Francisco and is based on the writings of Bruce Lee. What makes it stand out is both the action and how close it comes to "Kung Fu" as a show about eastern philosophy of the martial arts.
I hope they go full "Kung Fu" with flashbacks each episode in season two and not shy away from putting even more of Lee's philosophy into the show. The story, setting, characters, and action honestly will carry itself.
15. "Carnival Row" — Amazon Prime
There are times watching "Carnival Row" where I felt the writers sat down and threw together a hodgepodge of ideas for a story like, 'hey, maybe a bit of "Beauty and the Beast" and the comic "Fables" and a bit "Sherlock Holmes." Or, 'hey WW! is hot right now so let's make it like that and see if this turns into something and it absolutely shouldn't but it kinda did.'
I'm not a fan of Orlando Bloom, and after Cara Delevingne ruined (not her fault, poor casting) "Valerian and the City of a Thousand Planets" I was highly skeptical. They both won me over. In fact, it's their acting that saves this show from sinking under its Frankenstein-like construction.
And points for the hottest sex scene this season with Imogen Spurnrose (Tamzin Merchant) and Agreus Astrayon (David Gyasi) going at it in the living room.
You never saw "Beauty and Beast" do that, did ya?
16. "Watchmen" — HBO
I'm not sure what to make of this show. It could be the season's best or just as easily the worst. Race is a challenging subject, and there were times "Watchmen" used it as a backdrop to give this show more weight and depth.
Other times it did service to both the subject and history of racism in the U.S. (is the Tulsa Massacre taught in U.S. history classes? It wasn't in mine) while honoring the "Watchmen" source material.
This show is aesthetically pleasing to watch and great casting with Regina King (Angela Abar) and Jean Smart (Laurie Blake) leading the way.
"Watchmen" needed more time with the two of them together plus the amazing Tim Blake Nelson (Wade Tillman/Looking Glass) and Jeremy Irons (Adrian Veidt).
The HBO production provided a lot of love to "Watchmen" the book and was innovative in ways that if you loved the book you appreciated what they did here. Yet when it ended it felt a bit like HBO's other wayward show, "Westworld," where I didn't know if I wanted it to come back for another season or not.
There's certainly enough set in motion in this season go "Watchmen" to warrant another season but if not this is good enough.
17. "Sweetbitter" — Starz
I worked in restaurants through high school and college. This show treats restaurant work seriously and provides a bit of culinary education, too. Those elements keep me coming back for more. The restaurant is the most interesting character in the show and that's okay.
The rest of the drama is so predictable that you could use it as a management training video on the employee challenges you'll face as a restaurant manager.
18. Counterpart — Starz
J.K. Simmons is the best, and "Counterpart" is a brilliant show that may have reached its natural conclusion, or maybe it was axed to make room for "A Discovery of Witches."
I fear the latter.
19. "A Discovery of Witches"/"The Umbrella Academy"/"The Rook" — AMC/Netflix/Starz
These shows are exactly the same: girl finds boy, discovers that boy ignites a hidden power in her, girl can't control her newfound power, evil force is out to get her … but can she trust the mom figure in her life?
All three are ridiculous on some level, and yet here they are in the Top 20. I liked, "A Discovery of Witches" not because of the overdone witches and vampires (and "witch wind" became a private joke among my friends) but rather because it's set in Venice and Cambridge and I'll watch anybody in Venice and Cambridge.
Heck I watched Rick Steves in Venice and Cambridge.
"The Umbrella Academy" is beautiful to look at, and the battle of wits between Cha-Cha (Mary J. Blige) and Hazel (Cameron Britton) versus the forever young Number Five (Aidan Gallagher) is what made this show click.
But out of the three "The Rook" actually captured my attention the most, and I'm not sure why exactly, it's a poor "X-Men" ripoff that chickened out from having television's first sex scene between Myfanwy Thomas (Emma Greenwell) and all four characters of the hive-mind Gestalt. Oh, actually "Rick and Morty" covered hive-mind sex in the episode "Auto Erotic Assimilation."
I don't know if I'll watch a season two of any of these shows, but they were interesting diversions.
20. "Game of Thrones" — HBO
This much maligned season and series finale took a beating from critics and fans alike. There's still a lot to love here, from ice dragons to bad-ass battles. We all could've wished for a better resolution, but endings are hard. When a series does stick the landing ("M*A*S*H*," "Mad Men," "The Leftovers") we should appreciate it all the more.
"GoT's" final lap doesn't detract from how great this show was for almost a decade.
Didn't find your show? If I had to continue…
21. "Billions" — Showtime
22. "Russian Doll" — Netflix
23. "Big Mouth" — Netflix
24. "True Detective" — HBO
25. "Disenchanted" — Netflix
26. "Dead To Me" — Netflix
27. "Jett" — Showtime
28. "Big Little Lies" — HBO
29. "The Affair" — Showtime
30. "American Gods" — FX
Have a great holiday season and enjoy next year's shows and if you want to catch up on past years:
Best of Television 2018
Best of Television 2017
Best of Television 2016
And just so you don't think I put up everything I watch… shows dropped in 2019:
"The Orville," "Wanted," "Atlanta," "Black Summer," "Veep," "Dark Matter," "City on the Hill," "The Preacher," "What We Do In The Shadows," "The Terror," "Jack Ryan," "Stumptown," "BoJack Horseman," "Mindhunter," "Silicon Valley," "Archer" and "Ray Donovan."