Industry News
Contributors
Horror Icon Barbara Crampton Dishes Kindness in Troubled Times
The 'Re-Animator' standout uses Twitter to spread a special birthday cheer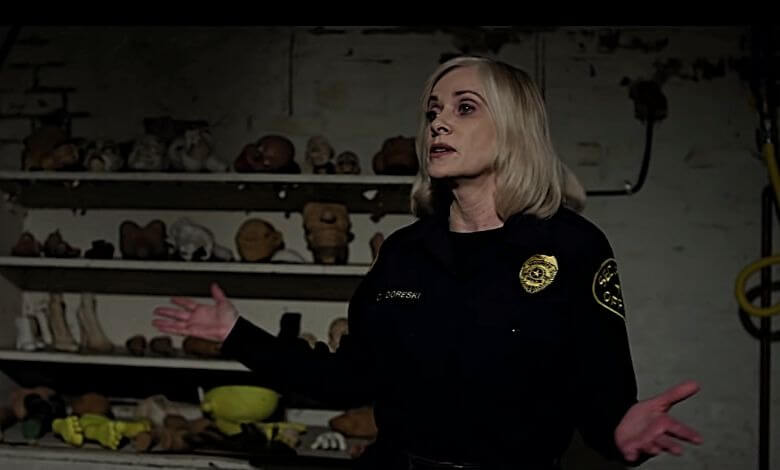 Coronavirus feels like something out of an '80s zombie film.
It's got us all hunkered down and scared. This is a time to make sacrifices, not be self indulgent. Which means that anybody celebrating a birthday right now needs to stay at home.
That's gotta feel rough to a kid who thought she'd be celebrating a sweet sixteen, especially if your parents now need to worry about saving money for our increasingly uncertain future.
One such Twitter family in this exact situation decided to try something unique to counter the heartbreaking effects of Coronavirus on their daughter.
The clan reached out to #FilmTwitter for help, and their prayer was answered. Enter our internet heroine, Barbara Crampton.
Scream Queen Barbara Crampton Picks Her Favourite Horror Heroines
Crampton is one of the great scream queens. She's been a part of some truly disgusting horror sequences for our entertainment. She's a horror icon and remarkably beautiful at 61. And while it's apparent that she's on the left, she's not in the Bette Midler/Rob Reiner mold on social media. She's a very sweet person who tries to interact with fans as much as possible.
This current crisis is no different.
She's been tweeting out positive thoughts and reminders of best health practices to keep the virus away.
I'm going out for a walk. My friends.. Do one nice thing for yourselves today and let me know what that is! Love you xxx

— Barbara Crampton (@barbaracrampton) March 20, 2020
And, as it turns out, the heartbroken birthday girl who begins our tale of woe has two favorite films: "Re-Animator" and "From Beyond."
Re-Animator (1985) Trailer
Both films purport to be adaptations of H.P Lovecraft yarns, but both stray remarkably far from the source. Still, Crampton is wonderful in both films, and they're two of her most iconic roles.
She has this bizarre ability to seem authentic amidst the weirdest elements horror has to offer. No matter what's happening on screen she somehow stays classy, effortlessly balancing terror and comedy in the process.
RELATED: 'Puppet Master: The Littlest Reich' is Crazy Like a Fox
If she hadn't committed to horror she might have had a totally different career. Instead, she completely embraced her hallowed horror status, and her fans love her for it.
The actress' response to this current crisis reminds us why via her official Twitter account: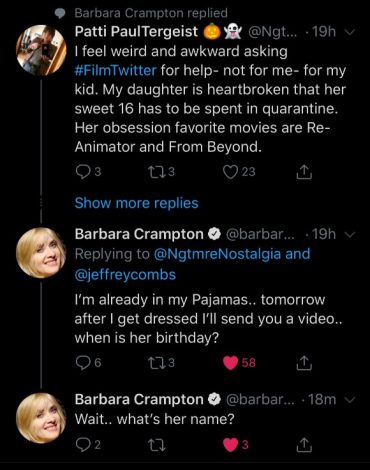 Coronavirus is literally killing people, but it can't kill human kindness. This video project isn't a big deal in the grand scheme. It won't take much time out of Crampton's day, and that's kind of what makes it awesome.
To that quarantined birthday girl Crampton's video message will mean plenty. And the irony is that without Coronavirus ruining her birthday she would never get a birthday present like this.
Thank you, Barbara, for all the joy you've brought so many of us with your performances over the years. And thanks for being a genuinely sweet person, especially during a very unkind crisis.