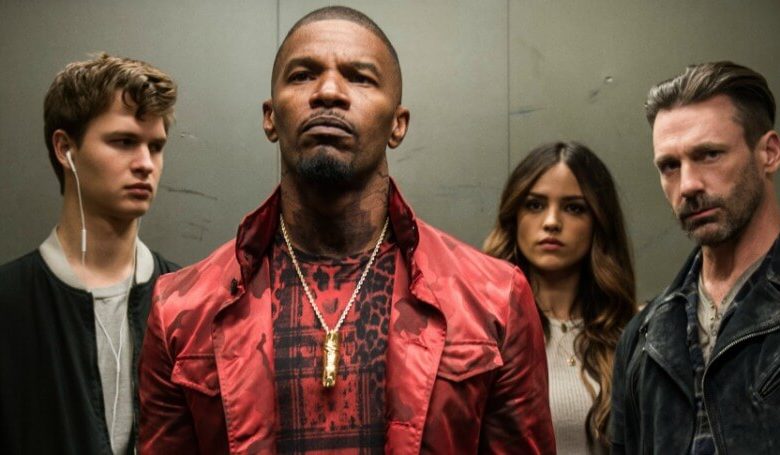 It's hard to watch any new Edgar Wright movie and not fear a "Scott Pilgrim 2.0."
His 2010 dud may hold cultish sway over some. It's still a prime example of style (in spades!) over substance. That's the same disease crippling too many movies these days.
Wright's "Baby Driver" quickly squashes those fears. Yes, the soundtrack is silly in the best of ways. And those car sequences squeal as they should. In between, Wright is cooking up characters, emotion and dramatic arcs that invest you in Baby's plight.
How far have summer movies fallen that those qualities need to be name-checked?
BABY DRIVER – Official "TeKillYah" Trailer (HD)
Ansel Elgort ("Divergent") is Baby, the best getaway driver in Atlanta. Or anywhere else. He never gets behind wheel without his ear buds cranking out cool tunes. It helps him drive… and blocks out the ringing sound left behind by a childhood accident.
Those family flashbacks fizzle. Just about every other flourish here leaves a mark.
Our Baby isn't a garden-variety thug. He's just paying off a debt to a local crime lord named Doc (Kevin Spacey in full sleaze mode). Together, they're unstoppable. Only Baby wants out, but Doc won't let that happen.
He's too good for business.
RELATED: Why 'John Wick 2' is Like a 'New' '80s Action Flick
All Baby craves is a regular job and time to woo a waitress who revs his engines. She's played by "Downton Abbey's" Lily James. The actress rises so far above the Generic Girlfriend role she deserves a special award.
Writer/director Wright has a way with snappy banter, no doubt. Here, it's mostly in the service of his colorful cast. Doc's rotating crew includes Darling (Eiza Gonzales), Buddy (Jon Hamm), Bats (Jamie Foxx) and Griff (Jon Bernthal).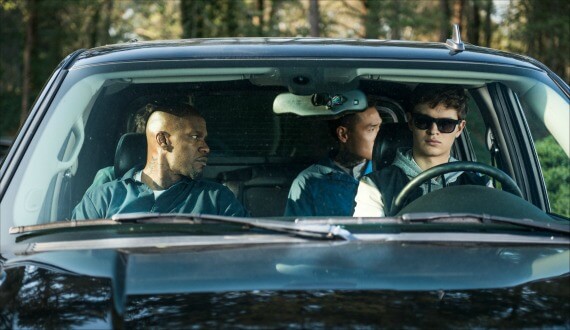 They don't know what to make of Baby. He's an odd one, no doubt. But Elgort makes him matter, to the story and us.
Wright succumbs to a few indie movie tics, like that hamburger phone from 2007's "Juno." Here, it's Baby's affection for cassette recordings … in 2017. Otherwise, he doubles down on engaging characters and a truly sweet love story. How could you not root for these two kids to succeed?
There are plot holes, no doubt. And a third act twist involving Spacey's character makes zero sense. You can sense Wright trying to juice the action, but his instincts betray him oh, so briefly.
And then there's Foxx, who hasn't been this vital on screen for some time. He's dangerous, angry and quietly hilarious. He's the star that stirs this drink.
How could you not root for these two kids to succeed?
Click To Tweet
That rage makes Baby's gentle demeanor all the more arresting.
The film opens with Baby walking through his neighborhood streets. You can't help but recall John Travolta's iconic strut to kick off "Saturday Night Fever."
Elgort is no Travolta. And "Baby Driver's" "Harlem Shuffle" can't compare to "Staying Alive." Still, Wright establishes Baby as growing comfortable in his own skin. He's someone you can count on, and he's smart enough to start planning his escape route.
If Doc will let him.
There's nothing revolutionary about the car chases lining the narrative, particularly in our "Fast & Furious" age. Wright's choreography screws us into our seats all the same.
Baby does the rest.
FAST FACT: Call him Ansolo. Ansel Elgort is a DJ as well as an actor. He goes by that singular name when he's spinning disks for Island Records.
The third act isn't as strong as its satisfying start, even if the romance finally starts to simmer. The secondary characters, particularly Hamm who embraces the film's cartoonish trappings, clash with the film's welcome naturalism.
The 2017 summer season is chockablock with time-wasting tripe. "Baby Driver" may not be edgy enough to someday join "Scott Pilgrim's" cool kids cult. It's more than good enough right now.
HiT or Miss: "Baby Driver" looks like another slick, soulless action comedy. Writer/director Edgar Wright has far more on his mind that another style extravaganza.