Industry News
Opinion
Alyssa Milano Demands Ceasefire (No Mention of Israeli Hostages)
Far-Left activist's cry for peace ignores terrorists' willingness to flout common decency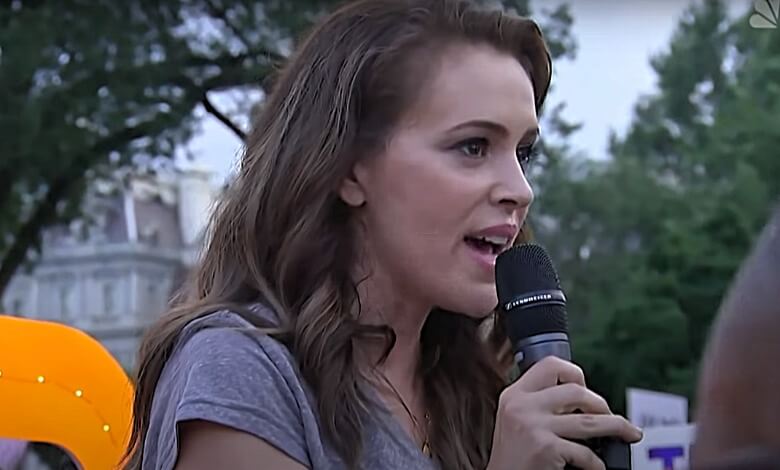 Alyssa Milano just had to weigh in on the current Israel/Hamas war.
Of course.
The former "Charmed" and "Who's the Boss" star remade her career as an activist in the Trump era, with some success. Now, she's part of the podcast revolution with her "Sorry Not Sorry" showcase and can flip-flop with the best of 'em when it comes to her #MeToo activism.
This week, she joined the celebrity chorus demanding a ceasefire in Gaza, ignoring how that action would only embolden Hamas to plot more terrorist attacks.
Except Milano left out one inconvenient fact. She ignored that Hamas is still holding more than 200 Israelis hostage.
The 50-year-old star criticized the recent pro-Israel rally for not demanding an immediate ceasefire.
I have to say something…

It's going to offend some people. I'm okay with that. Let's all get uncomfortable. And then let's grow.

If you're still reading—good. Please read to the end. I need you.

I know many people who attended the Isreal Solidarity march today. They all…

— Alyssa Milano (@Alyssa_Milano) November 15, 2023
Also, it's very easy to chant "no ceasefire" from here when you are not actually in the war zone.
Imagine the smell of burning flesh, the dust coating your lungs, the taste of blood in the back of your throat, hearing the screams and feeling the vibration of bombs dropping. Sleep deprivation. Anxiety. Trauma. You can't even imagine, right? And thank god. We are all so blessed and privileged to not be able to imagine what war actually is.
"No ceasefire. No ceasefire!"
We need a radical peace movement. What part will you play? What will you model for your children? What kind of world do we want? Please be responsible with your words and actions and what you post on social media. I beg of you.
For the children. Be peace. Be light. Be love.
The children currently held hostage by Hamas didn't get name-checked in her expanded Tweet.
Some X users quickly fired back at Milano's inability to mention the hostages.
If your child was one of the hostages would you want a ceasefire?

— Rachel Masters 👨‍👩‍👧☕️🍷⛷ (@masters212) November 15, 2023
Others clung to her naive belief that a ceasefire would yield peace in the region.
Milano's views aren't universally held in La La Land. "Everybody Loves Raymond" alum Patricia Heaton couldn't disagree more about the ceasefire chants.
Does anyone care that this FOUR-YEAR-OLD is a HOSTAGE? Anyone? All the "ceasefire" folks? https://t.co/UmLsNu5LyJ

— Patricia Heaton (@PatriciaHeaton) November 15, 2023
"Saturday Night Live" alum Jon Lovitz has Heaton's back, and he's no fan of HBO star John Oliver's relentless anti-Israel bias.
Yes. The United States is aligned with Israel, our Democratic ally,
not Hamas, a terrorist organization who broke a two year cease fire, murdered at least 1,200 innocent civilians, and took 240 civilian hostages back with them. So they could start a never ending war with Israel… https://t.co/K5mIpOYIT8

— Jon Lovitz (@realjonlovitz) November 13, 2023