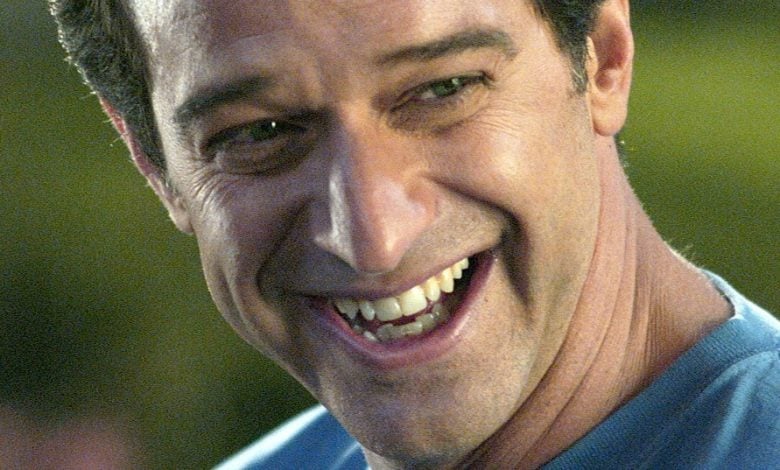 An inner-circle level friend of Sandler's ever since their days as roommates at New York University, Covert has been a key part of Happy Madison's success. To date, he's accumulated 38 acting credits, 21 production credits, eight script credits and even eight co-credits on Sandler comedic songs.
As a result, Covert has plenty of tales to tell about Sandler's career as well as his own, and he stopped by the studio of podcasting station Radio Titans (www.radiotitans.com) in downtown Los Angeles to discuss them with host Johnny O on "The Sunday Show."
But in addition to sharing his tales from "Grandma's Boy," his own video game obsession and the making of Happy Madison films like "The House Bunny," he offered an inside scoop on Sandler's summer comedy "Pixels" and Sandler's four-movie deal with Netflix. The latter includes the currently-filming comic Western "The Ridiculous Six."
Following are some of the highlights from the extensive interview, with the full episode available here.
On the odd level of fame "Grandma's Boy" inspired:
"A wide range of people approach me, and I'm always shocked. I have a lot of kids, and we love to go to Disneyland, but it's always an interesting place because in front of my kids people will say, "Dude, let's go back behind the bushes and burn one," and I say "Not today, maybe if I was alone." The movie made $3 million, but thank God Comedy Central plays it like it's a series. It was totally a passion project, no money, called in favors and cast young people who went on to do big things.
"But then I was asked to go to an intellectual nerdy college speech they were going to at the Claremont institute, on foreign policy, totally nerdy. And some 60-year-old woman comes up and says to me 'Are you an actor?' I'm thinking this is a 'Wedding Singer' fan, but she goes to her husband and says, 'Honey come here, it's Grandma's Boy!"
On the FX-packed 'Pixels' coming this summer:
"I saw it last week with very rough visual effects like bad cartoons of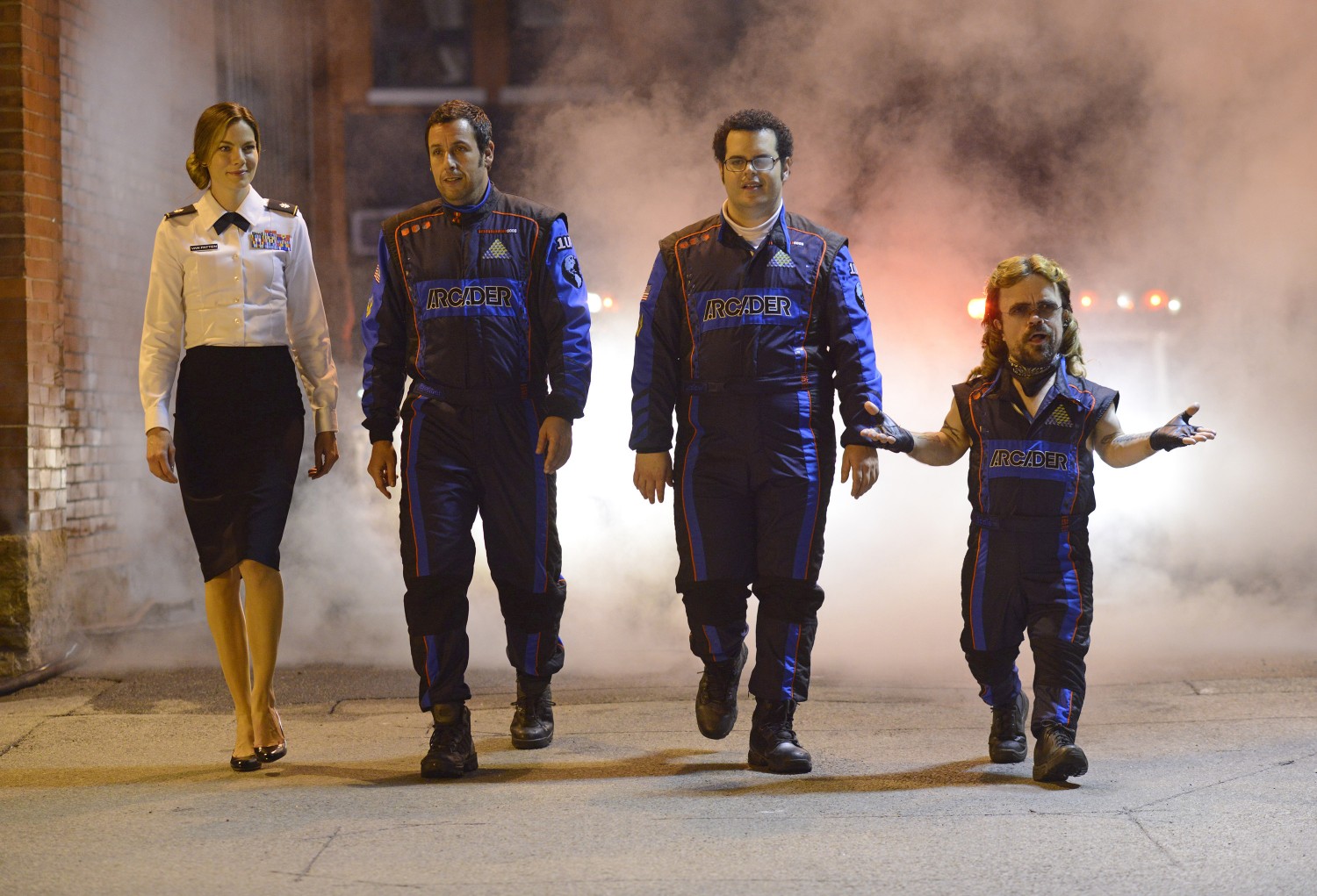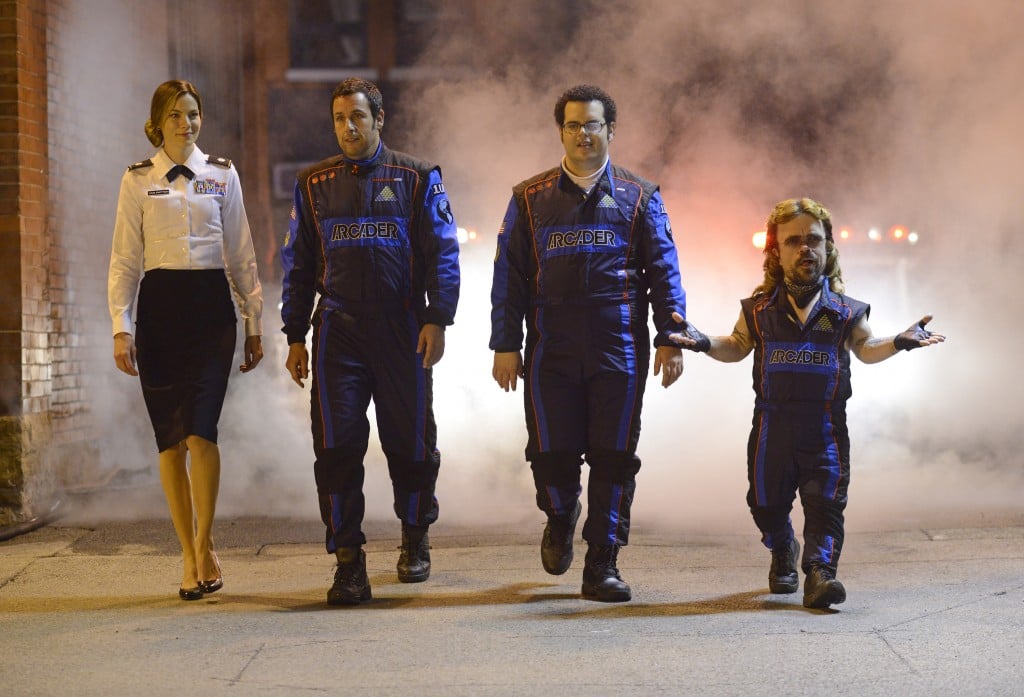 stuff, and it was funny, crazy with video game action and old school arcade games. There was a short film online called 'Pixels' that had the idea about old-school video games attacking NYC and pixelating everything. We heard the rights were available and snatched them up.
Over the years, it took a while to develop, partly because we wanted to have all the real games and there was a long process of studio lawyers talking to video company lawyers for games like Pac Man and Space Invaders – a lot of conference calls with rooms full of 20 people in Japan.
"It's story of a group of guys our age who were arcade champions and were kings until arcades died, and now twenty-something  years later these games attack earth and the officials go to these guys because only they can stop them. It's Sandler, Josh Gad, Peter Dinklage, Michelle Monaghan, and Sandler and Monaghan are great together and Dinklage and Gad are knockouts. It comes out in theatres July 24, with the trailer coming out March 20 with 'Insurgent..
About "Ridiculous 6," the upcoming Sandler Netflix western:
"I love 'Blazing Saddles,' but I love Westerns and Sandler loves them. He and [writer Tim] Herlihy had the idea years ago. It took eight years because we had scripts but things kept happening next and it finally worked out because we had a new deal with Netflix to make four new movies and we thought this would be the perfect one to start it. So this will be a Netflix Original.
Covert also stuck around to answer a few more questions on the "Kozversations" podcast – about how he and Sandler's team handle the often-harsh reviews for their films, if being Republicans has hurt his and Sandler's careers in famously liberal Hollywood, and the nuts and bolts of the Netflix deal.
On his reaction to withering reviews:
"I tend not to worry about that stuff, because we're busy, making movies, doing what we do. If people came up to me screaming on the street saying 'You suck!' I'd care a lot more. But people love 'Grown Ups … we wanna make movies that we're happy with, and people enjoy, and if people who do reviews for a living don't enjoy it, then I'm sorry."
About being a right-leaning star in Hollywood:
"I've never experienced anyone saying, 'We're not gonna talk to you because we think you voted for Bush' or something like that. But I don't talk about my politics, the same way I don't talk publicly about movies I don't like. I'll share with friends, but it's a personal opinion of mine. I know how hard it is to make a movie and that not everything is for everyone. I've had some people in private conversation say 'Oh my God,' but I don't care. If I didn't watch movies or TV or listen to music from people who see things differently than me, I'd have nothing. I have heard of people having problems because they're outspoken. I'm not a guy who keeps quiet about anything, but there's a time and a place. Me sitting on the side of a movie set isn't the place to discuss tax policy. If we do dinner, I'm always open to talking and debating. I did debate in high school."
On the Libertarian messages in some of his films:
"Go look at 'Big Daddy' – I played part of a gay couple. Or ['I Now Pronounce You] Chuck and Larry' was all about gay marriage rights. I made 'Grandma's Boy' which is very libertarian. I don't see how this conflicts with anybody's values. We're just making funny movies the way we wanna make them, and if anybody thinks it's a message, that's up to you."
To find hundreds of other interviews with top comics, writers, actors, filmmakers and musicians, visit the archives of shows at www.radiotitans.com. To hear more episodes of "The Sunday Show with Johnny O and The Great Walton Jordan," listen live Sundays from noon-2pm PST at www.radiotitans.com or check out a year of shows at http://radiotitans.com/shows/the-sunday-show/.
---
Carl Kozlowski is founder and Chief Creative Officer at Radio Titans (www.radiotitans.com), and host/cohost of its shows "Grown-Ass Men," "Pajama Party," "The Koz Effect" and "Kozversations," plus Chief Guest Booker Winner of the world-famous Laugh Factory's "America's Funniest Reporter" contest.