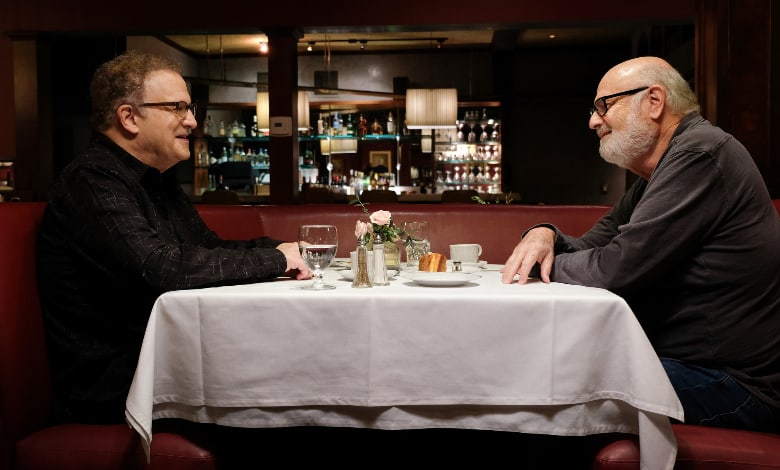 Albert Brooks hasn't directed a film since 2005's "Looking for Comedy in the Muslim World."
His last solo venture, "2030: The Real Story of What Happened to America," came in book form 12 years ago. So seeing Brooks in Rob Reiner's documentary is an event to savor before the very first question is asked.
"Albert Brooks: Defending My Life" lets the old friends reminisce about the comic's groundbreaking work, his private life and how Hollywood tried, in vain, to corral his gifts.
Don't expect tough questions or salacious Hollywood dirt. "Life" is meant for anyone who loved Brooks' comedy and wants to relive one of the most peculiar personalities of the 20th century.
On that scale, it's a roaring success.
Albert Brooks: Defending My Life | Official Trailer | HBO
Brooks and Reiner's ties go back to high school when the former was known by his birth name, Albert Einstein.
The two connected long before they found fame and fortune, and those early memories prove warm and inviting. Brooks' recollections of his famous father, a radio personality plagued by poor health, suggest the guiding light behind his son's comic id.
Harry Einstein's death during a Friar's club roast is recalled with the kind of bleak humor familiar to Brooks' best films.
"Lost in America" featured a couple who lost everything after a tragic night at a casino.
Lost in America (8/10) Movie CLIP - The Nest Egg Principle (1985) HD
We're treated to Brooks' appearances across the talk show landscape, and every time he brought something fresh and unusual to the stage. He might strip down to his underwear one moment, then turn a child's toy into a hilarious sketch the next.
He was bold, brave and willing to try anything to make us laugh. And it almost always worked. One wonders if today's safe corporate talkers would have room for an innovator like Brooks.
"Life" features Brooks' admirers, including Chris Rock, Jon Stewart, David Letterman and Conan O'Brien. Other talking heads seem added for marquee value only.
Why would Reiner invite disgraced anchor Brian Williams to share his thoughts on Brooks? Others, like Jonah Hill and Nikki Glaser, offer glib assessments of Brooks' work.
We do get some interesting, behind-the-scenes snippets from the artist's career. Studios repeatedly tried to muffle his films, with mixed results. His breakout film, 1979's "Real Life," nearly hit theaters without critical feedback, something Brooks knew in his gut would be a terrible mistake.
That meta comedy previewed the dawn of reality TV and many self-aware stars to come.
Years later, a studio blanched at putting out a film with the word "Muslim" in the title following an Islamist attack, forcing the film to hit theaters under an indie studio shingle.
Reiner's career decline has been both precipitous and shocking, and it's possible his Trump Derangement plays a role in that sorry state. The "Princess Bride" director refuses to bring his hard-Left politics to the affair. His approach is simple, straightforward and heartfelt.
That may be why Brooks allows the film to gently invade his personal life. We meet his wife and two grown children, and for all of the comic's on-screen dysfunction, his family appears Norman Rockwell-esque.
The most uncomfortable moments come when Brooks and Reiner discuss their mothers. Both had show biz aspirations but were limited by maternal duties. It's the closest the documentary comes to having an edge, and it's impossible not to lean in and watch how the pair navigate their emotional wounds.
ALBERT BROOKS: DEFENDING MY LIFE (2023)
Streaming Now
Max#AlbertBrooksDefendingMyLife pic.twitter.com/yz8dK93iWw

— WhenToStream.com (@WhenToStream) November 12, 2023
Brooks still works sporadically as an actor (2015's "Concussion," "Curb Your Enthusiasm") but appears semi-retired as a comedic force.
That's a shame, but he's left a legacy few humorists can match. It's why "Defending My Life" is so satisfying. It's a rare chance to relive his glory days and hear him crack wise once more.
HiT or Miss: "Albert Brooks: Defending My Life" recalls the legendary comic's career in ways that will make longtime fans grin from start to finish.