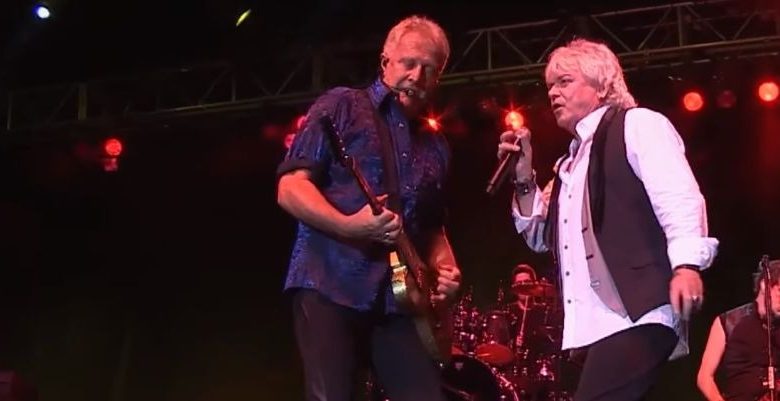 Graham Russell was an Australian singer trying to break into music in 1975 when he joined the Sydney-based chorus of a "Jesus Christ Superstar" production.
Knowing no one else in the chorus, he was afraid he'd get lost in the shuffle. Then he noticed the amazing tenor voice of Russell Hitchcock, the man placed beside him in each show.
The two learned they were born just three days apart, had no brothers and each saw the Beatles at the same concert when they were 14 years old. They quickly established themselves as Air Supply, setting up shows all over the city after performances. They drew near-immediate attention for their stunning love songs.
They've been performing together ever since.
Air Supply - All Out Of Love (Live in Hong Kong)
Speaking from a tour stop Russell claims that the two friends have never fought once in their four decades together. Russell ads they still feel a magic connection with the band and the audience at every show.
"Russell and I years ago said we'd stop when people stop coming to see us, which hasn't happened," says Russell, who notes they perform 120 shows annually. "We have such a good time on stage, and the audience can feel it. We don't just stand there like statues. We're interactive, go into the audience and are very personable. It's a two-way street, and that's a big part of our show and why people keep coming back."
Russell started writing songs when he was 11, and even at his start "the songs were always romantic, which is just a reflection of who I am." He had been an obsessed Beatles fan since he was a young child, and to this day believes they were the greatest songwriters of all time.
"Russell [Hitchcock] loved the songs, and we didn't pick that genre by design because it just happened, fortunately for us," says Russell. "Nobody else was doing that, so we were the pioneers of big love songs. In the early years people talked down on us, but it was like McCartney being mocked and then writing 'Silly Love Songs' and even that went to No. 1. My number one bucket list is to meet him before either one of us passes away."
Air Supply - Just As I Am (Live in Hong Kong)
The dynamic duo quickly became stars in their homeland, as their debut single shot to the top of the Australian charts and led to their touring as Rod Stewart's opening act across the US and beyond. Yet they received no American airplay until their single "Lost In Love" from their second album hit the Top 10 in Australia and caught the ear of legendary American record executive Clive Davis.
With his powerful support behind them, Air Supply managed to score three Top 10 hits off their first US release, with "Lost in Love" and "All Out of Love," both attaining particularly massive success. Soon they matched the Beatles' record of nine consecutive top-five singles, with "Lost in Love" winning the Song of the Year Grammy and selling 10 million copies as the band sold 20 million albums.
While Air Supply hasn't released a new studio album since 2010, Russell notes that he still writes new songs daily for other artists and movie soundtracks. He sets a standard of performing at least three new songs in every tour, and the band will release a live concert CD recorded with the Prague Symphony Orchestra this fall.
Air Supply - Making Love Out Of Nothing At All
"Lyrics and music both come at the same time for me," says Russell. "When I get in that space and know it's coming, I like to be quiet and near an instrument like a piano or guitar. I usually hear the title and part of the chorus, so I have a good handle on where it's going, then fill out the blanks. Songwriting for me is very simple and easy, because I've been doing it a long time. I love it so much with a passion and the things that people love to do come easy."
Russell is also in the process of writing his third stage musical, having already created two using the songs of Air Supply, including one that makes its worldwide debut in Manila this fall. The latest is called "A Wall Apart," featuring original songs detailing the story of couples struggling to keep their love alive while divided by the Berlin Wall from its beginnings in 1961 to its collapse in 1989.
FAST FACT: Jody Varble, the woman featured in the video for Air Supply's "Making Love Out of Nothing at All," married Russell Graham in 1986.
"We've never had even the slightest disagreement in 44 years because we're great friends, respect each other, live thousands of miles apart and don't see each other outside tours so we don't have time to get on each other's nerves," says Russell.
"We don't want each other's jobs, so it works beautifully. We started Air Supply at 25, so we weren't kids and egomaniacs, we had great lives and this was just another avenue. We're stable, not people who like to party over the time. But this show is everything you think it's not. It's big and it's loud and we don't mess around."