Interviews
Yenser's Fearless 'Cancelled News' Hits Targets Kimmel, Colbert Won't Touch
Need a laugh now more than ever? This conservative comic is here for you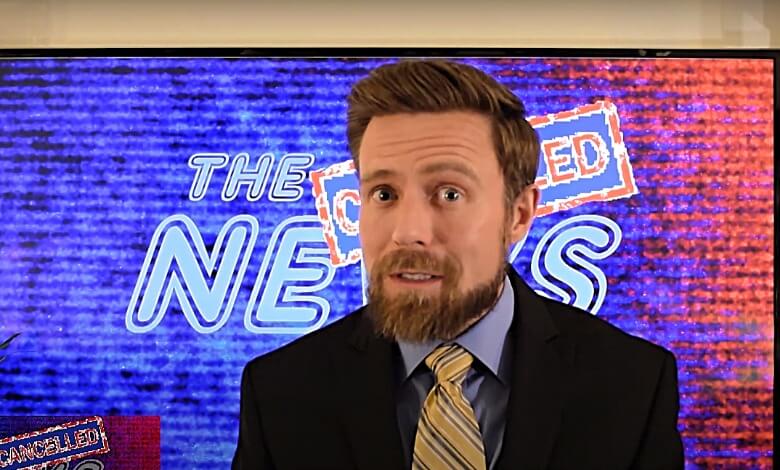 Comedian Adam Yenser still has a job, but he can't do what he loves the most these days.
Tell jokes to a captive audience.
Yenser, a writer for the syndicated "Ellen," is separated from stand-up gigs just like every other performer. Only he decided to do something fresh with the extra time on his hands.
Welcome to "The Cancelled News."
The Cancelled News: Episode 3
Yenser channels his inner Johnny Carson for a late night-style show with a difference.
Two, actually.
It's consistently funnier than today's late night shows
The satirical targets occasionally include liberals
HiT reached out to Yenser to find out more about the project, his take on late night TV in our current crisis and if his new show will outlive the pandemic.
HiT: This video series seems like a natural for you given your background. Was there a specific inspiration for it, or a topical joke that convinced you to make this a reality?
Adam Yenser: I've always loved topical news comedies from late night monologues, to "Weekend Update," to "The Daily Show," but there hasn't been a successful one from a conservative point of view.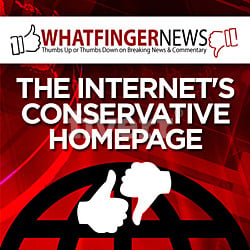 And now that I have 36 views on YouTube, I think I'm making that a reality.
I love writing topical jokes and doing stand-up but since I can't get out to do that right now, this gives me a creative outlet. And now that I'm temporarily working from home for "Ellen" and our schedule is a little slower, I have the time to invest in making something like this.
HiT: Can you give us a quick idea of the time it takes to make a segment … and what part of the process is the most challenging?
Yenser: I write jokes throughout the week and then spend Friday evening shooting and almost all day Saturday editing. I'm a joke writer and comedian by nature, so coming up with the comedy is the most fun for me and the part where I enjoy investing my time. I'm not a tech-savvy person at all, so while I'm trying to slowly improve the production values, dealing with sound issues and editing everything on my own is the most challenging.
Listen to "HiT 'cast 145: Adam Yenser Makes Liberal Crowds Laugh Harder" on Spreaker.
HiT: A few bits so far have been right-of-center, but the videos aren't as overtly partisan as your average Colbert monologue. Was that on purpose? Why?
Yenser: As with my stand-up, I like doing comedy from a conservative perspective but not making it too heavy handed. And I want the jokes to be strong enough that they'll make people laugh even if they disagree politically. It's something I've mastered pretty well in my stand-up and I'm trying to learn how to do it in this format.
When it comes to comics on both the right and the left, I don't consider the comedy very strong if it only gets a laugh from people who already agree with you. And the news is almost all politics all the time, so I like to mix in a lot of non-political jokes and stories as well.
The Cancelled News: Episode 2
HiT: What are your thoughts on today's late night TV landscape?
Yenser: I'm biased, but I love "Conan." I think he's been doing it the best for years and has made the most compelling and funny content during this "at home" period we're all going through.
Apart from that, I think a lot of the hosts have become too partisan politically – comics like Colbert and Samantha Bee, who I used to find very funny even though I disagreed with their politics, have become bitter, morose and unfunny in the era of Trump. They seem to want to make a point and get applause rather than make people laugh.
RELATED: Revealed at Last – Why There's No Conservative Late Night TV Show
And it's bizarre that even though the country is pretty split politically, every late night host (with the exception of Greg Gutfeld) is not only a leftist, but is left on every single issue. The political left controls the frame to the point where there are no outlets in mainstream entertainment where someone who is pro-life, pro-2nd amendment, or supports Trump, will find a sympathetic voice or audience.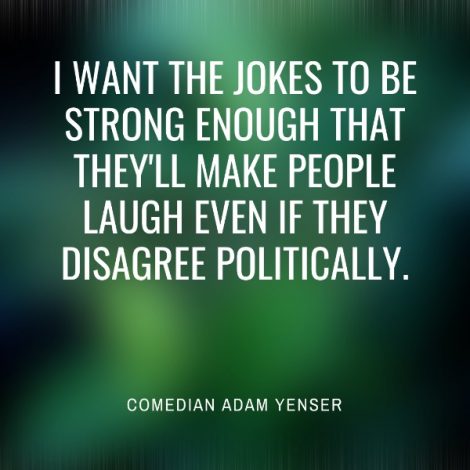 On a non-political note, I also miss the sort of absurd character pieces and bizarrely hilarious comedy that used to populate late night. Conan still does these bits brilliantly, but every other show has given way to political preaching or light-hearted celebrity fluff that is fun but not funny.
HiT: You're gainfully employed on Team Ellen and perform stand up comedy … would you like a late night style gig at some point?
Yenser: I love writing but I would definitely like a late night style gig if the right opportunity presented itself. While I am open to the idea of hosting, a dream would be if a show like the "Daily Show" would add a conservative correspondent. They've had "fake" conservative characters on those shows before, but I think it's far past time to incorporate a true conservative voice.
It wouldn't have to be an all-conservative show, and it wouldn't have to devolve into a constant debate, but I think there's a way to better showcase different points of view in a way that is still genuinely funny and entertaining.
HiT: The entertainment world, like everything else, is on lockdown. What are some creative things you've been doing besides this show?
Yenser: I have Zoom meetings with the "Ellen" production staff before each show, and while most people turn off their cameras, I try to find new absurd and embarrassing things to do on camera each day during the meetings.
So far I've done meetings while sitting on the toilet in my MAGA hat, taking a bubble bath with candles and wine, taking a shower, and putting on lipstick and makeup to slowly transition into a woman.
So yeah, I'm losing it.
The Cancelled News: Episode 1
HiT: Would you consider continuing with a version of The Cancelled News once the pandemic lifts?
Yenser: Absolutely. I'd love to do something like this with better production values and a more regular schedule. I have a sketch channel on YouTube with my friend Paul Bois from Daily Wire called Riot Act Comedy where we've posted a few sketches.
I'd love to incorporate sketches and topical comedy into a show. The challenge is that when the pandemic ends, my full-time work schedule becomes much busier again.