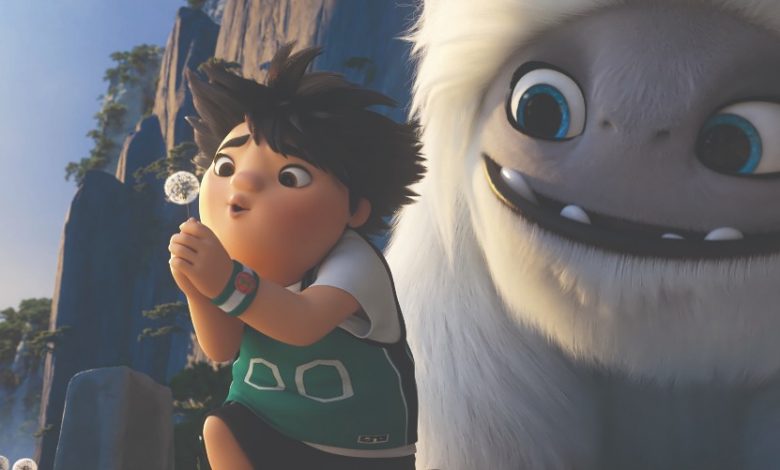 There's nothing wrong with simplicity, especially when it comes to kid-friendly films.
Our "more is MORE!" culture turns charming tales into aggressively animated romps. They're too busy, too cluttered, too eager to impress. And, conversely, they often leave us exhausted.
It's why "Abominable" feels like a big, retro hug.
The tale of a Yeti and his human pals shares a clear narrative, the kind young and old can follow sans Google map. It's not Pixar-level enchantment, but a tale sure to launch plenty of plush toy merch.
As well it should.
ABOMINABLE | Official Trailer
Young Yi (Chloe Bennet) dreams of escaping her humdrum home. Her father passed not too long ago, and the itch to travel, to explore, burns within her.
So when she bumps into an escaped Yeti on her apartment's rooftop, don't you hate when that happens, she's ready for adventure. And she'll get plenty of it after bonding with the creature she dubs "Everest." He's on the run from a wicked hunter (impeccably voiced by Eddie Izzard) and his ginger-haired henchwoman (Sarah Paulson).
Yi gets unexpected help from her neighbors, the lovable Peng (Albert Tsai) and Jin (Tenzing Norgay Trainor). Jin's selfie obsession is played for laughs, but his character eventually grows beyond teen cliches.
It's that attention to detail, atop the lustrous visuals, that sets "Abominable" apart.
Yi teeters on the Mary Sue precipice, but Bennet's vocal work and sublime animation keep her from falling. She's scrappy but grounded, a realistic heroine by animation standards, maybe even live-action ones, too.
Or maybe not.
The humans and Everest ARE trekking to the Himalayas without even a wool hat, after all.
Early scenes where Yi squares off against her mother (Michelle Wong) and Grandma Nai Nai (Tsai Chin) are priceless. They also make Yi's pluck well earned.
"Abominable" delivers plenty of smiles, most born from wonderfully executed slapstick. Everest and Peng wrestle non stop, giving the film's animation team every excuse to play their energy up for laughs.
Chinese fingerprints are all over "Abominable," from the Shanghai backdrop to the cultural nods deposited across the story. The film hails from DreamWorks and the China-based Pearl Studios.
China's aggressive use of pop culture soft power can't be denied. Here, the results are appropriate and endearing. Adults will appreciate a film making the most of its novel settings. They'll still wince at how often the screenplay leans back on Everest's magical nature. This Yeti packs powers we cannot understand, but they bloom just when our heroes need them most.
To quote the classic "Church Lady" catch phrase – "Isn't that conveeeeenient?"
Far better is Yi's infatuation with her violin. It holds deep meaning for her, and the screenplay underscores its impact on her family ties.
Find out how the music takes center stage in the upcoming family-friendly film, #AbominableMovie. Opening this weekend! 🎻

Read More: https://t.co/s94iyb8blP pic.twitter.com/LBdDc7PzQ5

— AMC Theatres (@AMCTheatres) September 23, 2019
Other sequences, like one set at the Leshan Giant Buddha statue in Sichuan, remind us how "Abominable" stretches for something more than generic kiddie entertainment.
As much as your kids will want their own Everest toy, you might give it a hug yourself after watching his first big-screen adventure.
HiT or Miss: Crave kiddie fare that won't make adults do the eye-roll shuffle? "Abominable" is for you.