Industry News
Opinion
Guess What Team 'Barbie' Is Hiding? (Hint: It's Woke)
Second trailer puts focus on fun, frivolity, downplays reported feminist lectures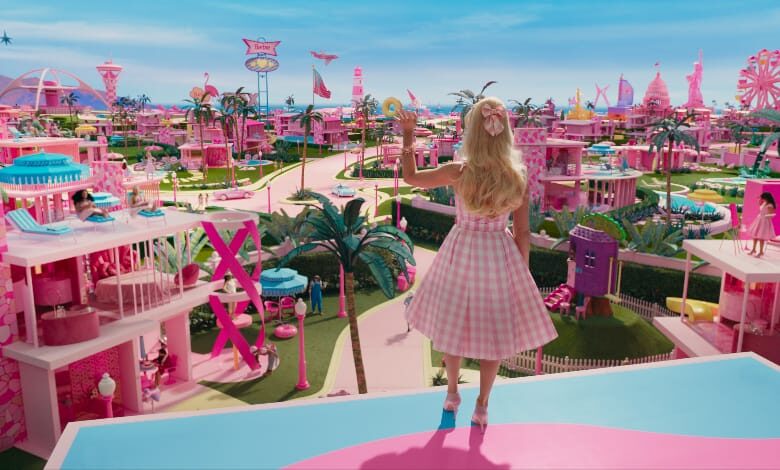 We just got our second official look at the most intriguing movie of the summer.
"Barbie," based on the Mattel doll franchise, stars Margot Robbie as the beloved figurine sprung to life. Ryan Gosling co-stars as Ken, but the bustling cast features multiple versions of both Barbie and Ken.
The Kens include:
Simu Liu
Kingsley Ben-Adir
John Cena
The Barbie lineup features:
Emma Mackey
Nicola Coughlan
Kate McKinnon
Hari Nef (a transwoman)
The film's first teaser trailer was just that – a peek at the candy-color world imagined by director/co-writer Greta Gerwig.
The just-released second trailer doesn't give much away in terms of plot, but we get a fuller look at the film, its characters and the wink-wink comic tone.
Barbie | Teaser Trailer 2
What's missing so far? Any sense that the film packs a serious Culture War punch. Except early test screenings say that's exactly what this "Barbie" is all about.
World of Reel shared two anonymous reactions to that screening. Both indicate the trailers are hiding plenty:
Despite the overall spiky and over the top comedy (there's even a chase scene!), it remains surprisingly emotional and playfully and blissfully political without being heavy-handed … America Ferrara's monologue about double standards women face earned applause.
That kind of moment is the epitome of woke storytelling – a lecture jammed into a scene to send a message.
Fiercely feminist and volcanically hysterical. So flashy and bright. Will win Oscars for Costume and Design, they're delicious. It deconstructs the feminist iconography of Barbie and recontextualizes her for a new generation … since this is Gerwig, there's a big heart at the center. Margot plays Barbie with a Valley accent, interest and agency, as she questions her position in Barbieland and clashes with Ken about patriarchy.
Some of the cast members aren't coy about the film's intentions. Co-star Will Ferrell told the Wall Street Journal that Gerwig's film is more than a famous toy tie-in.
"It's a loving homage to the brand and, at the same time, couldn't be more satirical — just an amazing comment on male patriarchy and women in society and why Barbie's criticized and yet why every little girl still wants to play with Barbie. Boy, when I read it, I was like, 'This is fantastic.'"
This snippet from W Magazine highlights how the film will be packed with "empowerment" along with Gosling's infamous abs.
In addition to Robbie as The Barbie herself, Dua Lipa, who's making music for the soundtrack, is Mermaid Barbie with bright blue hair. Issa Rae is President Barbie, Ritu Arya is Barbie with a Pulitzer, and Emma Mackey is Nobel Prize Barbie. Hari Nef is Doctor Barbie and Sharon Rooney is Lawyer Barbie, while Ana Cruz Kayne and Nicola Coughlan are Supreme Court Justice Barbie and Diplomat Barbie, respectively. Alexandra Shipp is Celebrated Author Barbie…
Meanwhile, the various Kens are just … Kens.
Plus, Gerwig's feminist bona fides are clear given her recent directorial efforts like 2019's "Little Women" and various press interviews.
"Right now there's a lot of desire to hire female directors because of the attention that's been placed on the lack of women directors by organizations like Time's Up," she says. "Until it's 50/50, I think putting pressure on studios to hire women and producers to get behind female directed and written films is really important."
So why haven't we seen anything about these themes in the marketing campaign to date?
It's simple.
Marketers know that woke doesn't sell. While Hollywood suits may pretend the phrase, "get woke, go broke" never entered their minds their marketing gurus know better.
Hollywood is starting to see just how toxic woke can be to their bottom line.
Warner Bros. Discovery canceled the reportedly woke "Batgirl" film before it could even reach HBO Max subscribers. The woke "Willow" reboot lasted just one season on Disney+. The woke "Lord of the Rings" series from Amazon Prime saw its viewership plummet once audiences got a taste of its virtue signaling.
There's a new "Harry Potter" TV series in the works, despite the woke mob's rage against J.K. Rowling, the creator of the Potter universe.
Netflix scrapped two woke projects late last year, including one from Meghan Markle.
Even the Oscars ditched much of its woke messaging last month and watched its ratings inch up.
Gerwig and Warner Bros. want to bring the film's alleged lectures to the masses, but they know being up front about it at this stage of the marketing cycle could be devastating.
The buzz got out early that the 2016 "Ghostbusters" reboot had woke plastered all over it, and the film never recovered from that early bad buzz.
The marketing gurus behind "Barbie" learned that lesson, and the focus for the time being will be on the brand, the beautiful stars and the film's comic tone. Just know if Team "Barbie" goes public with its woke messaging the media will rally to its side in near lockstep.
"Barbie" hits theaters nationwide July 21.