Industry News
Opinion
'Totally Killer' Brings Back the '80s (Thanks Goodness!)
Comic slasher film serves up latest slice of Reagan-era nostalgia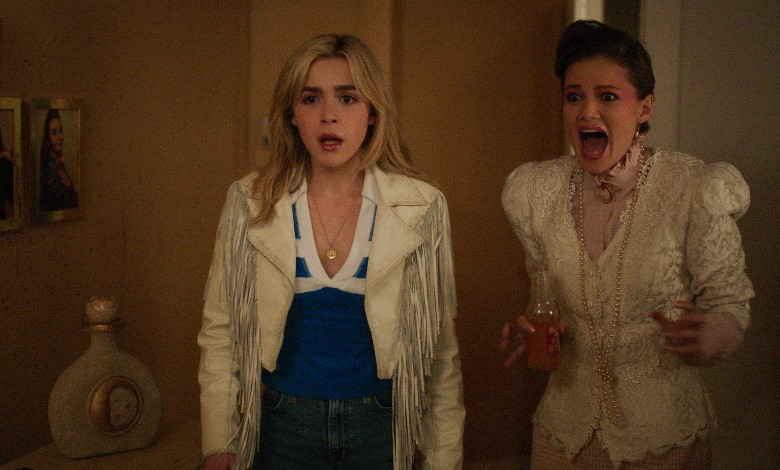 We're going back to the 1980s. Again.
Shoulder pads. Mullets. Parachute pants. Muscle-bound movie stars. This time, it's a "killer" comedy with a time-travel twist.
"Totally Killer," dropping Oct. 6 on Prime Video, follows a precocious teen (Kiernan Shipka) who travels back in time when the town's most notorious serial killer is slicing and dicing the locals. She joins forces with her mom, now a teenager played by Olivia Holt, to stop the monster before he strikes again.
"Modern Family" standout Julie Bowen plays the teen's mother in the present.
Totally Killer - Official Red Band Trailer | Prime Video
The '80s nostalgia craze unofficially started with 1998's "The Wedding Singer" and never stopped. That film featured a mullet-topped Adam Sandler trying to woo Drew Barrymore in the first of their three rom-coms (to date).
Since then we've seen "The Goldbergs," "Stranger Things," "That '80s Show," "Wet Hot American Summer," "Everybody Wants Some!" 'Wonder Woman 1984" and more.
Plus, two of the decade's biggest action stars, Sylvester Stallone and Arnold Schwarzenegger, are still going strong into their 70s.
Sly | Sylvester Stallone Documentary | Official Teaser | Netflix
There's a very good reason why we refuse to let go of the Reagan decade. In fact, we might see even more of it before the wave crests.
No Woke. No Problem.
The '80s were the furthest thing from woke. To a fault, we might add. Characters like Long Duk Dong from "Sixteen Candles" wouldn't fly today, and that's not a bad thing. Still, Hollywood screenwriters didn't worry about offending one group or another. They went for broke, cranking out gloriously subversive fare and comedies that never held back.
Audiences long for that era, where we didn't walk on eggshells and understood evil film characters were … evil … and we didn't admire or emulate them.
Analog Rocks!
We're addicted to our smart phones, not to mention Twitter, Facebook and TikTok. Still, part of us longs for a simpler era, a time when we partied with friends without constantly checking our phones or sharing selfies on Facebook.
The 1980s offers a window into that former realm, one with many of our modern tech advances but none of the social media contagions.
Reagan-Worthy Heroes
Don't get us wrong. Anti-heroes like Walter White and Tony Sopranos made TV infinitely better. Still, it's hard not to miss wisecracking heroes played by Bruce Willis, Schwarzenegger and Stallone. They didn't wrestle with their conscience or get dressed down by their woke superiors.
They got the job done and stayed oiled up in the process. You're welcome, ladies…
The era's pop culture escapism took the edge off Cold War woes and fears of a nuclear Armageddon.
Shared Culture (Even Leg Warmers)
The 1990s changed everything. The Internet and cable TV splintered the culture into a thousand little pieces, meaning we no longer had as many shared interests as before. More channels. More fashion options. More ways to niche up and avoid the mainstream.
The '80s had a distinct look, sound and feel. You can watch a movie shot in the 1980s and know it's the Reagan era in seconds. Just those synth-heavy soundtracks alone tip the viewer off.