They actually have plenty in common, Edwards says.
Both have "logistical operations with all kinds of things going on … people purportedly in charge … it's chaotic, and it moves fast," says Edwards, who previously served as an Airborne Ranger-qualified infantry and intelligence office in the US Army. He also was a captain in a parachute infantry regiment in Iraq during the first Gulf War.
Edwards says his past service "affects everything" he does. Yet the director's latest film, "One More Time," has no overt military connection. It's a wizened father and daughter tale starring Christopher Walken.
One More Time Official Trailer #1 (2016) - Christopher Walken, Amber Heard Movie HD
The Oscar winner plays Paul Lombard, a legendary crooner known for his romantic ballads. There's little love between him and his daughter (Amber Heard), an aspiring singer who resents his indifferent parenting.
"I didn't write any of the parts with any actors in mind," Edwards says. He was delighted when Walken signed on, but the actor presented a unique challenge.
"On the page, Paul can be pretty harsh," the writer/director admits. That's putting it mildly. Paul is a serial cheat and a raging egomaniac who insists everyone listen to his dusty showbiz stories one more time.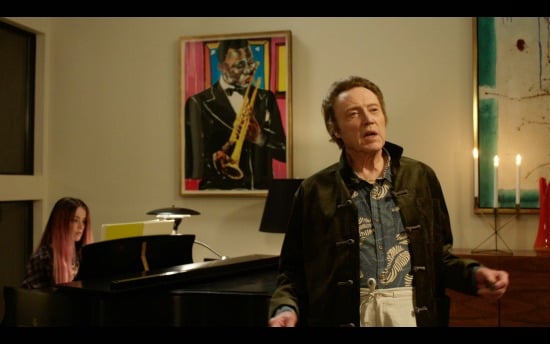 Yet Walken made him so likeable Edwards had to do some "surgical" editing to make sure we understood why his daughter can't bring herself to call him "Dad."
"One More Time" makes Paul a credible figure, an old-school balladeer desperate for a comeback. Even if he becomes an object of ridicule in the process.
"No matter how big you are, you'll fall out of fashion," he says of the character's mental state. "He's been around long enough to have learned that."
Much More Than a Cowbell
Edwards says Walken worried that he didn't have the pipes to play a Sinatra-esque figure.
"'You need an amazing, incredible voice,'" he recalls the actor telling him. Edwards thought Walken's imperfections fit both the film and the character.
"He's over the hill. His voice is a little ragged," Edwards explains.
But that's Walken. The actor understands his strengths and weaknesses after a lifetime in film. And Edwards missed some of his more potent tricks while on the set. He caught them in post, though, watching certain scenes over and again.
"He would do a little thing with his eyes, or a gesture, that was fascinating," he says. "Christopher Walken is famous for being hilarious and comedic, but I underestimated how restrained and nuanced he could be."
Military Matters
Edwards, who is penning a miniseries on the Unabomber for director Mark Romanek ("Never Let Me Go"), grew up in a military family. His father served two tours in Vietnam, service captured by actor Dylan Walsh in the 2002 Mel Gibson war film "We Were Soldiers."
Edwards learned from his father how many Americans blamed U.S. soldiers for the Vietnam War. Now, the country holds far more respect for men and women in uniform.
"Even if we're in a wrong-headed cause, the men and women fighting for the cause, their service is always noble and valiant and honorable," he says.
Yet he's dismayed that the culture now honors the troops in an almost mechanical manner. Sure, we pay them lip service, but it's like the American people can "check that box" with a yellow ribbon on their car.
"That's not supporting the troops," he says. Part of it is that the country doesn't "feel" like it's a war even when it is, thanks in no small part to the absence of a draft.
"Now, a very small cadre of professional [soldiers] do all our fighting for us," he says. "Americans are very divorced from the realities of war."
That said, he says Hollywood is doing a more thorough job these days capturing the U.S. soldier on screen. The more recent portrayals are "broader and more sophisticated."
Saddam's Chemist Gets His Close-up
The busy Edwards says he's about to start a new project that takes him back to the war front. It's based on the memoir "The Bomb in My Garden: The Secrets of Saddam's Nuclear Mastermind.
" That book, by Saddam Hussein's chief scientist, recalls his secret research into nuclear material.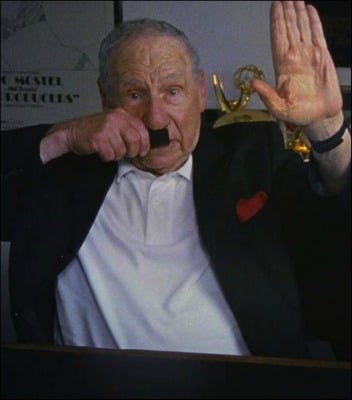 Edwards also will see his passion project debut later this month.
"The Last Laugh," which will have its world premiere April 18 at the Tribeca Film Festival, examines taboos in humor. The focus: jokes surrounding the Holocaust.
RELATED: Director: Today's PC Police Would Cuff Lenny Bruce
The documentary, co-written by Edwards and his wife, director Ferne Pearlstein, features Mel Brooks, Gilbert Gottfried, Sarah Silverman and clips of Joan Rivers.
Edwards says we're living in conflicting times when it comes to the jokes we can – and cannot – say.
"There's no line anymore. You can say almost anything. On the other hand, things that used to be OK to talk about you can't [now]," he says. "Look at 'Blazing Saddles.' You could never make that movie today. There's no way you'd get away with that."