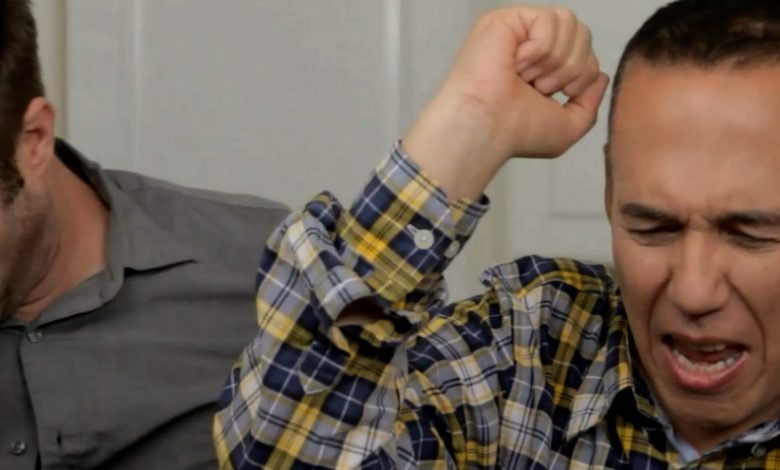 Davis is the creative force behind "Life in Your Social Network," a new web series poking fun at social media foibles. The concept is simple but effective – What if your day-to-day existence mirrored your social media interactions?
The series, part of the Heard social exchange's outreach efforts, features a regular Joe (Steve Olson) at a cocktail party mingling in ways that will feel all too familiar.
"Social Disorder" Ft. Gilbert Gottfried
Strangers approach Olson's character hawking items he has no interest in and interrupting him with wrong-headed sales pitches.
Imagine buying golf clubs for your father a year ago, and ever since your social media page keeps serving you ads for new clubs, Davis says. Add "follower remorse" and content overload, and "Life in Your Social Network" has struck one, large nerve.
All the while, the main character is trying to chat up a beautiful woman but boorish people, including comedian Gilbert Gottfried playing himself, get in the way.
"We didn't have Gilbert Gottfried at the time, but we knew it would be a celebrity like Gilbert Gottfried," says Davis, who adds the comic bonded with the cast and crew without a hint of attitude.
"You don't know how it's gonna be. You fear they'll phone it in," he says of working with celebrities like Gottfried and Tom Sizemore, who appears in the second episode.
With Sizemore, the actor mesmerized the cast by telling the back story behind his famous line, "for me the action is the juice," from the 1995 movie "Heat." The tale put Davis and co. behind schedule, but Davis says he didn't have the heart to break the spell.
Davis praises Heard, which matches user content to the appropriate audience, for giving him so much creative control over the series. He's no stranger to online videos, but he admits it's an art form impossible to master.
"It is very difficult to wrap your mind around exactly what makes a viral video," he says. "Having celebrities always helps, but it doesn't ensure anything."
Relevancy matters, too, one reason the Ebola virus pops up in the first "Social Media" clip. And if you can make people laugh that's often the quickest way to viral infamy.
"Comedy-based content is, of course, a good viral ingredient," he says.