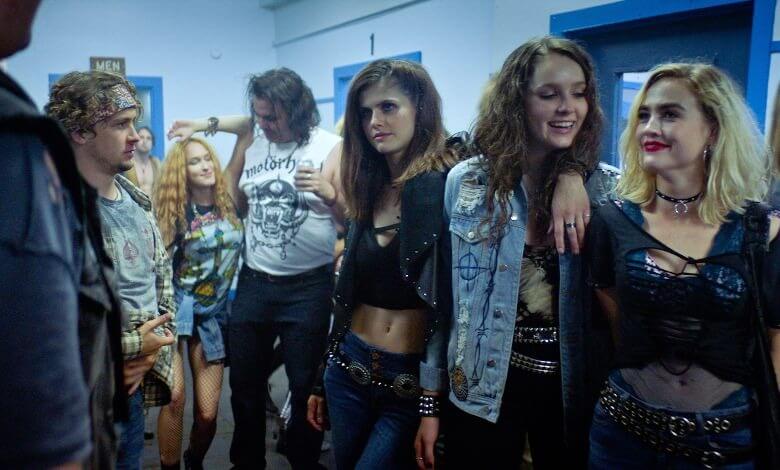 "We Summon the Darkness" does little to hide its anti-Christian bent.
"Be careful what you pray for…" the film's poster teases. That's in case you missed a similar sentiment oozing out of the film's trailer.
Where "We Summon the Darkness" stumbles is its big, juicy twist. You won't buy it for a second, even though it brings a somnific story to life, if but for a moment.
We Summon the Darkness Official Trailer (2020) - Alexandra Daddario, Keean Johnson, Johnny Knoxville
Three heavy metal fans gather for a killer concert circa 1988. Kudos to the film's production team for not flooding our senses with '80s nostalgia.
It's the film's sole note of restraint.
Alexis (Alexandra Daddario), Val (Maddie Hasson) and Beverly (Amy Forsyth) can't wait for the big show, but en route they team with three male concert goers after an awkward confrontation.
The next 20-odd minutes finds us watching them drink, flirt and share hard rock opinions, all topped with a game of "I Never…"
You've never been so bored by a horror movie setup.
Just wait. Here comes That Twist. It does change everything in the film, even if it makes no sense on a number of critical levels. Still, "Summon" is suddenly lit, and we'll ignore the cringe-worthy first act if things pick up from here.
Looming in the background is Pastor John Henry Butler (Mr. "Jackass" himself, Johnny Knoxville). His TV crusade pits him against satanic heavy metal music, Tipper Gore style. That's convenient because a series of demonic-style deaths has everyone on edge.
WE SUMMON THE DARKNESS Poster and Image Gallery Feature a Killer Party https://t.co/Zjnx9lgjYk @marcmeyers @AADaddario pic.twitter.com/5UAdB2OIrN

— Daily Dead (@DailyDeadNews) April 3, 2020
There's more than whiff of woke storytelling in "We Summon the Darkness," particularly in how the film frames our three female leads. They're "empowered," no doubt, down to their totally "organic" debate over why women wear makeup in the first place.
They're also hopelessly grating, and their male compatriots aren't any better. Spending so much time with this sextet feels like "Hostel"-level torture, and that's before any blood gets spilled.
The profanity-laced screenplay by Alan Trezza packs little in the way of wit, insight or horror originality. The tropes laid out before us are painfully common, and only one kill registers in any meaningful way.
And we know this is an R-rated film, but must every third word be an expletive? It's [expletive] boring.
Director Marc Meyers doesn't help matters with his over-the-top tone. His key players overact wildly, suggesting a broader approach, while the story stays grounded in genre conventions. Plus, the film's real villains, wink-wink, are so obvious and clumsily paraded before our eyes it makes everything a little less fun.
The element of surprise matters in both comedy and horror.
RELATED: 'Purge: Election Year' Shamelessly Trashes Christians
The stale script stops cold several times so "Summon" can shovel more dirt on Christianity. Even Captain "Religulous" himself, Bill Maher, would say it's a bit much. It doesn't help that the filmmakers bring little insight into people of faith beyond what they read on HuffPo.
Still, there's a hunter-prey blueprint here that occasionally captures our interest. And a few of the characters who lacked in anything close to a personality find partial life in the third act. It's not enough, especially as the key players act dumber and dumber at critical junctures.
Another horror trope we need to see less of, not more.
"We Summon the Darkness" doesn't fully tap Knoxville's manic energy, even though he seems game for just such a ride. Then again, maybe giving us rich characters and killer thrills wasn't the point of this mess.
HiT or Miss: "We Summon the Darkness" offers limp attacks on people of faith without delivering much in the way of tasty horror treats.