Industry News
Opinion
Media Bias
Variety, AP Brazenly Lie About Chappelle-Netflix Protest
August news sites spin desperately to protect vulgar, violent trans activists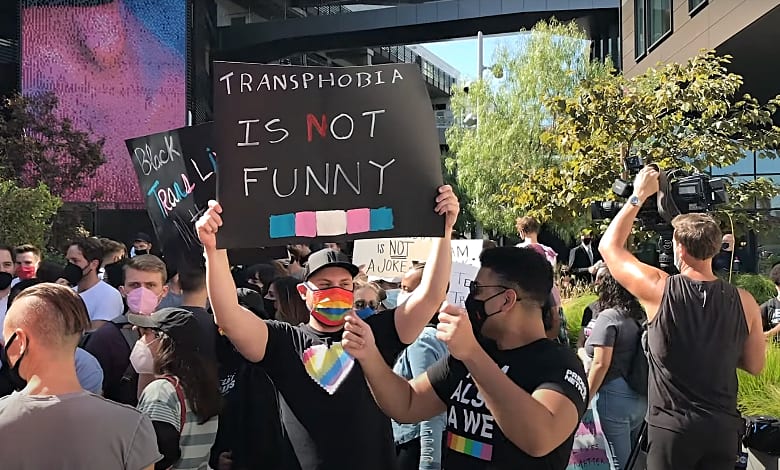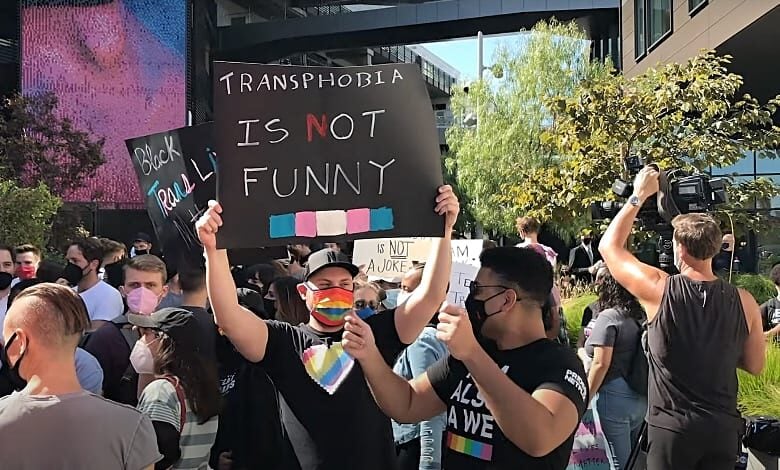 Video circulated on social media yesterday showing an exchange between a Dave Chappelle supporter and trans activists.
It wasn't pretty.
I Got ASSAULTED at the Netflix Protest!
The protest in question grew from Chappelle's new Netflix special, "The Closer," which some progressives claim showcases "transphobic" jokes. A small group of Netflix employees publicly shamed their employer during a highly publicized walkout.
They worried the comedian's jokes could cause real-world violence against members of their community.
Netflix CEO Ted Sarandos initially backed Chappelle, but later backpedaled while insisting the special will remain on the platform.
The Oct. 20 incident, captured on video, showed the trans activists hurling obscenities at the Chappelle fan, videographer Vito Gesualdi. They destroyed his pro-Chappelle sign and, later, claimed the stick that formerly held the sign was a weapon he might use against them.
One side clearly came off poorly in the confrontation.
Woke Netflix Mob Attacks Man For Liking Dave Chappelle
This cultural critic figured the media would ignore the confrontation, even though it's captured on video, is tied to a major news story and many people already saw it via social media.
Why?
The average journalist today is more interested in reinforcing progressive narratives than the truth. So a skirmish that ran against their preferred narrative in the Chappelle controversy would be better omitted from the news coverage altogether.
Media bias is often best captured by the facts left out of the mainstream media news feed.
Yet two major news platforms did something different. They reported on the altercation but lied about who the aggressor was.
RELATED: Your Guide to Liberal Media Bias in Arts Coverage
Both Variety, a far-left Hollywood publication, and the Associated Press framed the confrontation as being caused by the Chappelle fan, whose crime was saying "I like jokes" and peacefully standing up for a comedian he admires.
How did the AP cover it? Independent journalist Jesse Singal shares the details in this furious Twitter thread:
1/ This AP photo caption reads "Comedian and videographer Vito Gesualdi screams profanities as he engages with peaceful protesters begging him to leave." A damaging claim about @VitoGesualdi, circulated globally.

It never happened. Join me on some basic photo-trutherism. pic.twitter.com/olZDOtuZTw

— Jesse Singal (@jessesingal) October 21, 2021
Variety's bias can be seen in stark detail in this Twitter thread tied to the incident. Bias is one thing. Blatant lies are a different matter.
The #NetflixWalkout which was intended to showcase solidarity with the trans community, grew tense at certain points as protesters clashed with a vocal crowd of the comedian's fans. https://t.co/DJttIPDjLA pic.twitter.com/TCxHXRhdyR

— Variety (@Variety) October 20, 2021
The Variety Twitter thread stars with a lie, one that Stephen Miller, a right-leaning but rigorously fair journalist, called out on Twitter.
This is a pure lie. It's on video for everyone to see. At no time was he the aggressor. A blatant, purposeful and pure lie. https://t.co/7DBZydkjtO

— Stephen L. Miller (@redsteeze) October 21, 2021
The ultimate irony?
Variety also attended a London appearance by Chappelle, and the publication hoped to ask his fans some questions about the event. Many declined.
As the audience streamed out after show, most refused to talk to Variety, either out of a sense of loyalty to the beleaguered comedian or perhaps distrust of the media [emphasis added]…
RELATED: Media Bias 101: Hollywood Reporter Plays Defense for 'View' Hosts
Why would media outlets lie about material captured on video for all to see?
It's a great question with no comfortable answer. Either they're so invested in their narratives they can't see the truth when it plays out before them. Or, they know they're lying but hope enough readers believe them to keep their narrative alive.
Either way, it's increasingly clear why most Americans no longer trust the mainstream media.
UPDATE: The AP did some damage control on their erroneous reporting, but it's not a completely honest account, according to Singal.
11/ UPDATE: @AP tells me it has corrected the caption to remove references to profanities and 'peaceful' protesters. It now describes Gesualdi as "shout[ing] at people protesting against Dave Chappelle's Netflix special[.]" pic.twitter.com/slPuIdBoIK

— Jesse Singal (@jessesingal) October 21, 2021