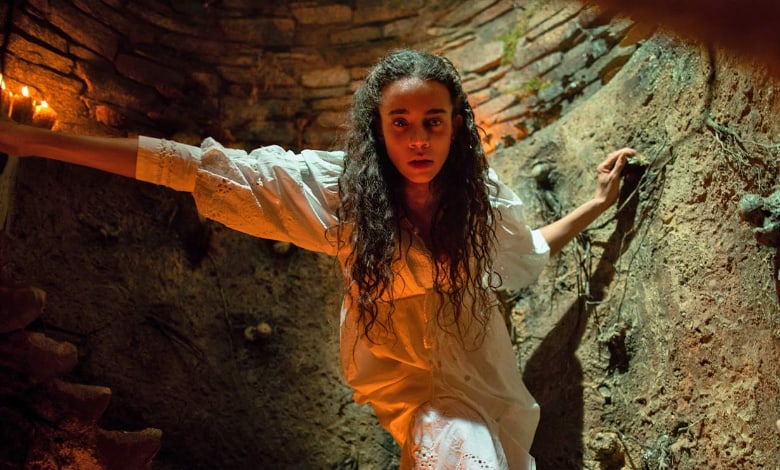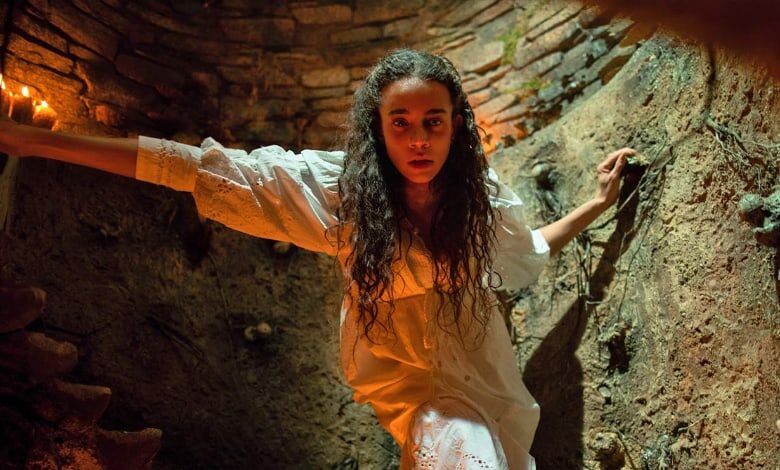 The genre mashup "Unwelcome" might want to see a mechanic. All that tonal shifting is bound to require a tune-up at some point.
An expecting couple flees urban crime to discover something even more sinister in this goofy, creepy horror-comedy pileup.
"Unwelcome" doesn't know when to end, and the screenplay teases an intriguing take on masculinity before losing interest. Still, you won't be bored for a nanosecond and star Hannah John-Kamen provides a grounded, but feisty, horror heroine.
Unwelcome - Official Trailer - Warner Bros. UK
Maya (John-Kamen) and Jamie (Douglas Booth) leave London after thugs break into their home and nearly kill them. They want something safer for their unborn child, and they think they've found it in a quiet North Ireland hamlet.
They've got a new home, a baby on the way and the sense that they've finally put the past behind them.
Except the present looks just as unsettled.
They hire the Whelans to fix up their home, not realizing the family watched "Straw Dogs" once too often and took copious notes. They take turns further emasculating Jamie, who retreats to his punching bag workout to blow off steam.
The Whelans are kept (mostly) in check by the family patriarch (reliable Colm Meaney), whose pleasant demeanor isn't fooling anyone.
Call him Daddy, he insists with a smile. Not creepy at all.
Nothing feels welcome to Maya and Jamie, and that's before they learn a quaint local tradition has literal teeth.
Well Go USA Entertainment has acquired North American rights to Jon Wright's horror film, "Unwelcome," with plans to release it in U.S. theaters on March 17, 2022 https://t.co/fmG6JGqTtX

— Deadline Hollywood (@DEADLINE) October 26, 2021
The couple is told they must leave a plate of food out every night to appease the Redcaps, ancestral critters who lord over the land. Maya plays along with the charade, but every movie goer knows how often traditions spring to life in horror movies.
"Unwelcome" understands none of this matters if we're not actively rooting for Maya and Jamie to reach the end credits alive. The film painstakingly details their relationship, the bond they share and the frustrations that bubble up when a couple is under extreme duress.
Hiring a contractor is stressful under the best of circumstances. Pay the Whelans to renovate your home? Yikes.
RELATED: 'RENFIELD' PUMPS FRESH BLOOD INTO HORROR-COMEDY MIX
Jamie's rage at watching his wife being beaten in the film's prologue powers his character. He won't let that happen again, he insists, but director Jon Wright ("Grabbers") seems less interested in seeing that arc through.
Maya is the film's primary focus, at least until the creepy Redcaps enter the frame. The FX here are plain and perfunctory, but a wiser move would be to see these critters far less and keep some of their mystery intact.
(Warning: R-rated gore)
View this post on Instagram
"Unwelcome" offers a brisk pace and intriguing color choices. Some scenes unfold like a fractured fairy tale, the screen bathed in unearth reds and greens. Other sequences are awash with old-school, grindhouse-approved blood.
You never know which tone will take over next, creating a whiplash effect that diminishes the overall story. It still keeps viewers off guard, a valuable element in any genre affair.
Plus, no matter how many crazed twists "Unwelcome" throws our way, you'll never be less than entertained.
HiT or Miss: "Unwelcome" bounces from goofy horror to blood-splattered mayhem, but it's always visually precocious.