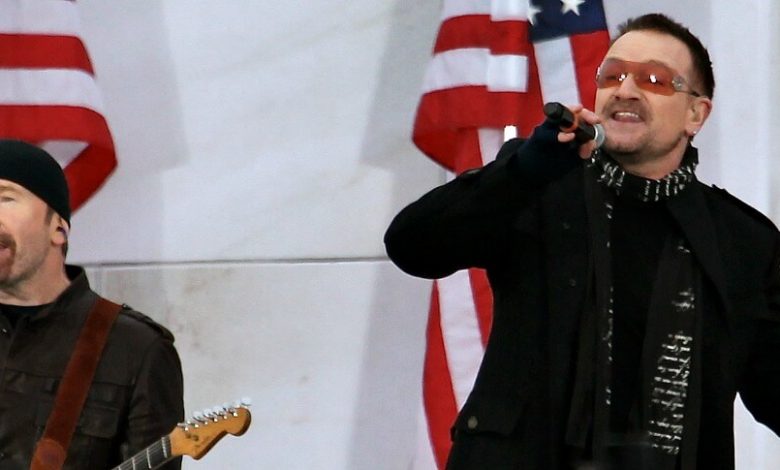 There's nothing less edgy in pop culture today than attacking President Donald Trump.
Zip. Zero. Nada.
It's still not shocking to hear a modern rocker or hip-hop artist take on the Commander in Chief. It's an efficient way to gain some free publicity and maybe a fawning article from a compliant press.
But Bono and co?
U2 put on a virtual Resistance show to kick off the band's 30th anniversary "Joshua Tree" tour in Canada. Of all the modern liberal rockers attacking the GOP this might have been the most strident.
Even Green Day, the act that made its name mocking President George W. Bush, has reduced its activism to a generic "F*** Trump."
U2 dug deeper. And nastier. And more progressive than anyone could have expected.
A band which has alternately praised and criticized America over time turned into yet another far-left act on a Vancouver stage May 11. Here's a sample:
"Send a message from Canada to the U.S.A.," Bono urged the cheering crowd, before leading it in a chorus of "power of the people; so much stronger than the people in power."
At one point, black-and-white film clips played from an episode of an old TV western, Trackdown, in which a con man named Trump comes to town to warn citizens to protect themselves from the end of the world by building a wall. "You're a liar, Trump," the hero responds.
Bono also preached: "In a democracy, the government should fear the citizens, not the other way around."
Bono also summoned the spirit of Dr. Martin Luther King courtesy of "Pride (In the Name of Love)." How? He said while the late leader's dream still lives in Vancouver it's suffering elsewhere.
Guess where?
"While others closed their doors, yours are open," he cried.
U2 - Pride (In The Name Of Love) (Official Music Video)
Later, Bono and his band mates gave a shout out to … Lena Dunham and Sen. Elizabeth Warren.
In a tribute to women for Ultra Violet (Light My Way), the faces of notable women flashed behind the band – including Malala Yousafzai, Rosa Parks, but also Oprah Winfrey and Lena Dunham as well as Canadians Joni Mitchell and k.d. lang. Bono dedicated the song to "our mothers, our daughters, the women on our crew" but also women "who resisted and insisted and persisted" – a seeming reference to one great Trump nemesis, U.S. Senator Elizabeth Warren. "You light the way."
Decades of goodwill built by great music, unforgettable performances and a tricky tightrope walk on modern politics may be evaporating on every tour stop.
Unless Bono changes his tune significantly when the tour hits American soil later this week.