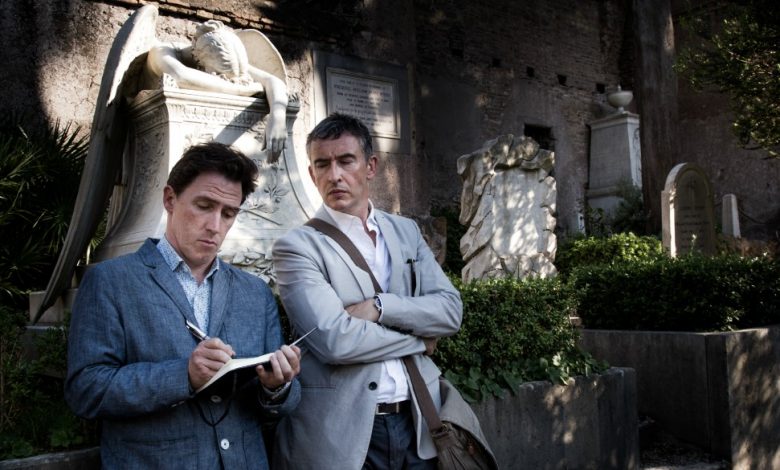 The film continues the conversation between British cutups Steve Coogan and Rob Brydon, mimics eager to share their neuroses in a quasi-fictional setting.
How could a movie featuring two middle-aged comics who don't curse or insult us not only generate a feature film but now, egads, a sequel? Don't call it a franchise, at least not until there's a Steve Coogan toy in your kids' Happy Meal.
Audiences must know what to expect. Their first film, "The Trip," trafficked in similar banter, a conversation which officially started with the 2005 feature "Tristram Shandy: A Cock and Bull Story."
Their chemistry is like Walter White's blue meth – darn near perfect in quality. Still, those eager for a semblance of a story or even a molecule of character progression are advised to dine elsewhere.
The two re-team thanks to a new writing assignment focused on Italy. They hop into a convertible Mini Cooper, pack their favorite Alanis Morissette DC and off they go.
Director Michael Winterbottom, the "franchise's" auteur, captures both the genial nature of the chats while keeping the camera far enough away to offers some visual panache. When those tricks fail, he focuses on the chefs preparing the duo's next meal, capturing the artistry of food preparation without the fussiness show on your average food channel.
The Trip to Italy - Clip "The Dark Knight Rises" | HD | IFC Films
An early battle involves "The Dark Knight Rises," riffing on the incomprehensible Bane, and how Tom Hardy's physique earns him a certain level of respect.
"He's very muscular, so he's a terrific actor," Brydon says.
DID YOU KNOW: Steve Coogan saw a headline which read, 'The Catholic Church sold my child.' a news story which led to his starring role in the 2013 movie 'Philomena.'
Middle-aged viewers will cringe as the pair acknowledge how beautiful women now look right past them, one of many themes the film skims without pursuing. The notion of professional jealousy also arises, but with nary enough detail for audiences to sink their teeth into it.
And so goes "The Trip to Italy." It's a buttery appetizer to prepare us for a wry, continental bromance.
NOTE: For those who wish to recreate the duo's journey, the film studio supplied HiT with a list of the restaurants and hotels visited during the story.
THE RESTAURANTS
Piemonte: TRATTORIA DELLA POSTA, MONFORTE D'ALBA
Liguria: RISTORANTE LA CANTINA, SAN FRUTTUOSO
Toscana: TRATTORIA ALBANA, MAZZOLLA
Roma: RISTORANTE OLIVER GLOWIG, ROMA
Campania: RELAIS  BLU, MASSA LUBRENSE
THE HOTELS
Liguria: Hotel Cenobio Dei Dogi, Camogli
Liguria: Ristorante & Albergo Da Giovanni, San Fruttuoso
Toscana: Relais La Suvera, Pievescola
Roma: Hotel Locarno
Campania: Villa Cimbrone, Ravello