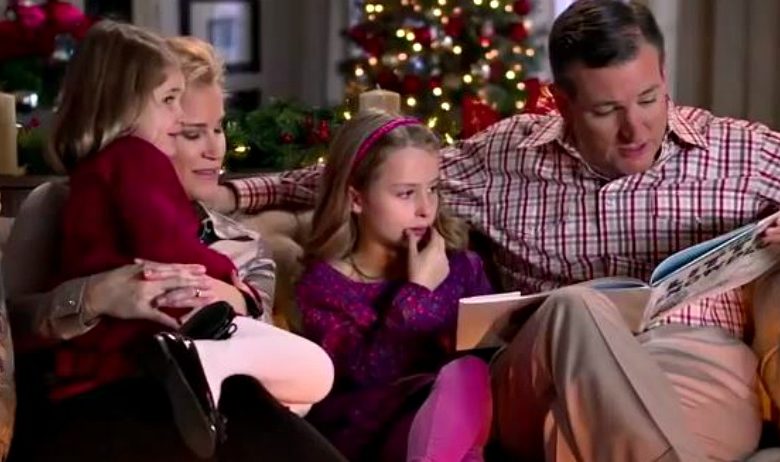 While some politicians fight losing battles to play classic rock songs, Cruz takes his message directly to the people.
Only cutting a commercial parody is hardly the same as scoring a pop culture bulls eye. Give the conservative an "A" for both effort and a "C+" for execution. At best.
Cruz's presidential campaign is gaining some ground on reality show star turned GOP frontrunner Donald Trump. So it's smart he bought time on NBC's "Saturday Night Live" to debut an unusual campaign spot aimed at Iowa voters.
"Cruz Christmas Classics" finds the senator reading "new" Yuletide yarns to his family. Think "Auditing St. Nick" by Lois Lerner and "The Grinch Who Lost Her Emails."
Get it?
The quick but unmistakable shot of Cruz's boots is a nice touch. And the tone is just right. Only the material is decidedly mediocre, down to the shoddy Photoshop visuals. The best line goes to one of Cruz's daughters about Hillary Clinton's email imbroglio.
The clip simply isn't funny or scathing enough to move the needle. Trump on an off night is funnier than anything featured here. Even Tina Fey's Sarah Palin impression was comical at first, even if you admired "Sarah Barracuda."
ALSO CHECK OUT: DID HILLARY TRY TO SILENCE STAND-UP COMICS?
Conservatives entering the pop culture arena must bring their "A" game. This 90-second clip packs a snicker or two, nothing more. It's too similar to those Funny or Die propaganda clips churned out on the Obama administration's behalf. Yes, Cruz's clip was aimed at a single state, but the power of the web means that anyone can watch it.
It's still early in the campaign. Let's see if Cruz's next comedy salvo delivers. Otherwise, the spots will reinforce the sense that conservatives can't be funny when it counts. Anyone who follows conservatives on Twitter know that's hardly the case.
Social media is far different than a 90-second campaign ad. Comedy counts heading into 2016. And at a time when Clinton is dropping by as many comedies as possible to appear "human" that matters all the more.