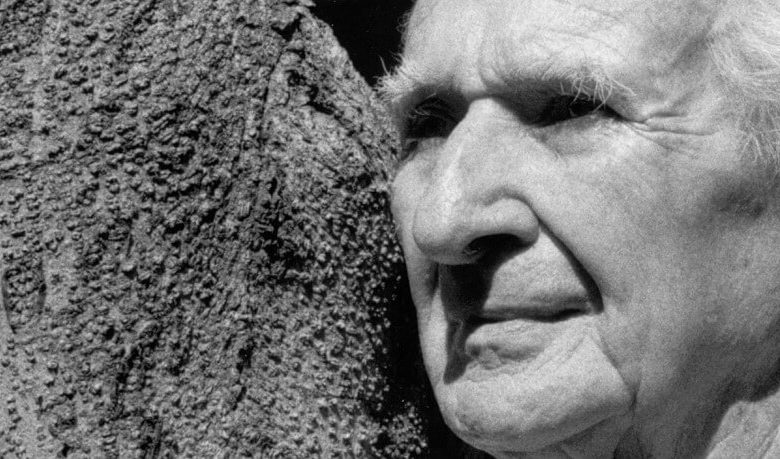 Could the modern age ever become so dark, so medieval, that mankind might forget say Copernicus, the Renaissance-era Pole who bravely put the Sun and not the Earth at the center of our universe?
Regretfully, I decided we might while watching "Struggle: The Life and Lost Art of Szukalski."
Like Copernicus, a fellow genius from Poland, Stanislav Szukalski was "one of the greatest artists you've never heard of" according to a Netflix documentary.
Struggle: The Life and Lost Art of Szukalski | Official Trailer [HD] | Netflix
Born on December 13, 1893, in Warta and raised in the nearby village of Gidle some 125 miles southwest of Warsaw, Szukalski came to New York with his mother and sister on June 27, 1907. He proceeded to Chicago to join his father, a blacksmith.
A child prodigy—he invented his own alphabet—he enrolled at age 13 at the Art Institute of Chicago to study sculpture. One year later, Antoni Popiel—whose bronze statue of Brigadier General Thaddeus Kosciuszko was selected by President Theodore Roosevelt for Lafayette Park in Washington, D.C.—convinced his parents to return him to Poland to study at Kraków's Academy of Fine art.
There in 1910, he was one of 11 admitted (out of 171) and the only one without examination, based on his drawing of only a nude model's knee. In 1913, he returned to Chicago where he became a key part of the "Chicago Renaissance."
A year later, he exhibited seven sculptures at the Annual Exhibition of American Oil Paintings and Sculpture in the Art Institute's galleries. In 1916 and 1917, he had solo exhibitions at the Art Institute, and one in 1919 at the progressive Arts Club; he also exhibited regularly in the juried annual events at the Art Institute.
In 1922, he married Helen Walker, an artist who was the daughter of a prominent Chicago doctor. In 1925 in Paris, he won awards at the International Exhibition of Modern and Decorative Arts, and, after traveling in Europe from 1926 to 1928, returned to Kraków where in 1929 he held a retrospective exhibition, founded an artistic movement focusing on artists inspired by Poland's pagan or pre-Christian history, and published Projects in Design: Sculpture and Architecture.
"Struggle: The Life and Lost Art of Szukalski" takes us inside the mind of one of the last century's great characters. Join us and see the film tonight, December 11, at 6:30pm: https://t.co/VrkJqYx7Vh pic.twitter.com/YPBRQALyr4

— LACMA (@LACMA) December 11, 2018
Szukalski and his wife divorced in 1932. Two years later, he married Joan Lee Donovan—once his daughter's kindergarten teacher in Chicago—at the home of artist, illustrator and screenwriter Wallace Smith, his best man.
His lifelong friend, American screenwriter, director, journalist and novelist Ben Hecht wrote that he "experienced disasters which would have killed off a dozen businessmen. Sickness, poverty and hunger yipped everlasting at his heels [and] he heard only the catcalls of critics and the voices of derision.
"Yet when I saw him in 1934, I saw a man who had feasted on power and whose eyes smiled with triumph." In 1936, he and Joan, financed by Poland, returned to his homeland. He was given a studio—the Szukalski National Museum, the largest in Warsaw—awarded commissions for scores of sculptures, façades and government buildings, and declared Poland's greatest living artist.
RELATED: 'Searching for Sugar Man' Review
In September of 1939, Germany bombed Warsaw. Tens of thousands died, Szukalski was injured, and his museum and studio were destroyed. All he brought to Poland was lost in the bombing or destroyed or stolen by the Germans.
He and his wife sought refuge in the U.S. Embassy, then, with but three suitcases, returned to southern California where he worked in the defense industry, designed, sculpted and drew odd jobs for movie studios, and disappeared.
In 1968, Glenn Bray, a "celebrated collector of pop culture and low-brow art" in Los Angeles, came upon Szukalski's 1929 book, Projects in Design and was smitten. He poured over the pages, hour after hour, day after day. Who was this incredible, but likely long-dead artist, and why had he never heard of him, mused Bray. In 1973, in a store in Tarzana, he spotted a drawing behind the sales counter.
On seeing the distinctive signature from Szukalski's volume, he asked its origin. "There's a nice man that lives in Granada Hills. He gave me that poster to hand up," said the salesgirl. Bray was incredulous. The artist whose work he loved was alive and living five miles away. He looked him up in the white pages, telephoned him, and, upon being invited over, knocked on his door. It was the start of a beautiful friendship.
Over the next 14 years, Bray and his friends, artists Robert and Suzanne Williams, spent countless hours with Szukalski and Joan to which they invited their friends. The charming Pole regaled them with his adventures over the decades, his sculptures, sketches and schemes, and his multivolume work on the origins of mankind.
One of those friends was George DiCaprio and his young son, Leonardo. At one point, Bray brought along a movie camera and asked permission to film Szukalski's "stream of consciousness" talks, during which, said Robert Williams Szukalski "couldn't sit still" and was "incontinent with imagination." After seeing the results of the first interview, the old man agreed.
The result was 200 hours of footage that became this remarkable documentary produced by the grown-up Leonardo.
FAST FACT: Oscar winner Leonardo DiCaprio helped support a Szukalski retrospective at the Laguna Mart Museum in 2000.
Szukalski's greatness—as an artist, sculptor, and visionary—cannot be denied. Eccentric too, after all, he professed he learned anatomy by dissecting his own beloved father when he discovered his body on the streets of Chicago. He had been killed by a speeding automobile.
Neither one to suffer fools, phonies and poohbahs lightly, he quickly dismissed even those who had the power to exhibit his work. Was he anti-Semitic based on his nationalistic writings during his pre-war years in Poland? Hecht, his lifelong friend and defender of Israel, thought not.
The senior DiCaprio thought so and, in retrospect, never forgave him. (Unfortunately, that is the source of the movie's one misstep: footage of modern-day protests in Poland, 31 years after Szukalski's death in 1987 and 80 years after the writings that gave DiCaprio pause.
A gratuitous slap at President Trump?
Relentless in his devotion to his many creative gifts, Szukalski pursued them aggressively throughout his life until a stroke left him unable to continue, and he resolved to join his beloved wife of nearly 50 years.
The hero of this film, however, is Bray, who ensured the world will know forever of this remarkable man, the turbulent times in which he lived, and the gifts he left behind.
---
William Perry Pendley, an attorney, is author of "Sagebrush Rebel: Reagan's Battle with Environmental Extremists and Why It Matters Today
" (Regnery, 2013), and two unproduced screenplays, "The Tenth Justice" and "Before I Die." Please follow him on twitter @Sagebrush_Rebel.