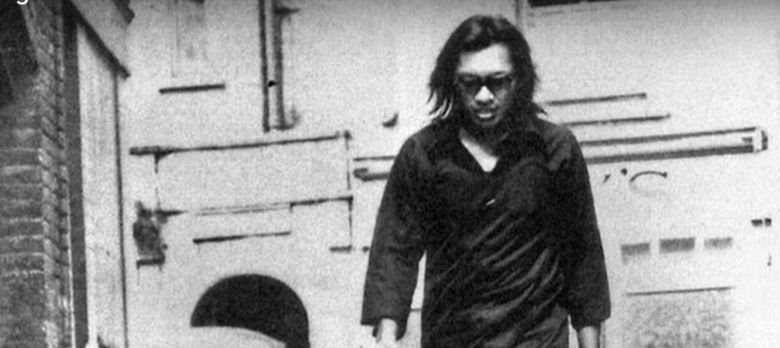 I kept passing on "Searching for Sugar Man" until late one night when I needed an hour of cardiovascular time and something to do with my mind.
I regretted my decision at first.
Oh, no, I thought, as the film opened on the bleak, empty streets of Detroit. It's another one of those sad tales where no one kept records, saved their photographs or remembered enough to accurately tell the tale of the long gone, urban musical genius.
I dreaded the ending when the storyteller disclosed that most of what we had been told in the last hour and 26 minutes about Sixto Rodriguez—who was "better than Bobby Dylan"— is as amorphous and mysterious as the fog that surrounded the bars along the Detroit River or the haze inside where he was first discovered in 1967.
Abruptly, we are speeding along, down the wrong side of the road mind you, in a car driven by Stephen Segerman, through mountainous South Africa near Cape Town. Segerman relates his early fascination with Rodriguez's signature song, "Sugar Man," partly because military acquaintances could not pronounce his last name and he became "Sugar Man," too.
Then he relates how, in repressive, Apartheid-ruled South Africa of the 1970s, this failed American recording artist became "bigger than Elvis."
Searching for Sugar Man Official Trailer #1 (2012) - Documentary HD
We learn that a pretty American hippie girl flew into Cape Town with one of the singer's two albums, "Cold Fact," under her arm. She subsequently shared it with her new-found mates, and thus launched a musical legend. Bootleggers embraced his two albums initially. Then, Rodriquez's anti-establishment urgings inspired meteoric sales.
So compelling were his heartfelt melodies that not even state censorship—authorities scratched through the vinyl's offending tracks—could still his voice or calm the revolution it fueled.
FAST FACT: "Searching for Sugar Man" earned a respectable $3.6 million at the U.S. box office.
Who was this amazing man, who accomplished so much musically and culturally to so little acclaim? How could he inspire a new generation nearly 10,000 miles from the city where he was born but die young and unfulfilled?
Some say he died at the conclusion of a concert where he incinerated himself, an agonizing death from a ball of flames. Others contend he pulled a pistol from his pants and put a bullet in his brain.
Sugar had to find out.
Sugar scoured the well-worn album covers in search of clues amongst the names of those responsible for his records' production. He hunted down hints buried in the lyrics of the singer's tunes. The songs mentioned New York, Amsterdam and Dearborn … might he have left traces there?
Searching For Sugar Man Movie CLIP #1 (2012) Music Documentary HD
Sugar also buried himself in the burgeoning blogosphere, scrambling for any evidence of the long-dead artist. Had he died a pauper despite his popularity and lucrative sales in South Africa?
We take a detour to Detroit, Palm Springs and Los Angeles for some serious accusations about who absconded with young Rodriquez's well-deserved mini-fortune.
The search for someone, anyone, who can tell Sugar more about the hero of his youth, continues, including the posting of a drawing on a milk carton featuring Rodriguez's photograph on Sugar's website ("The Great Rodriguez Hunt").
Documentary Spoilers Ahead
One day he gets a message on his website – "My name's Eva. I'm Rodriguez's daughter." Later they speak about his search and his excitement in learning her father is very much alive.
That night, at 1 a.m., the telephone rings on Sugar's wife's side of the bed. It is the deep-throated, soft-spoken voice of Sixto Rodriguez, calling from Detroit, where after his failed music career he has been all along.
Living in obscurity for four decades in the same rundown house, he labors each day doing the construction work no one else wants near—gutting abandoned tenements, hauling out crumbling drywall and hefting refrigerators on his back down creaky staircases.
Resurrected for us, he speaks without bitterness about his short years as a performing artist. We meet his three devoted and talented daughters who he taught to look beyond the world in which they were born, raised and he now lives.
Most significantly, we join him and his daughters on a triumphant return to standing room only crowds throughout South Africa. As if it were long ago, in a bar in Detroit, he steps to the microphone to return anew to the songs of his youth, but his audiences now number thousands in auditoriums there and millions around the world thanks to the Oscar winning "Searching for Sugar Man."
"Searching for Sugar Man" winning Best Documentary Feature
Today, he is earning the fortune denied him decades ago, but he gives it away to family and friends. The singer continues living the life of an urban ascetic amidst Detroit's mean streets.
And we're richer that he came back into our lives by way of a highly entertaining and enthralling documentary.
---
William Perry Pendley, an attorney, is author of "Sagebrush Rebel: Reagan's Battle with Environmental Extremists and Why It Matters Today
" (Regnery, 2013) and two unproduced screenplays, "The Tenth Justice" and "Before I Die."