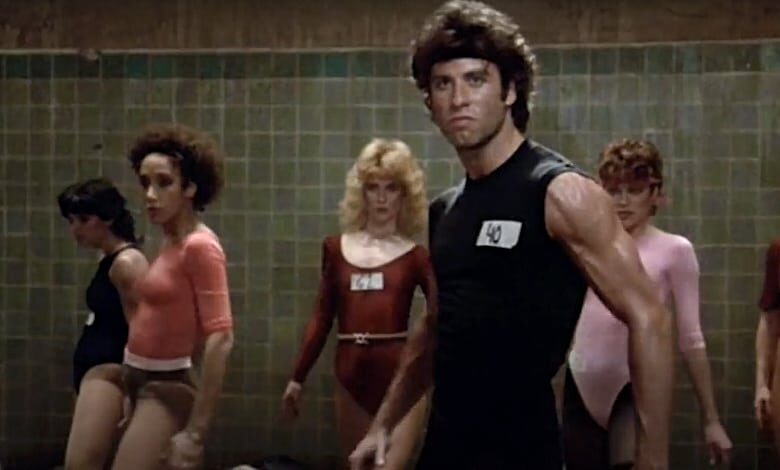 Director Sylvester Stallone's "Staying Alive" (1983) is not quite the debacle Reagan-era movie reviews would have you believe, though it does offer a whopping dollop of camp.
Until its third act, it's a simple-minded but involving portrait of a creatively unsteady artist trying to establish himself as a force of nature beset by poor professional and personal decisions.
Perhaps I'm writing about Stallone during this era (maybe, or perhaps not) as much as protagonist Tony Manero, the lead played once again by John Travolta.
It opens … no, that's not right. The film doesn't "open." It explodes, with the titles and '80s headband/leg warmer-enhanced dancing flying at you.
A young but no less curmudgeonly Kurtwood Smith is observing an energetic Broadway audition, as Stallone is already in full MTV-fueled montage mode.
Manero now works at a low-rent disco club, serving the kind of young and dumb patrons he used to be. While Manero exudes on-again-off-again interest in Jackie, his enormously patient, long suffering quasi-girlfriend (well played by Cynthia Rhodes), Tony becomes obsessed with another dancer, the rich and awful Laura (Finola Hughes, very good at being an alluring, loathsome actress).
Tony, Laura and Jackie all wind up performing together in a state-of-the-art Broadway production called "Satan's Alley," which, hilariously and with total accuracy, is described as "a journey through hell."
One of the most 80s intros of the 80s during the 80s. This is Staying Alive (1983), the sequel to Saturday Night Fever (1977). Starring John Travolta and written and directed by Sylvester Stallone. It's the oldest film to receive a 0% rating on Rotten Tomatoes. pic.twitter.com/fMTTPF80DM

— The Sting (@TSting18) April 12, 2023
"Staying Alive" is kinetic and highly entertaining, exactly what a follow-up to the late-'70s/disco-centric original should be. The worst thing about it is its cinematic lineage, as Stallone's approach, both as a storyteller and filmmaker, is a flashy counterpoint to John Badham's observant, grittier take via "Saturday Night Fever."
Stallone's film can't truly compete with Badham's and doesn't even try to.
If anything is watered down substantially, it's the grit of the tougher-than-anyone-remembers "Saturday Night Fever" (1977). A reference to sex from a club patron is as edgy as this PG-rated movie gets.
However, considering how popular the PG-rated version of "Saturday Night Fever" was, there is something shrewd about making the follow up more accessible. How's this for authenticity- alongside "Nighthawks," this is the ugliest looking Stallone movie to ever be set in New York City, during the Ed Koch/garbage-in-the-streets era.
RELATED: HOW THE VILLAIN STOLE 'NIGHTHAWKS' FROM STALLONE
Travolta has never looked better on film and his performance presents a consistency – the character is still driven and talented but no smarter than he was in the previous decade.
Tony isn't watered down – he's the same bone-headed lunk he was in Brooklyn, though, in Stallone's hand, he's more Balboa than Manero. The movie lives for shots of Travolta turning around and staring right into the camera, as Stallone ogles his star.
Helping keep this grounded, with any sense of a moral dilemma, is Rhodes, cast as the long-suffering girlfriend. Between this and "Dirty Dancing," Rhodes was the Meryl Streep of '80s dance movies.
Hungry Eyes - Dirty Dancing (2/12) Movie CLIP (1987) HD
Stallone's approach reflects the MTV aesthetic and storytelling that would maintain a firm grip on most mainstream movies throughout the decade. The actor-turned-director may not be respected for his work behind the camera, but if you watched this and "Rocky IV" (1985) back-to-back, you'd know it was the same director.
Is Stallone an auteur? It's probably too early for the film critic community to give him that much credit, but the answer is technically yes.
Stallone's storytelling abilities get muted, as this is as simple as it gets. Just listen to his dance lingo: "Lay back, Butler, extend!" "I thought I was going downstage- now its upstage!" Stallone's dance acumen is questionable, as is his understanding of how a Broadway show runs.
Considering how dramatic the events are on opening night, you'd think Stallone was treating this as the ultimate climax and not the beginning of a long run of shows.
The montage of Tony getting turned down for a series of jobs is, no joke, awfully like a sequence that appeared a year later in "The Muppets Take Manhattan" (1984). The scene between Tony and his mother (Julie Bovasso in a welcome return to the role), where the film belatedly embraces its lineage as a sequel to "Saturday Night Fever," is golden.
Saturday Night Fever (1/9) Movie CLIP - Watch the Hair (1977) HD
So is the big scene between Travolta and Rhodes, where Tony finally says exactly the right thing to her. The scene is Stallone at his best, though it's not hard to see why it works – Stallone frames it just as he would a Rocky and Adrien scene.
Stallone also knows how to shoot and pace a montage in the editing room, which serves him well during the climax. The good news is that the third act of "Staying Alive" is unforgettable. The bad/actually even better news is that "Satan's Alley" is hilarious.
Was Stallone thinking that, instead of "Cats", why not just do Demons? A weird touch is how the movie isn't about "Satan's Alley" but essentially becomes it, as we're knee deep in the dry ice/concert lighting/grunt n' jump world of a gloriously bad Broadway musical.
The amount of laser lights, jumping and thrusting is astonishing, as is the Heavy Side Layer-like finale.
FAST FACT: "Staying Alive" couldn't match the box office prowess of 1977's "Saturday Night Fever" ($94 million) but still earned a respectable $64 million according to Box Office Mojo.
Stallone failed to make a film with a legacy like "Saturday Night Fever" and, instead, made a box office hit that most have sneered at both then and now. However, Stallone deserves credit for making a backstage theater rehearsal drama that didn't just outdo Richard Attenborough's stodgy "A Chorus Line: The Movie" (1985) in every way, but also predicted how bombastic and MTV-fueled future Broadway attractions would become.
This being 1983, a year into the seemingly eternal reign of Andrew Lloyd Webber's "Cats," Stallone's film take place before Broadway got ridiculous, with the likes of "Starlight Express," "Carrie- The Musical" and "Spider-Man: Turn Off the Dark" right around the corner.
If anything, Stallone's insistence that the audience becomes a witness to "Satan's Alley" seems downright prophetic. Today, the show would hardly seem outrageous, let alone commercially risky, alongside "The Book of Mormon."
View this post on Instagram
Tony's mother asks him to do a show where there's "no nudity": apparently, she has seen "Oh! Calcutta" and "Hair."
The only thing more involving than the question of whether Tony will or will not lose his soul to a career (or "Satan's Alley") is who will win the battle of the "Staying Alive" soundtrack; for roughly 90-minutes, it's a battle between the Bee Gees and Frank Stallone for soundtrack dominance (Frank Stallone's "Far From Over" gives him the edge, as does appearing in a supporting role in his brother's movie).
By the way, before "Satan's Alley" begins, we hear someone backstage say, "Yo, Adrien, break a leg!"
Mr. Stallone, you are shameless.