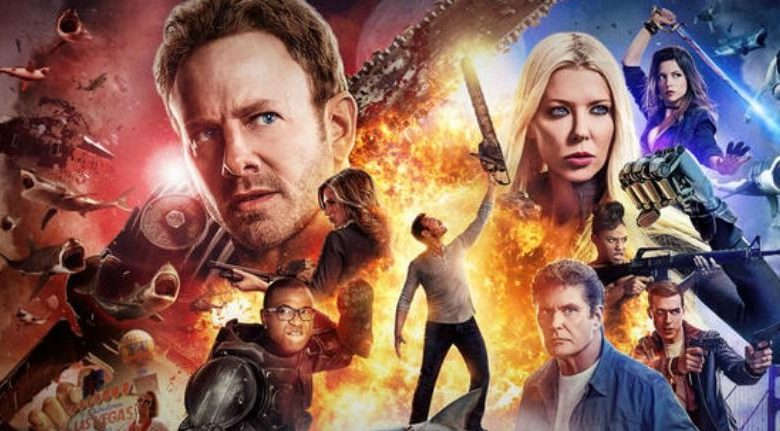 With scenery chewing that rivals the titular predators, a tidal wave of cameos and rising risible scenarios, the "Sharknado" films have created deep passions.
Sharknado 4: The 4th Awakens Official Trailer 1 (2016) - Tara Reid Movie
While stars Ian Ziering and David Hasselhoff are garnering the bulk of the PR, I was more interested in those on the creative side.
I spoke to the primary source of the franchise,­­ writer Thunder Levin,­­ and a man responsible for ushering a fair amount of the talent in front of the camera, casting director (and occasional script writer) Scotty Mullen.
When it comes to crafting these adventures I asked Levin if he goes through the standard process of writing a script and submitting it, and then essentially seeing the result after production.
"No, it's a far more hands­-on process," Levin explained in working with the The Asylum, the studio delivering these epics. "You have to understand, these productions are very short to begin with. With the first two movies we really were not prepared for the onslaught of interest, so were we scrambling."
One other aspect in the creation is that a growing number of celebrities clamor to be included in the mirthful mayhem.
"After the first one I had to be mindful of the number of people who wanted to be in the production," he says. "I would write roles specifically for certain actors, but I also make sure I have characters throughout the script that can be used for those who are cast later on. There are also those times where people cannot suddenly be available, for any reason."
RELATED: 'The Crush' Revisited: Epic '90s Trash
Mullen is partly responsible for those arrivals. A freelance writer who originally worked in entertainment publicity and marketing, Mullen has gleefully moved on to more direct roles.
After helping with a few departments for the first sequel, he took on larger responsibilities for Part 3.
"I was the one who brought Ann Coulter and Mark Cuban into the cast. Bo Derek as well," Mullen says.
SHARKNADO 4: The 4th Awakens - Is April Alive?
He has since grown into working regularly with The Asylum. He wrote the script (from a story by Anna Rassmussen) for the similarly off-­kilter undead animal movie "Zoombies." He also served as the casting director for "Sharknado 4: The 4th Awakens."
"The celebrities who want to be involved are really in it for two reasons," Mullen said. "They certainly are not doing it to get paid! But they all understand the fun to be had, plus they see it as a PR opportunity for their other work."
That wealth of talent can also produce real-time challenges.
"There was a day we were filming during Part Three," Levin said, "and we suddenly had two people arrive for the same part. I had to rewrite new scenes on the spot."
This was something Mullen experienced as well.
"Yeah, you have to be really adaptable at times," Mullen said. "Sometimes the budget may not allow for certain scenes, or for some reason you find out that a location is not available. Those things can lead to doing rewrites."
FAST FACT: The original "Sharknado" had a very modest budget of $1 million.
Missed opportunities are also part of the experience.
"One of the characters I wrote before production was going to be for Bruce Campbell," Thunder said. "I had a character all set for him."
However scheduling became a problem.
"Bruce was going to be in it, but then he ended up in New Zealand while we were shooting," Mullen said. [ Note: The role that was written was so perfect I'll refrain from divulging, on the chance that it comes to fruition in a later sequel .]
The desire to become part of this iconic series is attracting a wider array of talent, higher up the celebrity grade scale. Off the record, Mullen names an internationally known actor who wanted to do the film, but his agent squelched the deal. The agent feared it would tarnish his image.
"It's a testament to the impact these movies are having. People love them, and more performers want to be in them. It's really wild," Mullen said.
Levin wishes he could put his professional duties aside to experience the "Sharknado" fandom for himself.
"I hear about how people are holding 'Sharknado' viewing parties in their homes," Levin said. "Those just sound great to me. I always go to the premieres, and the cast parties, but I tell you I would really love to attend one of those parties, and watch with the fans."
"Sharknado: The 4th Awakens" premieres at 8 p.m. EST Sunday July 31 on Syfy.
---
Brad Slager is a freelance writer who has contributed to The Federalist, Breitbart News and Pop Matters.