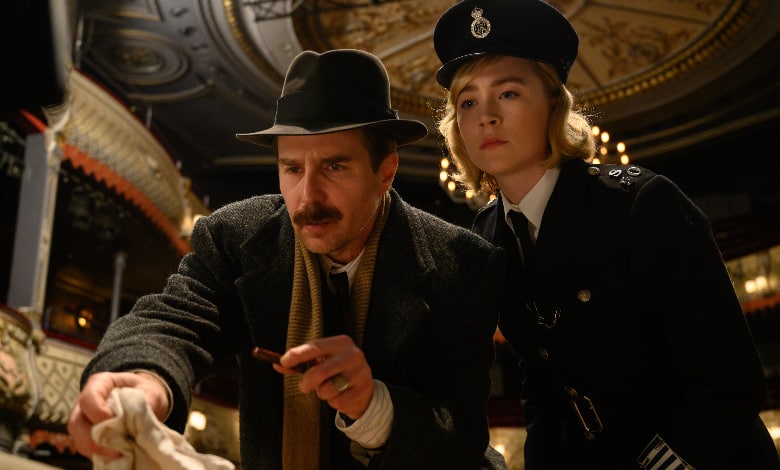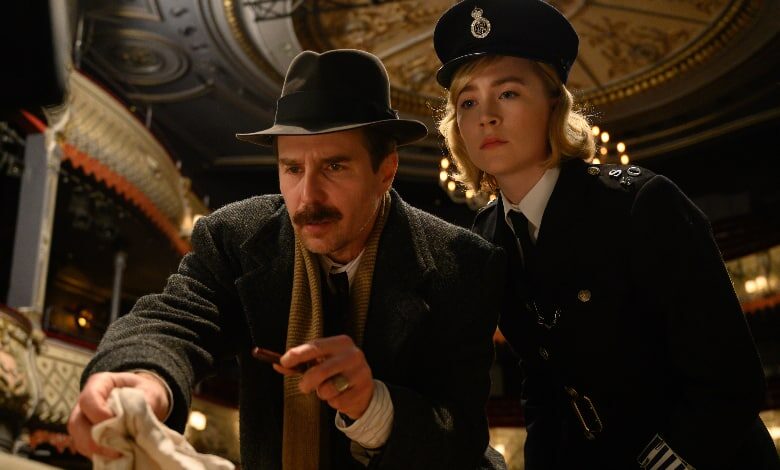 There's something wonderful about the whodunnit revival, even if it's just in its nascent stage.
Rian Johnson, making amends for sinking the U.S.S. "Star Wars" with "The Last Jedi," gave us a giddy mystery franchise via "Knives Out." Two recent Agatha Christie remakes kept the movement alive.
"See How They Run" hopes to keep that zeitgeist going.
Not so fast.
Sly and slight, the meta mystery offers some chuckles and the sublime Saoirse Ronan, but otherwise can't give the whodunnit craze the rocket fuel it deserves.
See How They Run | In Cinemas Sept 9 | Searchlight Pictures | Mystery 30
Ronan and Sam Rockwell star as Constable Stalker and Inspector Stoppard, tasked with solving a murder on London's West End circa 1953. The director of the upcoming Christie adaptation, "The Mousetrap," ends up dead and "staged" in the theater proscenium.
Young Stalker, ever jumping to conclusions, has all the moxie but little of the crime-solving chops to crack the case. She's better than Stoppard, who'd rather take a nap or a nip than do any investigative work.
They're forced to follow a group of theater types, from the flowery Mervyn (David Oyelowo) to lead actor Dickie Attenborough (Harris Dickinson). All the while the film's victim, played by Adrien Brody, offers some plucky, meta narration.
The usual cast of would-be eccentric characters aren't as interesting as the genre demands. The murder-mystery in question isn't one of the ages, and that's being kind. And would someone wake Rockwell up?
Yes, his character is burned out and bleary-eyed, but we're waiting for that spark to bring him back to life. It's yet another trope – the washed up gumshoe who has enough experience to save the day. Still, we're dying for it to kick in.
Alas, unlike Frankenstein's monster, there's no electricity here to revive him.
That leaves Ronan, willing to be the brunt of the joke rather than play the Empowerment Card most modern movies foist upon us. She's an enduring delight, as usual.
View this post on Instagram
"See How They Run" wants it both ways. It's endlessly playing with whodunnit tropes, from Brody's wry narration to dialogue referencing Christie's place in pop culture.
The film's jaunty score deserves better, but it keeps the flatter sequences afloat.
You'll chuckle a few times, mostly at Ronan's attempts to become an inspector one day. She's all gung-ho enthusiasm, scribbling notes in case some wisdom comes her way.
The Stalker/Stoppard pairing should spark buddy comedy gold. Mismatched types generate the most friction. Instead, the film's attempt at a second-act red herring stops their momentum cold.
In between, we're thrown some mildly satirical barbs against show business and a brief warning about artistic exploitation. It's here and gone, alas, as is a defense of the creative process.
Why even bother?
RELATED: WHY 'YOUNG SHERLOCK HOLMES' NEVER BECAME A CLASSIC
Still, the sets are sumptuous, the cast is strong and director Tom George Has enough affection for the genre to make us forgive some, not all, the film's flaws.
One woke note. The story is set in the 1950s, but a minor subplot follows a movie producer (Reece Shearsmith) sleeping around with his assistant, played by black actress Pippa Bennett-Warner. Interracial dating sadly wasn't commonplace in the 1950s, making their courtship a recurring distraction.
So, too, is the police head noting how women will be the future of the police force.
In 1953.
Huh? Talk about breaking the period spell.
HiT or Miss: "See How They Run" teems with affection for classic murder mysteries, but it isn't sure footed enough to deliver the genre goods.