Industry News
Opinion
Did 'SNL' Just Admit Biden's Mental State Is in Question?
Far left NBC show can't avoid what we're all seeing from the Commander in Chief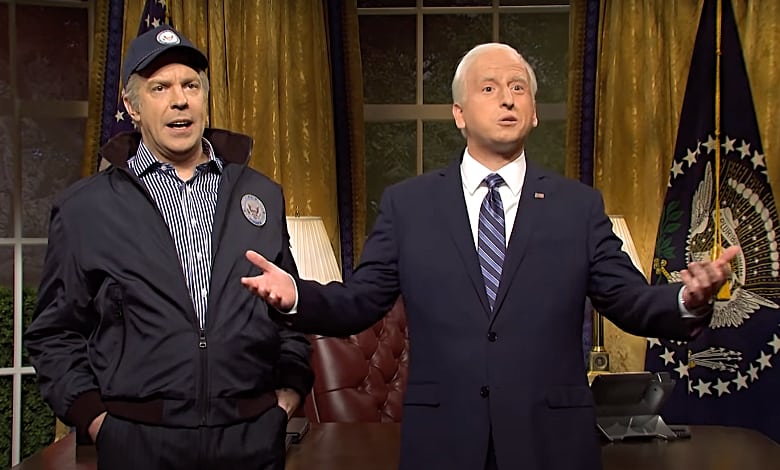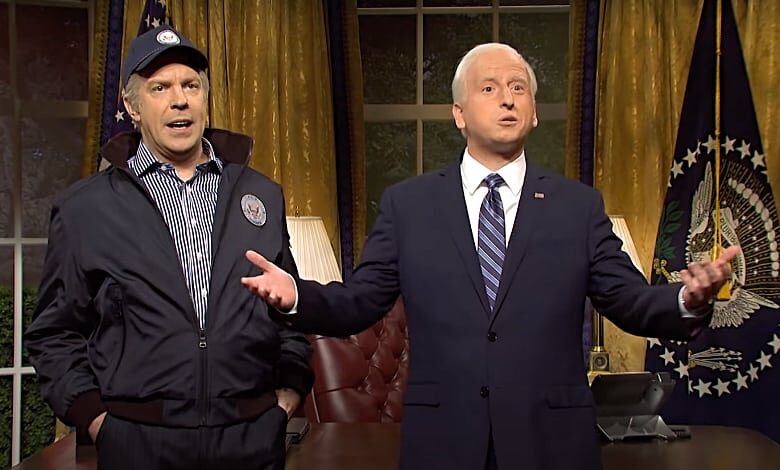 "Saturday Night Live" is still pulling its punches when it comes to the President of the United States.
We've watched the sketch series sugar coat the first nine months of Joe Biden's administration, a stark contrast to how "SNL" treated the previous White House dweller.
Some shows barely mentioned the Commander in Chief up until now. Others saved their sharpest barbs for GOP-related targets.
Not this weekend.
Ghost of Biden Past Cold Open - SNL
The NBC show opened with President Biden (James Austin Johnson) lamenting his horrendous poll numbers. He gets a boost from the 2013 version of Joe Biden, played by former "SNL" standout Jason Sudeikis.
The 2013 model tries to cheer the despondent Biden up.
"How could you be me? You seem so happy, so carefree, so … what's the word I'm looking for?" the current Biden asks.
"Lucid!" Sudeikis' version barks in delight.
Let that sink in. "SNL" is admitting what we're all seeing, but what the press and late night comedians won't dare mention. President Biden has lost something … important.
RELATED: It's Time for 'SNL' to Hang It Up
The rest of the sketch is thin gruel, satirically speaking, save the 2013 Biden sniffing the current model. That reference to the real Biden's inappropriate behavior that got memory holed by comedians once he became a serious White House contender in 2020.
The skit is still remarkable for a few reasons.
One, it shows how "SNL" still cozies up to the Biden administration, treating flak Jen Psaki (played by Chloe Fineman) as some truth teller as opposed to what we actually see on our smart phones and TV screens.
"I'm bad at lying," the faux Psaki says before she exist the sketch. That's just embarrassing spin.
Wow, Peter Doocy just caught Jen Psaki lying in real-time about Biden "going to the border."

Jen Psaki really doesn't like being held accountable, as you can tell. pic.twitter.com/ikpGxb0NXa

— Caleb Hull (@CalebJHull) October 22, 2021
Plus, we aren't told why Biden's poll numbers are cratering.
A disaster along the U.S./Mexico border
A calamitous Afghanistan pullout
Roaring gas prices
Soaring inflation
Supply chain chaos
Chaotic COVID-19 leadership
Yet a key issue Biden can't shake is his obvious mental decline, shown most recently when he stood, with his fists clenched, for 19 straight seconds during a CNN townhall.
Clenched fists, sign of dementia?https://t.co/2Uh4Pqn60C

— Douglas Alan Ross (@Caltexross) October 22, 2021
The show's hard-left Weekend Update segment also brought up the issue.
The faux news anchors, Colin Jost and Michael Che, noted Biden said recently that he hadn't had time to visit the Southern border.
"Though his approval rating has," Jost mocked alongside a graphic of the president's dipping approval rating, which also made good comedic fodder for the episode's cold open.
Jost added: "Insiders are also saying that, during meetings, President Biden repeatedly uses the f-word in conversation. More concerning, the f-word he keeps using is 'forget.'"
"SNL" continues to cover for Biden's ineptitude and is unwilling to showcase the many reasons his poll numbers are disastrous. The show still let loose with not one but two laugh lines aimed at his mental state.
That's no accident.
By illustrating the Commander in Chief's waning mental state, though, it could signal other comedians that the matter can no longer be overlooked by their partisan comedy.
If Biden's fragile mindset becomes a running gag across pop culture, he may look back at his current poll numbers as, "the good ol' days."