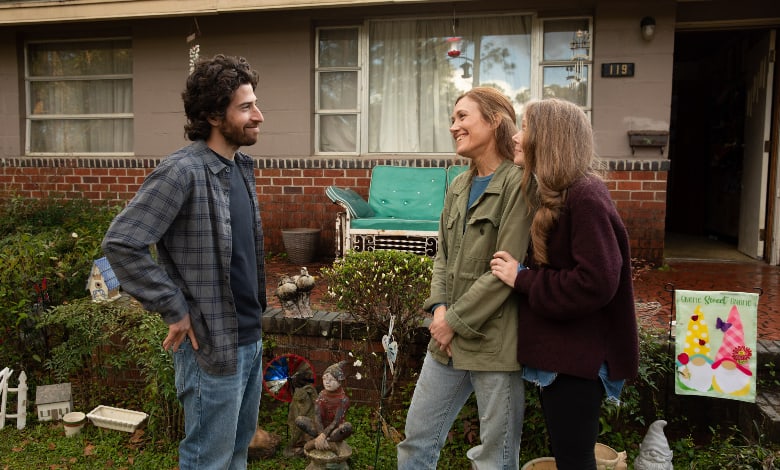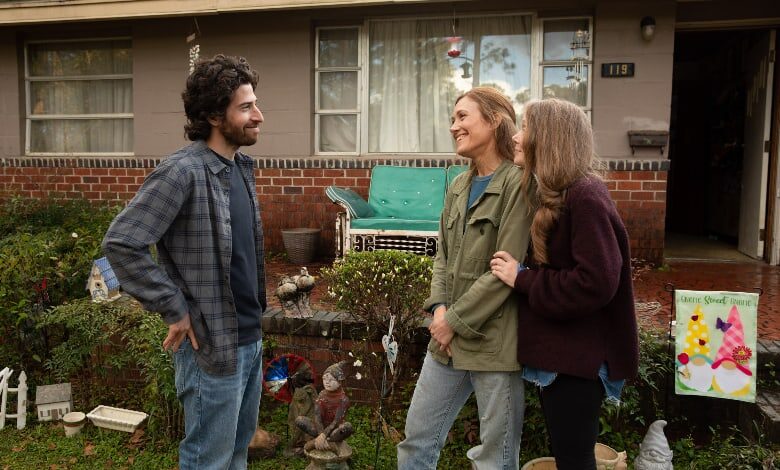 Stunt casting gets a bad rap, but sometimes the practice makes perfect sense.
"Sam & Kate" pairs screen legends Sissy Spacek and Dustin Hoffman with their grown children, both accomplished actors in their own right.
The gambit works beautifully in this sweet and sour romance, the actors' real-life ties (and resemblances) heightening the tale's dramatic heft.
Too bad "Sam & Kate" leans into its characters' flaws without enough insight to leave a lasting impression.
httpv://www.youtube.com/watch?v=-prs0wX–RQ
Bill and Sam (Hoffman and Jake Hoffman) live together in a small, unassuming hamlet. Sam's artistic skills haven't let him grow past a gig at the local chocolate factory, but he's a dutiful son who takes care of his elderly Pa.
The duo have a "meet cute" moment with a local woman named Tina (Spacek) and her grown daughter, Kate (Schuyler Fisk, Spacek's off-screen daughter) over a car repair. Sam previously met Kate at her bookstore, and it's clear he's smitten.
Kate isn't as sold on their romantic potential, but Tina would like to know Bill a bit better.
Fate, and screenplay contrivances, ensure their collective paths cross and re-cross, but can the emotional baggage each carries prevent these love connections?
Sam & Kate (2022) Clip - Car Troubles
First-time director Darren Le Gallo knows he has two of the industry's most gifted stars at his disposal, and he's in no rush to let these potential romances bloom. That means we see Bill and Sam bicker and bond, along with the curious tics between Tina and Kate.
The former features the usual clashes. Bill is old school and chatty, while Sam worries his life hasn't reached its full potential. And Pa lets him know it.
Tina's issues run deeper. She's a hoarder, and it'll take more than a cleaning crew to rescue her from her cluttered life.
There's more, of course, including a tragedy that one character keeps hidden from the rest.
The screenplay is smart and soulful, but it doesn't evolve beyond the surface-level texture. We crave more from these characters, and "Sam & Kate" is unable to deliver.
Why does Bill refuse his doctor's warning about his heart? What made Sam give up on a promising art career? Will a Sam and Kate romance offer salvation for both characters?
RELATED: 'SALESMAN' KICKED OFF HOFFMAN'S SECOND ACT
The third act addresses some of the conflicts in question, but a key storyline is resolved through nothing more than the passage of time. That's hardly gripping cinema. It's like they knew the ending the story needed but couldn't do the heavy lifting to sell it.
It's still a joy to watch Hoffman, quasi-banished following some MeToo accusations, back on the screen where he belongs. The 85-year-old's charisma has been dulled by time, but there's still that movie star sparkle that can make ordinary moments matter.
Spacek, one of the most grounded stars of her generation, is equally sharp as an older woman intrigued by the potential for love.
Fisk and Jake Hoffman resemble their parents, which gives the story a realism other stories lack. Knowing the family ties in place gives "Sam & Kate" an extra kick, and the sometimes soggy story needs that boost badly.
HiT or Miss: "Sam & Kate" is a thoughtful, but tepid, romance about love, loss and the generational ties that bind.