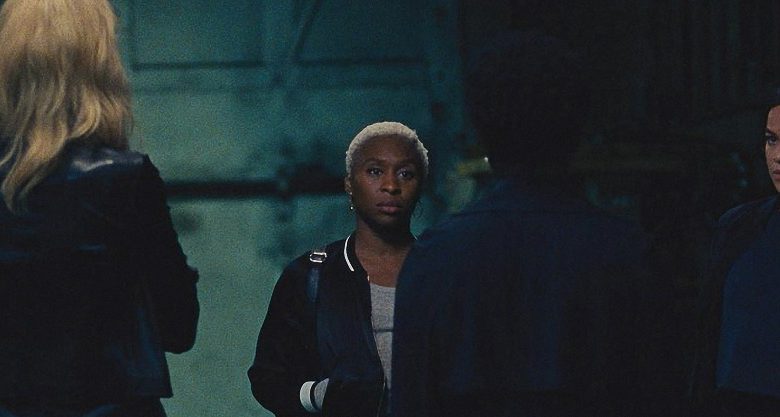 "Widows" offers a few sit-up-straight moments long before the film's plot kicks in.
You look at the cast (Viola Davis! Robert Duvall! Daniel Kaluuya!) and you wonder how they got roped into what seems like an ordinary heist caper. The dialogue singes, too, as if the powers that be forgot we've come to expect very little from modern potboilers.
Does the genre even deserve such storytelling extravagance?
"Widows" stalls a few times, though, signs the storytellers tried to throw some progressive talking points into an otherwise relentless tale. And if you think too hard about the heist in question you'll see too many holes to ignore.
Widows | Official Trailer [HD] | 20th Century FOX
The film opens with an incendiary set piece, the kind you expect from a "Mission: Impossible" sequel. A group of thieves, apparently led by Liam Neeson, are snuffed out during a robbery gone oh, so wrong.
Their deaths leave behind four widows, each suddenly facing a debt those deaths made worse.
Davis's Veronica could cower or call the police. Not on her life. She assembles her fellow widows for something more dramatic, a plan to show everyone they shouldn't discount wronged women.
"Widows" is just warming up.
RELATED: 'Oceans 8' Lets the Ladies Get Their Heist On
We expect the mechanics of the heist to slowly build before our eyes. We're distracted by several crisp subplots involving the Windy City.
Colin Farrell plays the son of a local politician (Duvall) out to lock down the family's grip on Chicago. Their opponent may lack name recognition, but they're willing to fight dirty.
"Get Out's" Daniel Kaluuya is the one with mud on his hands. It's a bone-chilling turn you won't see coming.
The other widows – Michelle Rodriguez, Elizabeth Debicki, and Carrie Coon – don't instantly fall in line. There's squabbling, emotional landmines and much more.
Did we mention this is a heist film?
"Widows" is in no hurry to get to the signature set piece.Director Steve McQueen ("12 Years a Slave") luxuriates in Chicago's sins, from crime lords to money players no local lawmen will touch.
The screenplay clumsily squeezes in some soapbox moments, each of which ring false while stopping the movie cold. They might as well be sponsored by MSNBC.
The film quickly recovers, but you wish the detours never happened.
Davis is astounding, akin to saying water is wet or the sky remains blue. She holds the film together even when the pulpy details stretch and strain against all reasonable brands of logic.
Does it all hold together in the film's crowd-pleasing finale? Sure, sometimes. Be generous. It's not often commercial filmmaking arrives with such a potent pedigree. For that reason alone, "Widows" should be savored.
HiT or Miss: "Widows" is far from flawless, but it's rigorously considered and teeming with tantalizing twists.
INSTANT FAMILY
"Instant Family" wears much more than its heart on its sleeve.
The ambitious dramedy seeks to reframe the conversation surrounding foster care. Forget the headlines, the horror stories and the fears some harbor when the topic surfaces.
Spend some time with the film's unconventional clan and watch those prejudices melt away.
That's the power of pop culture done right. And, for most of "Instant Family's" running time, it's precisely what the filmmakers deliver.
Instant Family (2018) - Official Trailer - Paramount Pictures
Mark Wahlberg and Rose Byrne play Pete and Ellie, a happily married couple considering the next step in their lives.
It's about time to start a family, but the process feels more perfunctory than vital.
That changes when they're introduced to officials from the local foster care system. They learn a bit about the process, meet some adorable children and figure this might be the path that makes the most sense.
Or, taking in three complete strangers could be the biggest mistake they'll ever make.
RELATED: Why Conservatives Should Support Wahlberg's 'Patriots Day'
"Instant Family" doesn't sugar coat the hard truths behind adopting foster children. The film shrewdly packages some in a series of comic counseling sessions. Stand-up comic Iliza Shlesinger deserves credit for turning a potentially sour subplot into a legit laugh getter.
The movie puts reality in focus. Foster parenting can be brutal. Confusing. Painful even.
Pete and Ellie have no idea what they've done. Is it a mistake, or do they need to recalibrate their expectations?
You won't find many surprises lurking throughout "Instant Family." That doesn't diminish its appeal or vital sense of humor. This isn't Clapter 101, mind you. The laughter is grounded in both observation and, let's face it, pain.
Wahlberg serves up his most comfortable performance in ages, while Byrne flashes her pinpoint comic timing. She's best when she's dialing down her emotions, finding humor in the spaces between her movements.
FAST FACT: The average age of a child in foster care is between 7 and 8 years old, according to the American Society for the Positive Care of Children.
The story heads in some obvious directions, including an inappropriate romance and a third act complication you knew had to happen.
So what holds it all together? The strong cast, including an excellent Isabela Moner as the oldest of the three adopted children. The actress avoids the typical teen angst, finding common ground between fury and frustration.
The most satisfying moments come when the new parents voice their ugliest emotions. Director Sean Anders doesn't hold back here, and the film is stronger for it.
That aforementioned support group features a gay couple, an interracial marriage and a single mom craving an athletic black teen to nurture. It's like Trigger-Palooza, but when the script's heart is so firmly in the right place the PC Police stand their ground.
Speaking of the easily offended, "Instant Family" even acknowledges the "White Savior" trope, a nod to both reality and the potential attacks the sweet story could muster.
Too many foster kids could use a safe, loving home, but getting them here is fraught with complications.
Trauma. Rage. Sadness. Emotional damage not easily healed.
The mainstream dramedy doesn't deny those possibilities. It also suggests at the end of the hard times there's a reward that's impossible to define. By leaving just enough of the rough edges in place, "Instant Family" lets audiences see a different side to the foster care system.
HiT or Miss: "Instant Family" reminds us imperfect families can be perfectly wonderful with enough love and understanding.