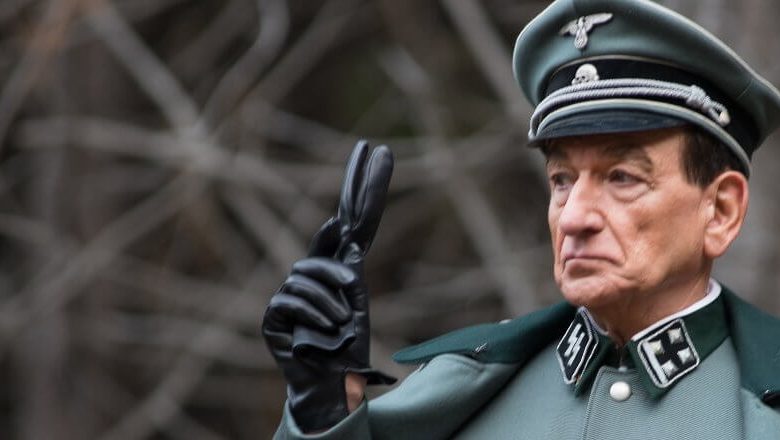 There's no such thing as a can't miss movie. "Operation Finale" proves it.
The true story of how Israeli agents tracked down the architect behind Hitler's Final Solution should be cinematic catnip.
Mystery, Intrigue and horror. Oh, the horror.
Snooze.
That's a bit harsh, but not entirely unfair. The film's re-enactment of Adolf Eichmann's capture by Israeli intelligence flirts with the saga's potential. The third act comes closest to the material's undeniable texture, with the leads tearing into dialogue befitting the sky-high stakes.
Until then, "Operation Finale" wastes a bevy of natural resources including one of Hollywood's most magnetic leading men.
OPERATION FINALE | Official Trailer | MGM
Oscar Isaac is Mossad agent Peter Malkin, part of a mission to bring Eichmann to justice. They could put a bullet in the Nazi's head. Who would blame them? Israeli officials opt for a trial, a venue that may bring more closure to the Nazi nightmare.
Eichmann, played with shrewd restraint by Ben Kingsley, didn't perish in World War II's waning hours. Not quite. He fled Germany, changed his identity and found a modest home in Bueno Aires.
Knock on his door and you'd find an unassuming family man, hardly the monster we expect.
It's there where he's found, leading to the first of many moments that should sizzle on the screen. Director Chris Weitz ("American Dreamz") isn't up to the task, draining the tension from sequences his peers might make their own.
Maybe Weitz was too busy making Nazi analogies to the Trump administration to realize how to tighten the screws on these essential moments.
FAST FACT: U.S. troops captured Eichmann in 1946 but he escaped before he could be tried by the Nuremberg International War Crimes Tribunal.
"Operation Finale" could be a primer on how to swing and miss over and again. The film teases a past courtship between Malkin and Melanie Laurent's Hanna. Sparks don't exactly fy, to be blunt. The screenplay barely touches on their connection, so why should we so much as shrug at their skimpy scenes together?
When they reconnect later in the movie it feels not just obligatory but meaningless.
Scenes of Nazi sympathizers gathering in plain sight give "Operation Finale" unexpected bite. So does the film's score, which teases anxious moments that never come to pass.
The secondary characters carry little weight themselves, including comic actor Nick Kroll who appears up to the task but isn't given much beyond boilerplate emotions. Haley Lu Richardson is similarly adrift as the young Jewish woman who plays a sizable role in Eichmann's downfall.
In the new film @OperationFinale, Oscar Isaac plays the role of Peter Malkin, an Israeli Secret Agent tasked with hunting down escaped Nazi criminal Adolf Eichmann in Argentina. Isaac discusses his role and the struggle to balance competing impulses of revenge and justice. pic.twitter.com/CVIkgIqc1t

— US Holocaust Museum (@HolocaustMuseum) August 30, 2018
The film shrewdly keeps the Holocaust atrocities to a minimum. When we finally see some of the horrors it floors us … as it should. The sequences should shame Hollywood stars who can't stop comparing the Commander in Chief to Hitler, an insult that grows rancid while watching Nazi troops shoot the innocent late in the film.
The period details are handsomely assembled, and it's hard not to fixate on the film's final moments along with the historical context provided before the end credits.
That said, "Operation Finale" never roars to life. It's measured when it should be impassioned, literal when a more creative interpretation could have yielded bigger emotions.
Googling Adolf Eichmann offers more engaging material at a fraction of the time and cost.
HiT or Miss: "Operation Finale" might make audiences scurry for the nearest history text. It still squanders the full potential of a villain's final performance.
THE LITTLE STRANGER
"The Little Stranger" is a probing character study about a doctor who–
No, that's not right.
The film walks the line between class divisions at a time when–
Not really.
It's a supernatural yarn that evokes–
Stop.
Movies that combine some, if not all, of the above are typically a mess. Unfocused cinema can be painful to endure, a sure sign of too many cooks or a director unsure of the story she wishes to tell.
Not "The Little Stranger."
It'll certainly tax the patience of horror hounds reared on cheap scares and shocks arriving at regular intervals. It's still absorbing in its low key way and features a curious romance led by two fascinating performances.
THE LITTLE STRANGER - Official Trailer [HD] - In Theaters August 31
The suddenly everywhere Domhnall Gleeson ("The Last Jedi," "Goodbye Christoper Robin") stars as Dr. Faraday, a physician drawn back to his childhood haunt during the 1940s.
His mother once worked in the aged but extravagant Hundreds Hall manor. Now, he's back to treat a peculiar family with deep ties to the building. We sense his memories are far from Rockwell-esque, but he's happy to return all the same.
That may be overstating matters. Joy rarely flickers across his face. His bedside manner is dour on steroids, but there's a kindness to his touch all the same.
Besides, unfinished business awaits in Hundred Halls. Only it might be the kind better left untouched.
FAST FACT: Domhnall Gleeson, son of Brendan Gleeson, got his first acting gig courtesy of Martin McDonagh's award-winning play "The Lieutenant of Inishmore."
Dr. Faraday can't remove himsel from the company of a lonely woman wrapped up in the building's depressed veneer. Caroline ("The Affair's" Ruth Wilson) could chase any potential suitor away with one wihering glance.
So why does Dr. Faraday remain by her side?
Wilson's Caroline is an attractive woman, yet everything about her appearance here defies that description. Her clothing is spare and mannish, but it's her gait that grabs you. She carries herself with sadness, something conveyed in every gesture. Her face goes through the paces … she does as told and tries not to dent the status quo.
It's how her body moves that tells her whole story.
Director Lenny Abrahamson ("Room") patiently plots Dr. Faraday's fate, letting us marinate in the manor's oppressive grandeur.
Ruth Wilson talks "The Little Stranger," leaving "The Affair"
The film offers some clarity despite a cavalcade of storytelling feints, including expository material placed in an unexpected pocket of the story.
We'll say no more.
The atmosphere is suffocating despite the expansive building. So are the class distinctions, which prick both Caroline and Dr. Faraday early and often. The good doctor has no need for a commoner like Carline, as his peer group hastily reminds him.
The film spikes a few times with moments of horror, or at least serious manipulation. It leads to a necessary conclusion, the kind that frustrates but plays out in a refreshingly organic fashion. It's one more way "The Little Stranger" both embraces and rejects the thriller template.
HiT or Miss: Horror junkies may scoff at this quiet, atypical yarn. Those willing to give it a chance will be in for a neat surprise.