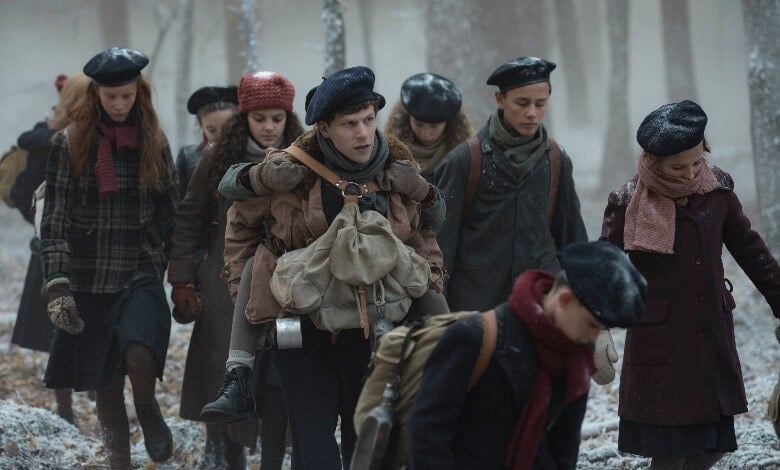 Every few years Hollywood introduces us to "another" Oskar Schindler.
Steven Spielberg's Oscar-winning "Schindler's List" shared how the industrialist used his connections, and humanity, to spare 1,200 Jews from the Holocaust.
Since then, we've seen "Persona Non Grata" (2015) and "The Zookeeper's Wife" (2017), similar tales of bravery in the face of unspeakable evil. "Resistance" may be the most unlikely version to date, especially for those new to its show business connection.
Jesse Eisenberg plays a budding mime who saves dozens of Jewish children from Hitler's clutches. The mime's name? Marcel Mangel, AKA Marcel Marceau.
For that reason alone the film is both vital and overdue. Thanks to Eisenberg, stunning cinematography and white knuckle thrills, it's also a compelling supplement to Spielberg's film classic.
RESISTANCE - Official Trailer I HD I IFC Films
Eisenberg plays Marcel, the son of a Jewish butcher who dreams of life in the theater. His father doesn't approve, but Marcel's comic mugging comes in handy when he meets a group of Jewish children orphaned by the Nazi regime.
The tykes desperately need a reason to smile, and Marcel gives them that and more. The sequences are heartbreaking without wobbling into melodrama. You'll smile, too, and marvel at Eisenberg's physical shtick.
Marcel's selfish streak curdles in the face of rising anti-Semitism and the woman he adores, Emma (Clémence Poésy). He sets aside his theatrical ambitions aside to join the French Resistance.
Studios typically cast Eisenberg as a nebbish, an unsteady soul who's smarter than everyone in the room. That's true in both "Batman v. Superman: Dawn of Justice" as well as the "Zombieland" films. Here, he taps elements of that self-awareness but adds something more profound, and unexpected.
It's bravery, the kind that flows from an organic, unassailable source.
FAST FACT: Marcel Mangel saved north of 70 children during the war. Once hostilities ended, he resumed his acting career and changed his last name to Marceau.
Eisenberg is the main attraction, but Matthias Schweighöfer gets the film's juiciest role. He's Klaus Barbie, the real-life fiend who did Hitler's bidding … with a sinister grin. Schweighöfer can't summon the malevolent cruelty Christoph Waltz flaunted in "Inglourious Basterds."
It's not the actor's fault, for example, he's saddled with a superfluous scene where he explains his handiwork to his frustrated spouse.
The actor's performance proves sufficiently chilling, something writer/director Jonathan Jakubowicz stokes without veering into exploitation.
One torture sequences comes very close, though.
Most people know French actor Marcel Marceau as the most famous and perhaps greatest mime of all time.

But he was also a Jewish hero who rescued thousands of children from the Nazis.https://t.co/hyL9PRrUEW

— Jewish Journal (@JewishJournal) March 26, 2020
Jakubowicz keeps the dramatic momentum on full blast during "Resistance" with only a few brief hiccups. Some early dialogue sounds depressingly on the nose, but otherwise the screenplay sticks to the remarkable story – with some Hollywood flourishes added for good measure.
The Eisenberg-Poésy romance is a prime example of narrative restraint. Their bond adds to the story's emotional texture without distracting from the Nazi menace.
The film's framing device proves a final, brilliant stroke. Ed Harris plays General Patton, on hand to deliver a big picture message to his troops, and us.
HiT or Miss: "Resistance" deliver a few dull patches, but otherwise it's a richly compelling tribute to a comedian's little known heroism.