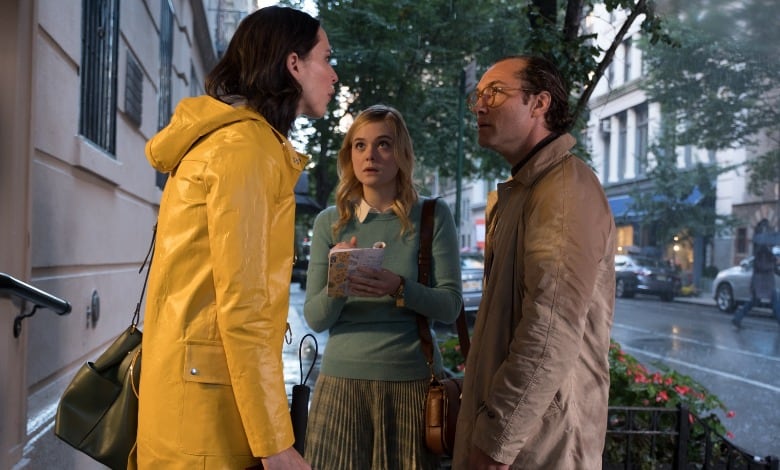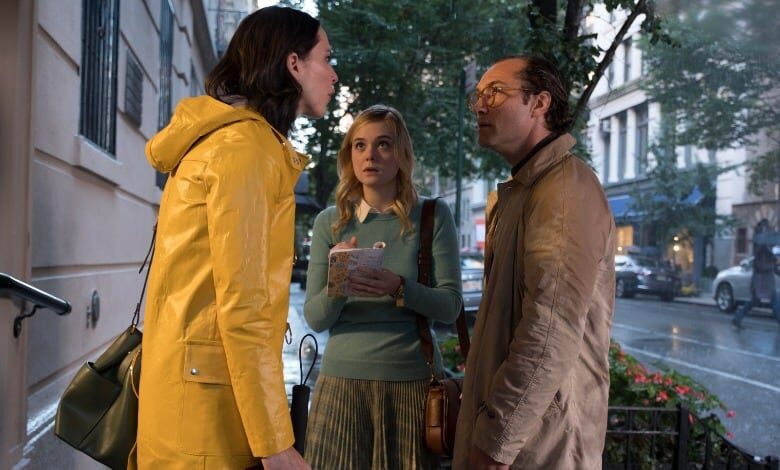 There's something oddly refreshing about a new Woody Allen movie in 2020.
That recognizable credit font. The old timey music setting the stage for Neurosis Theater. The now youthful stand in for Allen himself, having long since aged out of the gig, cracking wise for our amusement.
It's nostalgic, no doubt, until you realize the latest Allen characters can't compare to his previous incarnations. That leaves "A Rainy Day in New York" as both easily digested and even more easily forgotten.
A Rainy Day in New York - Official Trailer - Woody Allen Movie
Timothee Chamalet and his signature coif co-star as Gatsby (groan…), a pampered college student hoping to spend a romantic trip to New York with his squeeze.
She's Ashleigh (Elle Fanning), who seems an odd match for the cultured Gatsby. He's a prototypical Allen hero, and she's a bumpkin from Arizona – the state endures a few tepid insults along the way. Their trip gets derailed when her interview with a famous auteur (Liev Schreiber) turns into a melodramatic hissy fit. Meanwhile, Gatsby runs into an old flame's sister (Selena Gomez, the most grounded performer by far) who sparks something unexpected in him.
A Rainy Day In New York is rated PG-13 for mature suggestive content, some drug use, smoking, language and partial nudity.

— FilmRatings.com (@FilmRatings) October 6, 2020
Allen shoe horns in a number of soapy subplots, most beneath him by any stretch of the imagination. Jude Law gets little to do as a screenwriter suffering an emotional crisis, an arc so cliched his character even says as much.
That's no defense.
A few of the tart lines land, and Fanning makes the most of her clueless journalist in training. When Schreiber's character asks her if she wants a scoop, she immediately asks, "of what."
That sounds awful on your computer screen, but the gag works with Fanning's delivery. It's still a far cry from vintage Allen banter. At this point it's unlikely we'll ever hear new wisecracks worthy of his glorious past.
Meanwhile, "A Rainy Day in New York" checks off some familiar notes from the Allen canon.
The loving odes to New York City
Characters who worship art from a previous generation
Love triangles aplenty, and characters with microscopic moral compasses
Your Alexa could probably scan every previous Allen script and cough up "A Rainy Day in New York's" script.
It's notable how Allen skewers artists all too eager to use their fame and charisma to bed anyone they please. It's a rare note of self-awareness in a film mostly devoid of just that.
RELATED: Woody Allen, Unexpected Culture Warrior
Underrated character actress Cherry Jones gets one juicy scene, and while it's sudden and improbable it catches us off guard. You wish Allen went back and fleshed it out, but for a rare moment the Allen blueprint gets a reprieve.
It's about the only surprise "A Rainy Day in New York" offers, and it comes after a two-year waiting period. The director got snared in Hollywood's MeToo dragnet, delaying "Rainy Day" and making it unlikely he'll ever shoot another film in his homeland.
HiT or Miss: Woody Allen's "A Rainy Day in New York" is everything you expect from an Allen film. And less … much less.