Industry News
Opinion
'Quiet Crossing' Offers Timeless Tale of Political Oppression
The short film may be set in 1967, but its themes resonate across the globe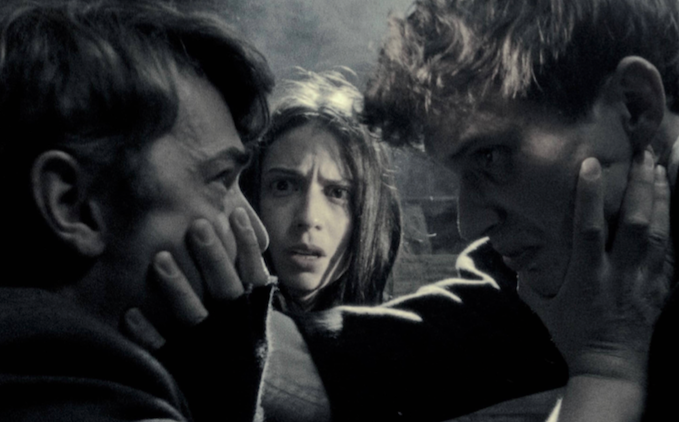 "Quiet Crossing" began as a university project of the students from the Westminster Film School in London but soon grew into a commentary on political oppression, desperation and historical recurrence.
Writer Rik Hulme came up with an idea for the short film after reading "Stasiland: Stories from Behind the Berlin Wall." Hulme wanted to write a short story about the horrible, life-changing choices people in Berlin during Communism had to make. The story seemed bigger than we could make in such a short period and with almost no budget.
So we had to think economically but also remain politically credible.
Quiet Crossing - Official Trailer
The most important aim for me and producer Ella Eddy was to deliver a thought-provoking, emotional story which could be understood by audiences of all ages and backgrounds. We wanted to remind people of this history, one which repeats over and over again, but in altered forms.
The film should let viewers make their own opinions of how people who are forced to emigrate must undergo the reality of fear and often sacrifice someone else's life in the fight for their own. They will have to bear the consequences of their actions for the rest of their lives.
Even though "Quiet Crossing" is set in 1967, the story still applies to many people's struggles worldwide today. Oppressive political regimes still reign. Families have no choice but to flee the tyranny of their home nations.
The battle to truly be free from political injustice is still, for some, more difficult than ever before.
We kept the story set in 1967 as East Germany in the '60s represented for us a "wall." Exactly the same type of wall which is sadly still being built between nations all around the world.
A Tale with a Deeply Personal Touch
I was born in Czechoslovakia in 1987, the country at that time was still heavily oppressed by the Communist regime in the same way the people in East Germany were. It was a very personal story for me. Many people from my country were escaping or were even killed whilst attempting to.
Stories like this were all around me during my childhood, but at that time I was very young and couldn't really understand the fear of the people in my home country (and that felt by my family living behind the Iron Curtain).
I heard many stories of people trying to escape, and it was always an interesting theme for me. Due to my schooling and also from reading articles and books, I was well educated about this subject, but I wanted to observe it myself through the medium of the film. I was always looking for the right story to start with, and Rik's screenplay was very captivating for me.
I did extensive research to approach the theme empathetically enough to capture a wide range of emotions on screen to deepen the film's meaning. For example, I wanted our set to be built as claustrophobic as possible.
With this, I hoped to represent the fear people felt living behind the Iron Curtain. In the story, the group of young students must remain quiet at the time of arrival at the border crossing point, or they will be discovered and executed for their anti-political activities.
'The Blanket Full of Fear'
This represented the notion of censorship for me and the young students (with their kid) represented the future of the country; a generation who doesn't agree with the oppressive regime and living under the "blanket full of fear." Their infant child represented other generations for me. Essentially, the child was me in 1987.
I had to create a background story making these East German students the opponents of the Communist regime. It was a story of their attempt to escape the consequences of their actions; the consequences of their rebellious fighting against their country's political regime.
Educated students represented, for me, the bright future of the nation who are bravely fighting to improve the lives of their families or even to survive. The process of making this background story helped me later when I was analyzing the script with the cast who also hadn´t experienced the fear of emigration.
It also helped me when working with actors, and their performances, to express correct emotions.
The background story has great potential to be a feature-length film and, should we find producers interested in the story, we would like to progress with it.
There were some struggles along the way. Our budget was very low, under $1,000, but our university gave us equipment and supplied us with a film stock which helped us to keep costs low. We also only had about three weeks for pre-production.
In this short period, we had to do hold auditions, recruit cast, rehearse with actors, design and build the set and also do technical rehearsals. To save money, we ended up shooting only in one set in the studio, and we used captions to suggests the time and place of scenes.
All crew and cast members worked for free so we could invest more money into our set build which was a fundamental part of our story. The set for our period drama was built in studios at the University of Westminster (Harrow campus) in London and it was designed by my very talented production designer, Emily Roberts.
We had to figure out how to bring the illusion of movement to the static scenery to create the conjecture of a moving car. We were able to create some movement in the set with strings and wires pulling some decorations. To support the feeling of movement, I also had to choreograph actors so they could deliver performances that were evoking a feeling of a car moving.
Our Italian camera operator, Federico Belloli, was also an essential part of this process. He had to work effectively with the camera to get a dynamic picture that follows the action. The believability of the set and claustrophobic feel representing life behind the Iron Curtain was our most important goal.
Apart from the low budget, there were other struggles while we were making this film. It was the first film I directed after transferring my studies from Wales to London. Also, for me as a director, it was the most challenging short film production as we were filming on old Arriflex 16SR and we were using an old way of filmmaking.
For instance, we didn't use any external monitors making the action in the small set almost impossible to see. Sometimes there wasn't even space to fit all essential members of the crew to see the action. For many shots we worked without the Script Supervisor.
There was simply no space.
Filmmaking on the Fly
We also filmed on 16mm film and one of our biggest challenges was that we only had 800ft (two roles) of the film stock available. We didn't have enough material to allow many re-takes so we had to be very organized. To make everything even more difficult, we also only had eight hours of the studio time available, which was split into two days, so in terms of time, pressure was very high!
There were some things which didn't work out well for us. To support the lighting and overall mood of the story we were using hazing machine, but as we worked in a very cramped space the set became over-hazed very quickly which resulted in unusable footage.
Because of the grain on 16mm film, and the amount of haze, some of the footage was out of focus so we had to work in the edit suite to pick up the shots which technically worked for us. We also spent a long time with sound design as it was one of the most important parts of our film.
I made the decision not to use any music in order to keep the experience as real as possible. Without the use of any emotional soundtrack the sound design was a very crucial part of our storytelling.
"Quiet Crossing" was selected to be screened at 28 film festivals around the world, and the short earned eight festival awards.
I believe that our film has served its purpose, and that we delivered a thought-provoking, emotional story which will be understood by audiences of all ages and backgrounds and it will be forever carrying the strong message which needs to be repeat over and over again.
——————-
Patrik Krivanek is the director of the short film "Quiet Crossing." Please follow Patrik on Instagram, Twitter and Facebook. His film will screen at the Oxford International Short Film Festival from June 12-18.