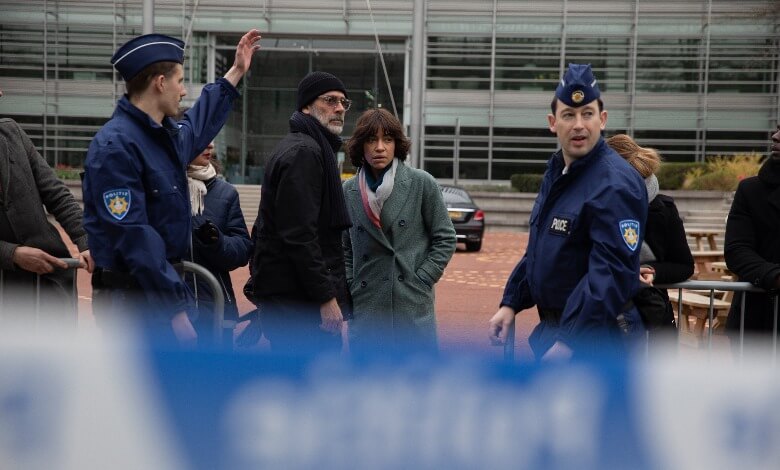 "The Postcard Killings" opens with a shrouded, ghastly tableau and maintains a mood of morose tension throughout.
Director Danis Tanovic's film is, in its own way, several movies in one; a whodunit, a police procedural and a serial killer thriller with parental anguish thrown in for good measure.
While the finished product may suffer from this lack of a single through line, the pieces fit together well enough to keep the viewer engaged.
The Postcard Killings - OFFICIAL TRAILER
It gives nothing away to say that Jacob Kanon, an NYPD detective (played by the always welcome Jeffrey Dean Morgan), is in London to investigate the death of his daughter. She and her new husband were murdered in gruesome, serial-killer fashion on their honeymoon (see: shrouded, ghastly tableau).
What follows are the usual procedural beats, with Kanon finding British law too slow-paced for his liking. He befriends a local Inspector (Joachim Król) who keeps him in the investigative loop. Still, solid leads are hard to come by until a postcard lands on the desk of reporter Dessie Leonard (Cush Jumbo). The transplanted Chicagoan becomes Kanon's de facto partner.
Call this Plot A.
Plot B follows young American newlyweds Sylvia and Mac (Naomi Battrick and Ruairi O'Conner) as they backpack their way through Europe. As more bodies (posed in artful fashion) and postcards show up at various newspapers, each hinting at the next gruesome murder, they, too, become part of the investigation.
To reveal more would spoil the (mostly) satisfying twists and turns in play. Suffice to say, if serial killer mysteries are your thing, there's plenty here to keep you satisfied.
That includes a hint at a possible sequel.
"The Postcard Killings" goes for an icy, "Girl With the Dragon Tattoo" vibe (unsurprising as the source novel was co-written by "Dragon" author Steig Larsson's country mate, Liza Marklund) and largely succeeds, though a stronger score would have helped.
The supporting cast includes Denis O'Hare, one of our great character actors, who gives a Standard Level O'Hare Creepy turn in his few scenes. Famke Jannsen, as Kanon's wife, does what she can to assist the investigation while stateside. The aforementioned Jumbo does a nice job in what could have been the throw away "girl" role.
But the standout here is Morgan, who has been nibbling at the edges of stardom since appearing as Katherine Heigl's ghost lover on "Grey's Anatomy" what feels like 20 years ago. While this role is, rightfully, not as showy and charismatic as Negan on "The Walking Dead," nor as bipolar-gonzo as his take on The Comedian in "Watchmen," it shows a range and depth we're not used to from him.
IMAX. Watchmen against civilians | Watchmen [+Subtitles]
Given his natural charm and his onscreen history, it's a little hard not to expect an outburst of Morganian snark or humor, but it never comes. Appropriate, given the material. But… disappointing? Distracting? I'm not sure.
Perhaps best to leave it as a testament to the aura he's developed over the years.
"The Postcard Killings" is based on the James Patterson and Liza Marklund novel of the same name. The film, like most of Patterson's work, keeps the chapters brief and the action moving forward relentlessly.
James Patterson on The Postcard Killers
Also like much of Patterson's work, one must suspend a little disbelief and not look too closely at some of the plot turns lest the seams show.
Best to just enjoy it for what it is; a solid entry into a genre populated with very few solid entries.
---
Terry O'Brien is a weekly columnist for Exit Zero magazine. He has been a professional actor since 1993 (neither rich nor famous) and a professional singer since 1995, performing several nights a week in and around Cape May, NJ.