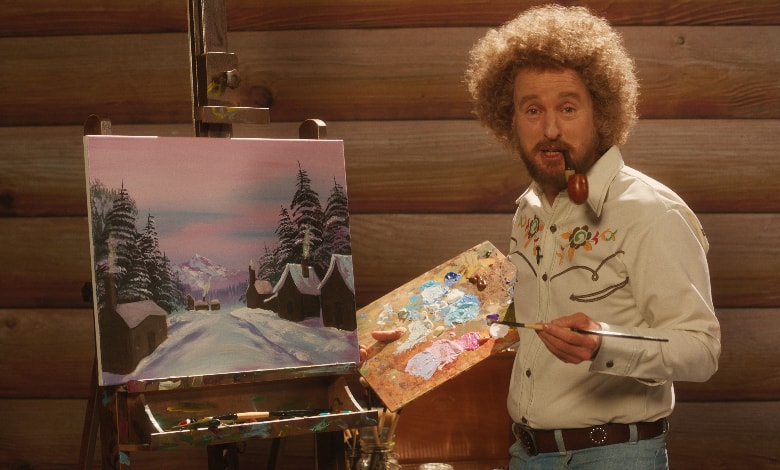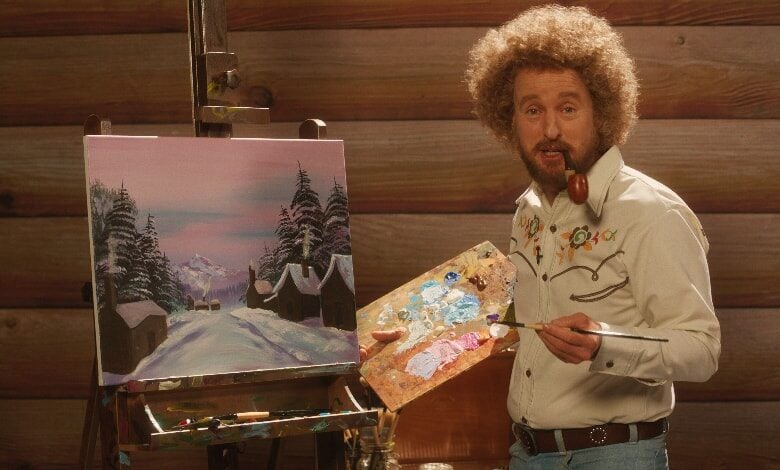 Bob Ross deserves better.
The chipper artist known for his bushy 'do and "happy trees" is the clear inspiration for "Paint." The Owen Wilson comedy finds the star playing a Ross stand-in, down to that mighty perm, who watches his public TV empire collapse.
Viewers never got to know the real Ross, who died at 52 in 1995 but has enjoyed a posthumous career bump. This version, even played by the avuncular Wilson, is a cad who doesn't deserve our consideration.
Don't tell that to the team behind "Paint," which wants us to care about his possible redemption.
Thanks but no thanks.
Paint - Official Trailer - Feat. Owen Wilson | HD | IFC Films
Wilson plays Carl Nargle, a PBS superstar known for bringing viewers to a "special place" with his generic landscapes. His boss (the great Stephen Root) adores him … and his ratings. The female PBS staffers swoon at his every brush stroke.
He's a ladies' man who drives a van equipped with a pull-out sofa. That's his true special place.
Life is good for Carl until the station hires a new artist to bulk up its lineup. Ambrosia (Ciara Renee) is young, perky and willing to paint anything, like the occasional UFO. The film's scattershot screenplay shows her aesthetic choices shocking Root's station manager and longtime Nargle fans, but her ratings quickly outpace Carl's.
Huh? Well, "Paint" needs her instant success to berate Carl's antiquated ways – he's a chauvinist who beds any employee in his orbit – and lack of talent.
Writer-director Brit McAdams punishes Carl in every conceivable way, part of a woke mindset that infiltrates too many modern filmmakers. He's a jerk, a self-absorbed phony who clings to the dream of his work appearing at the local art museum.
Down with the Patriarchy … even if it upends the movie itself.
"Paint" appears to be set in the early '80s, but many of the time cues beg to differ. The station's technology is antiquated, and we see rotary phones in use. Yet at one point a character calls for an Uber.
If the pile-up of anachronisms is intentional, it doesn't serve the story, or us, well.
View this post on Instagram
We're also treated to a random same-sex romance which makes little sense in the confines of the story.
But diversity!
Carl may be a womanizer, but lately he wishes he didn't sabotage his first love (Michaela Watkins), who had a fling during their marriage that Carl couldn't forgive. Their bond is meant to carry the film, but it's so poorly conceived it does no such thing.
That leaves some mildly amusing moments surrounding Carl's fame and plenty of time to show his bloated ego being punctured.
Again and again.
The film wisely wraps in 95 minutes, but the final 10 drag on, with a postscript that lacks the emotional punch intended. In fact, it feels disconnected from everything up until that point.
Audiences never got to know the man behind the "Joy of Painting" series. "Paint" tries to fill that gap in a way that could make the Ross estate lawyer up.
The rest of us will mourn how a pop culture icon is treated so shabbily without enough humor or grace to grease the storytelling skids.
HiT or Miss: "Paint" does a disserve to more than Bob Ross' legacy. It gives Owen Wilson one of the least flattering gigs of his otherwise stellar career.