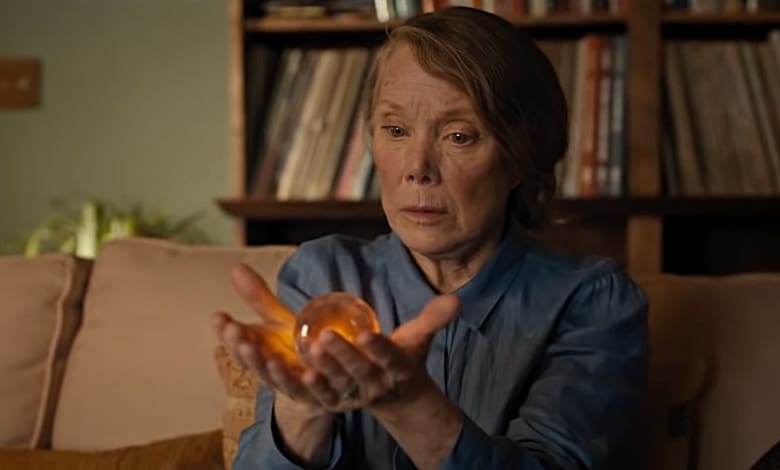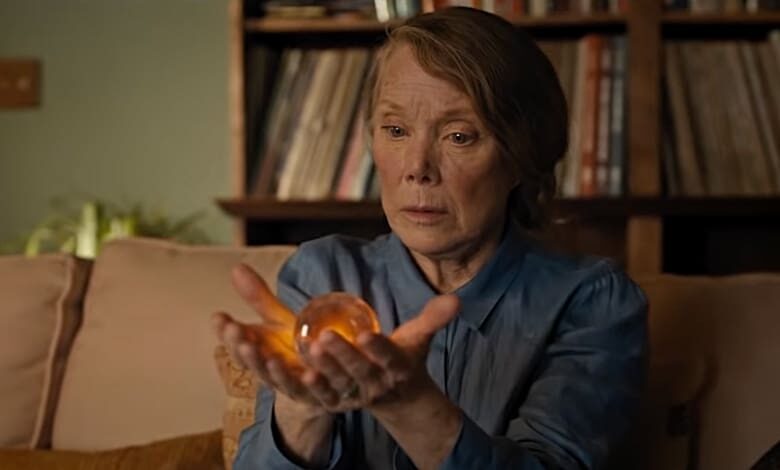 I've been quite critical of Hollywood's treatment of science fiction but, knowing Sturgeon's Law implies that 10 percent of the genre is at least worth one's attention, I'm prepared to praise movies and shows that do it justice.
I started watching Amazon Prime's "Night Sky" at first to see how well Oscar winners Sissy Spacek and J.K. Simmons work together. I've been pleasantly rewarded with a most involving science fiction drama.
Night Sky - Official Trailer | Prime Video
"Night Sky" is not an action show, and it will disappoint those who insist on rapid pacing and elaborate visuals. It also may lose science fiction fans who need the fantasty elements front and center at all times.
On the other hand, viewers open to patiently watching a story unfold as long as it also provides compelling and sympathetic characters will find that writer/showrunner Holden Miller has made an impressive debut.
Irene and Franklin York (Spacek and Simmons) are a retired couple enjoying their twilight years at their country home, located in a village right outside Chicago.
"Let's go see the stars tonight" says Irene one evening, after reminiscing about the night they first met.
They don't go outside, but down into their cellar, where there lies a chamber that teleports them to an observation platform on another planet, somewhere outside our solar system.
They look out at the gorgeous, orange-and-purple landscape with an appropriate sense of wonder but not shock or awe. This is a personal ritual they've done many times.
Although they briefly discuss whether they should tell anyone or try to find out what's past the door in this strange room, their deep love for one another quells these arguments.
RELATED: 27 Movies That Make Us Long to Study Science
Franklin knows their secret helps keep Irene alive after their son's death and an accident that impacted her mobility. Spending what time they have left together is more important to him than anything else.
They don't remain alone for long.
Their adult granddaughter Denise (Kiah McKirnan), who they have seen only intermittently since the death of her father, re-enters their life. She tries to convince them to sell their home in light of her grandmother's health issues.
Franklin's inability to give a straight answer as to why they won't amps her suspicions. Their neighbor Byron (Adam Bartley), who has been trying to get to know everyone in his neighborhood as he runs for political office, has held similar suspicions for years.
He becomes more aggressive in trying to learn what they might be hiding.
Then one evening, Franklin finds a mysterious young man named Jude (Chai Hanson) in the cellar, unconscious and covered in blood despite the lack of any injuries. Initially suspicious of this stranger, the couple's Midwestern nature wins out and they take him in as a boarder.
Meanwhile, a mother and daughter in Argentina embark on a trip to the United States. Their mysterious mission is somehow linked to the portal.
Night Sky: Sissy Spacek and JK Simmons official interview
"Night Sky," like other science fiction shows, has conceptual antecedents in science fiction literature. Miller seems especially influenced by Clifford Simak, one of the finest "Golden Age" science fiction writers.
The main premise is reminiscent of Simak's classic short story "The Big Front Yard" and novel "Way Station." Plus, "Night Sky's" Midwestern setting and dialogue capture Simak's storytelling rhythms.
Simak was known as the genre's great pastoral writer, earning comparisons to not just Ray Bradbury but Carl Sandburg and William Saroyan for the way he transposed middle-American values into science-fiction settings. He developed a distinctive prose style that reflected this bucolic attitude.
This approach may sound drab, even inert, but the show not only makes it work but uses it to its advantage. Both the level of authenticity given to the Midwestern dialect and setting and the deliberate pacing of individual episodes render the storyline convincing.
There are long stretches where we may forget we're watching a science fiction show, but rest assured, it's essential for this particular story that we have them.
Another similarity to Simak is the way "Night Sky" approaches its science fiction elements: instead of thrusting them upon the story or using them to drive the plot, they are revealed to us gradually through the characters themselves. How they impact them is ultimately more important than the ideas themselves.
RELATED: Great Science Fiction: More than Meets the Eye
Simak was well-known for his excellent characterizations, his protagonists being small-town types who despite their folksiness were also intelligent and resourceful. Irene and Franklin would be right at home in one of his stories.
Of course, it's easier to believe in such characters with Spacek and Simmons, both perfectly cast. Spacek continues an unbroken nearly fifty-year run as our most fascinating actress and one of our greatest risk-takers.
She first startled us with her gift for finding the dark and eccentric undercurrents underneath an ordinary surface via 1976's "Carrie."
Carrie (1976) - Official Trailer (HD)
With each successive performance has found new nuances to explore, and fresh ways to make us feel for the women she plays.
Simmons, meanwhile, is better than any actor since Lee Marvin at demonstrating humanity beneath a gruff exterior.
Powerful performers on their own, they're ideally cast as a couple hiding an extraordinary secret the way they downplay their physical and mental woes — through their love for each other. The downside is that despite their kind and trusting nature, they're unable to fully love anyone else, not even their grandchild, lest their secret be disturbed.
View this post on Instagram
"Night Sky" has received mostly mixed reviews, with most critics complaining about the pacing of both individual episodes and the entire story arc. The pacing is the whole point, though, and the story moves more quickly than another Amazon Prime science fiction series, "Tales From the Loop."
Others have faulted the supporting cast, and while I agree to some extent it's hard to act against both Spacek and Simmons. That must be an intimidating experience, even when neither actor is in the same frame as you.
I am less receptive to complaints that the science fiction elements are kept in the background or that there aren't enough of them. Those making these arguments seem to be forgetting that when a TV show layers on too many fantasy devices, it risks descending into contrivance and incomprehensibility.
For instance, I would have liked "Fringe" more if it remained anchored in its storyline about parallel universes instead of piling one new science fiction element after another until it became too silly to care about.
Hopefully, Miller and his collaborators will avoid stumbling into such traps as their show enters its next season.
Science fiction readers have longed to see not just decent adaptations of their favorite stories, but original productions that approach the best of the written word in its ability to touch hearts and minds alike.
"Night Sky" is proof that good things come to those who wait.
A.A. Kidd is a sessional university instructor in Canada who proudly volunteers for the Windsor International Film Festival. He appreciates classic movies, hard science fiction and bad puns.