Hollywood keeps trying to craft the next Christmas classic, but we usually we end up coal … or worse. Is anyone still in therapy from watching "Jingle All the Way?"
So consider "The Night Before" a step up from that seasonal dreck. Its combination of sticky sentiment and rampant drug use makes it perfect for the stoners and slackers set. Audiences seeking bona fide emotions may opt for the mistletoe hanging at their holiday office party.
THE NIGHT BEFORE - Official Trailer (HD)
Ethan, Isaac and Chris (Joseph Gordon-Levitt, Seth Rogen and Anthony Mackie) seem too old to be carrying on like college kids. They're in their early 30s, but every year on Christmas Eve they party like its Y2K. They've been doing it ever since Ethan's parents died in a car crash, a bromantic attempt to heal his heartache.
This Christmas marks the end of the tradition. Isaac is about to become a father and Chris' football career is taking up too much of his time. That leaves Ethan, who not only pines for his late parents but the girl who got away, played by the grounded Lizzy Caplan.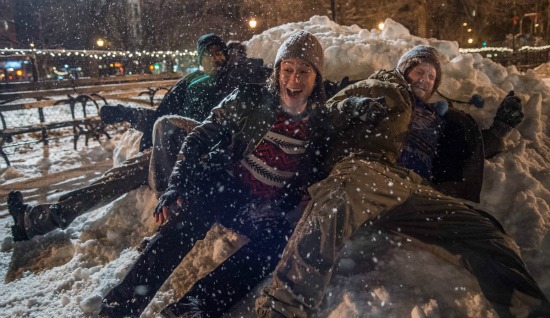 It's all a suitable stage for yuletide cheer and a possible reunion. Only "The Night Before" wants that "Harold & Kumar" demo, too. The stoner high jinks comes courtesy of, who else, Rogen. His character is given a Whitman's sampler of drugs from his very pregnant wife, and he proceeds to snort and swallow them all before the end credits (belated spoiler alert!).
So while Isaac is tripping out, the story careens from heartsick Ethan to Chris, trying to make sense of his newfound fame.
Before Santa can hitch his sleigh we're treated to a Miley Cyrus cameo that feels like a human-sized product placement and more fuzzy attempts at our emotions. Good luck. The film finds its comic momentum whenever Michael Shannon appears as a wizened pot dealer. Shannon's inscrutable shtick is a perfect fit, even if the movie isn't sure what it ultimately wants to be.
"The Night Before" knows the Apatow formula of vulgar and sweetness could yield a seasonal staple. What's missing in this cynically packaged picture is the true spirit of Christmas movies.
DID YOU KNOW: Anthony Mackie caught so much heat for endorsing Donald Trump for president he later took to Twitter to say it was all a bad joke.