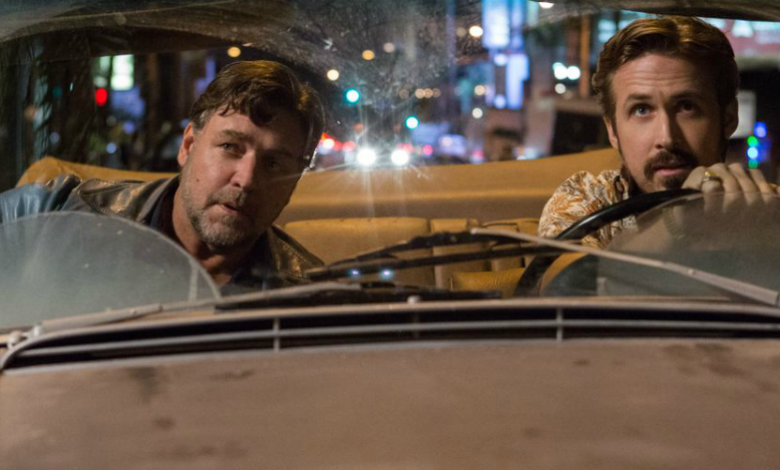 No, that doesn't refer to his new, meatier frame in "The Nice Guys." It's about an oh, so serious actor letting loose for a change.
It suits him well.
The same goes for Ryan Gosling, Crowe's co-star. He's been so laconic on screen you'd think he was auditioning for a silent movie.
There's nothing quiet about "Nice Guys." It may stumble whenever it strives for greater meaning, but as long as Crowe and Gosling are bickering we'll hang with them for as long as possible.
The Nice Guys - Official Final Trailer [HD]
Crowe stars as Jackson Healy, an "enforcer" working his cruddy L.A. Neighborhood circa 1977. He crosses paths with Gosling's Holland March, a private detective and struggling single dad.
Pleasantries are exchanged. A bone is broken. But they're not done with each other yet.
They're both involved with a woman named Amelia (Margaret Qualley), who may or may not be missing. That depends who you ask and at what time of the day you ask it.
Amelia's case brings the two unlikely souls together, but it also forces them to confront something essential about themselves.
Are they "nice guys," or just colorful opportunists caught in a Shane Black feature?
Black is the screenwriter behind "Lethal Weapon," "The Last Boy Scout" and "Kiss Kiss Bang Bang." In his world, bone-crunching buddy films are the highest form of art.
He's no hack, no matter how that might sound. "The Nice Guys" brims with funny dialogue, the kind we hear so infrequently on the big screen.
The '70s setting is a character unto itself, and while the core mystery won't make anyone forget "The Usual Suspects" it's just enough to keep our attention.
Crowe and Gosling do the rest.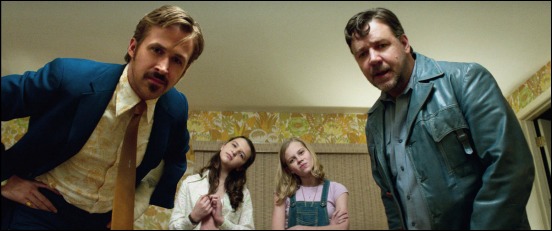 Gosling is giddily playing against type, but some times it's clear he's "playing" for all he's worth. He pulls off some fine comic moments, but his foot is a bit heavy on the accelerator.
Crowe, weighed down and world weary, strikes the perfect one over and again.
The actors only lose control when the story tries to pin their antics on something more profound. Are we laughing along at two-bit thugs, or do they aspire to something more reasonable, more respectable?
it's a story thread given too little attention, a bald attempt at 21st century gravitas.
FAST FACT: As a child, "First Blood" made such an impression on Ryan Gosling he brought steak knives to school and threw them at his classmates, acting out scenes from the film. He received a suspension for his tomfoolery. 
"The Nice Guys" has a few more tricks up its sleeve, including a casting coup recalling a '90s film noir that set the modern standard for the genre – "L.A. Confidential."
It's a surface level gimmick, as is Holland's scrappy teen daughter (Angourie Rice). The child actor invests the girl with a pluck beyond her years. She still plays like a screenwriter's device, not a fully realized character.
Black stumbled badly with his last effort, the unjustly celebrated "Iron Man 3." With "The Nice Guys," he's back in his comfort zone. Breaking bones. Shattering glass. Make movie banter well worth your time and money.
IF YOU LIKE 'NICE GUYS' … check out "Kiss Kiss Bang Bang," Shane Black's underrated buddy film starring Val Kilmer and Robert Downey, Jr.