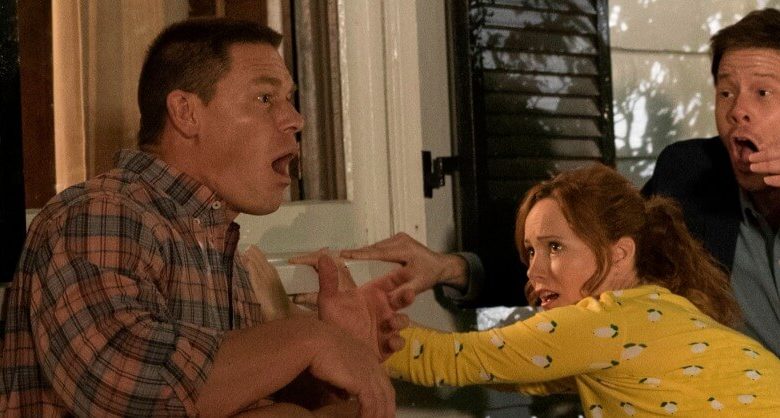 "Blockers" stops mid-film for a lecture on the double standard regarding boys, girls and sex.
We often cheer on teen boys eager to do the deed while demanding  young women wait before having sex. The film has a point. Too bad one adult female character brazenly ignores those truths.
There wouldn't be a movie any other way.
"Blockers" can't quite navigate the path between off-the-wall antics and the way people really act. Focus too much on the former and audiences disconnect with the yuks. That happens far too often here, even if the final moments deliver some well-earned warmth.
Blockers (2018) Green Band Trailer (Universal Pictures) HD
Sam (Gideon Adlon), Julie (Kathryn Newton) and Kayla (Geraldine Viswanathan) know a sure way to make Prom Night special. They'll each lose their virginity in their own personal way. Their plan gets leaked via text messages discovered by their parents.
Lisa (Leslie Mann) and Mitchell (John Cena) vow to stop their daughters by any means necessary. Fellow parent Hunter (Ike Barinholtz) isn't nearly as protective, figuring they're smart kids and can fend for themselves. He goes along for the ride all the same.
Why? He's the wacky Wild Card Character, and the movie needs him.
R-rated comedy hijinks ensue, the kind engineered to be featured on red band trailers for underage viewers to ogle.
FAST FACT: "Blockers" director Kay Cannon wrote all three "Pitch Perfect" comedies.
The latest teen raunch fest does deliver a welcome twist to the formula. Instead of following guys eager to lose their virginity it's three young women trying to do the deed. These gals talk like those "Sex and the City" characters, embracing their budding sexuality.
That leads to the inevitable in 2018. Bring on the woke.
One character is glibly dubbed a racist with precious little proof
Several characters are part of interracial couples
There's overt talk of female empowerment
Cena's musclebound character is a beta male who can't stop crying
The script references an all-male version of the musical "Annie"
One character complains about being "bullied" by the others
One sartorial insult: "you look like a youth minister!"
Another character defends herself with this line: "don't speak to me like someone who bombs abortion clinics"
One of the three girls is a closeted lesbian
Woke Comedy 101. It's inescapable, and it often flattens the humor like Wile E. Coyote running head first into a frying pan.
"Blockers" brings the social justice but doesn't always leave the laughs behind. A serial vomit gag actually lands, and a talkative chauffeur steals a moment or three. The teen girl banter is often amusing, and Cena's growing gift for physical humor is undeniable.
RELATED: Why Bawdy 'Rough Night' Bombed at the Box Office
It's unfair to judge ribald comedies the same way we do Oscar-bait films. Yet you still need to buy into the characters on some core level for the comedy to register. Here, Barinholtz's Hunter changes every five minutes as the story demands.
The actor does all he can to retain some consistency, but it's a losing battle.
Too many sight gags simply die before our eyes, like the parent characters fighting their way in, and out of, a car.
Make. It. Stop.
Blockers Movie Clip - Emoji Texts (2018) | Movieclips Coming Soon
"Blockers" has a soft gooey heart at its core, and it turns out sex isn't the ultimate prize. That's the Apatow Template. Be blazingly dirty one minute, then shock us with a heartfelt revelation the next. The warm fuzzies invade the film's third act, and you'll be happy to see them even if they're rushed.
It's better than watching Lisa take the prize for the most over-protective parent in screen history.
The young stars are pleasant enough, although Viswanathan stands out for her earthy blend of sweetness and sporty spice. Let's get her a better teen vehicle and see what happens next.
"Blockers" may feel like a very 21st century comedy, but by delivering sporadic laughs it's instantly superior to the current crop of R-rated duds.
HiT or Miss: "Blockers" gets bogged down in woke theatrics but manages to entertain all the same.
"THE MIRACLE SEASON"
The true story behind this faith-kissed drama is impossible to resist. The Iowa City West High School girl's volleyball team prepared to defend its state title when star player Caroline "Line" Found died in a moped accident.
Her teammates mourned … and rallied to win a second straight title in her memory.
It's the stuff of underdog sports movies, no doubt. And that's part of the problem for this well-intentioned drama.
THE MIRACLE SEASON | Final Trailer
Teen volleyball superstar Line (Danika Yarosh) and Kelly (Erin Moriarity) have been best friends for, well, as long as either can remember. Their bond helped secure them the state championship, and they're eager to try for a second crown.
The film establishes their friendship in a series of cloying set pieces that buries us in sweetness. We fear what's coming next.
Brace yourselves.
The afforemented moped accident devastates the team. Line was so much larger than life, on and off the court. How could she be gone? What's the point of playing volleyball without her?
RELATED: How 'Generational Sins' Smashes Faith-Based Formula
"Coach Brez" Bresnahan (Helen Hunt) hopes getting back on the court will help the healing process. It won't be that easy. Line's absence means the team can't replicate its former glory. And simply playing to honor Line is more problematic than it would appear.
Director Sean McNamara ("Soul Surfer") captures every sequence in "Season" in the most radiant ways possible. Volleyball never looked so glorious … even if the game is a tough sell within the sports movie formula.
FAST FACT: Sean McNamara first learned of the story behind "The Miracle Season" while watching a segment on HBO's "Real Sports."
Line's father (Willliam Hurt) carries himself with a dignity the actor can summon in his REM sleep. Yet his character, like many in the film, aren't given much to do. Papa Found has a crisis of faith mid-movie, and you can understand why. He just lost both his daughter and his wife, who was very sick before Line's fateful accident.
Only Hurt's character arc is tidied up so quickly you expect to see a hotel maid on the edge of the frame. Other intriguing subplots get similarly snubbed. We're left with repetitive volleyball sequences and not enough digging into the lives of these bruised souls.
Young Moriarity has a wonderfully expressive face, but she's similarly handcuffed by the rote script.
It's not easy poking holes at a project with such noble intentions. The truth is clear all the same. "The Miracle Season," for all its decency, fails to measure up to the source material.
HiT or Miss: "The Miracle Season" is guaranteed to make you tear … and maybe yawn a time or three.