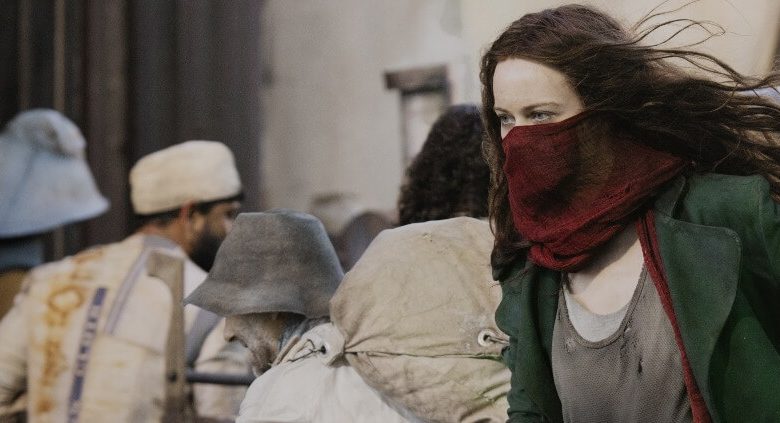 Well, you wanted something original, right?
Only the latest dystopian yarn, "Mortal Engines," can't help but pilfer in the third act. Let's give the filmmakers points for good taste. The finale steals from that "Star Wars" climax in ways both huge and small.
Up until then, the film thrills with a jaw-dropping premise and visuals different from anything we've seen before.
If only a robot didn't pack more humanity than some of the cast.
Mortal Engines - Official Trailer (HD)
The story opens with a bang, the kind that suggest a new classic is in progress. Those hopes are dashes as soon as the rolling tank known as London comes to a halt.
We're roughly a 1,000 years in the future, long after the Sixty Minute War rendered the earth uninhabitable. So the remaining humans made their cities portable via massive gears, wheels and machinery.
The bigger "traction cities," like London, dominate smaller "cities" and gobble up their precious resources.
That sparks the phenomenal opening, a set piece delivering thrills, imaginative visuals and a wonderful sense of scale. There's no follow-up sequence that's equal to it. What's worse? The longer "Mortal Engines" rolls on, the less intelligent it comes.
At least we have some plucky heroes to keep us company.
RELATED: 5 Reasons We Love Dystopian Films
Hester Shaw (Hera Hilmar) gets close enough to London's titular leader, Thaddeus Valentine (Hugo Weaving), to draw blood. She has her reasons for wanting to kill him, but she can't finish the job. She does snare a partner in crime while fleeing the scene, young Tom Natsworthy (Robert Sheehan, the charmer from "The Song of Sway Lake.")
They bicker so effectively you there's something brewing.
Eventually, the trailer's promise fades, replaced by a sea full of floating planes and platforms.
"Mortal Engines" reflects Hollywood's woke sensibilities, but it doesn't stop the story cold. Tom is depicted as a well-intentioned fool. He's even called an idiot at one point. Hester, by comparison, is flawless in her fury.
Need more? The heroes are a rag tag group of aggressive diversity. The bad guys? Mostly white.
The screen still comes alive whenever Anna Fang appears. Jihae plays Anna, a tough as nails hero with a murky backstory. She's tough and inscrutable, and Jihae pulls it off without posing.
Why are stories of survival after the apocalypse or in dystopian situations so compelling? Here's what the cast and crew of @mortal_engines thought about why audiences are drawn to these kinds of stories. pic.twitter.com/hxSMsyhF4j

— io9 (@io9) December 11, 2018
The most human character in the story? A zombie robot named Shrike (voiced by Stephen Lang). That's a bad sign, given the crush of actual humans in the cast. Still, Shrike is so arresting it becomes less a flaw than a selling point.
The third act goes by in a blur. Select moments may make you cheer, but it's so frenzied, and loud, that the impact is duller than you expect. You'll spot the "Star Wars" nods right away, but you'll miss that film's elegant storytelling.
Hilmar and Sheehan have chemistry, all right, but the screenplay can't make the most of it. Weaving can do villainy by default, so there's little problem with his gravitas quotient.
FAST FACT" Philip Reeve's "Mortal Engines," which inspired the movie of the same name, is the first in a four-book series. The title comes from a line in Shakespeare's "Othello."
The movie toys with interesting notions but quickly discards them. Why are the Londoners so bloodthirsty? Is the quest for salt all that important? Are there other threats to London's traction city?
"Mortal Engines," based on a young adult novel, discourages deeper thought. That's a shame given its dystopian roots. Half their fun is teasing out their cock-eyed scenarios.
HiT or Miss: "Mortal Engines" is steampunk on steroids, and the story's YA roots (and flaws) are easy to spot.