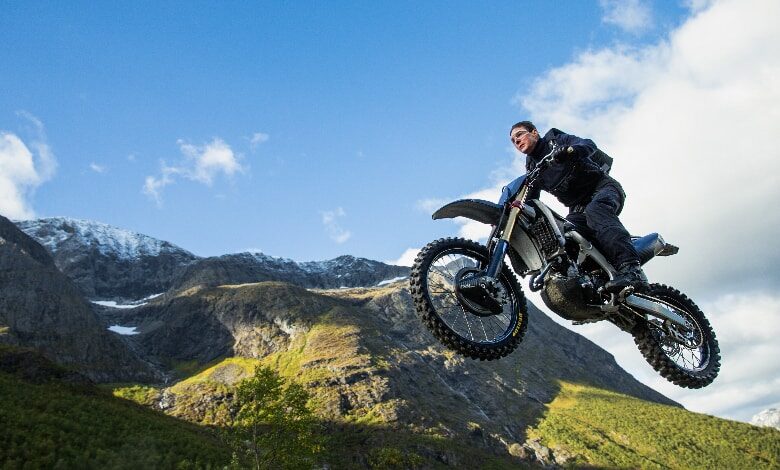 It had to happen sooner or later.
The latest film in the "Mission: Impossible" franchise isn't as startling as the last installment. The saga, which seemed to grow bolder with every outing, is finally showing its age. Slightly.
That doesn't mean "Dead Reckoning – Part One" isn't the summer's best roller coaster ride, at least given the dubious competition. Team Cruise delivers a third act that feels as raw, and rollicking, as anything you'll see on screen this year.
It's time to clutch your armrest, folks. Hard.
It's the rest of the film that under-delivers, pushing expository conversations to the brink. Maybe this story should have wrapped in one installment?
Mission: Impossible – Dead Reckoning Part One | Official Trailer (2023 Movie) - Tom Cruise
Tom Cruise returns as Ethan Hunt, and his eagerness to break all the rules has finally caught up with him. The government wants to shut him down, along with the rest of the IMF crew. That means he'll need all his spy trickery to stay one step ahead of the U.S. government.
Why, it's like he drove past the Capitol on Jan. 6.
Staying out of jail isn't Ethan's only item on his "to do" list. There's a new threat to the globe, one that impacts every digital interaction possible. This super software can be manipulated by a key that's been separated in two, and everyone is hell bent on uniting the pieces.
Why? To what end? "Dead Reckoning" doesn't sweat the small stuff, and man is there plenty of it in this bloated adventure.
Spy tales aren't known for rigorous storytelling and airtight plots, but the questions bubbling up during the sequel can't be dismissed. Meanwhile, much of the dialogue involves key characters explaining why a certain plan is set in motion or the potential fallout from said plan.
Horror films often feature that dreaded "expository scene" where a character, typically older and grizzled, lays out what's been going on up until that moment.
"Dead Reckoning" is chockablock with these interludes, which are almost comical by the film's midway point.
We chat with #MissionImpossible – Dead Reckoning Part One stars @gregtarzandavis and Shea Whigham about their characters and working with Tom Cruise: https://t.co/pqyOZrpg2p pic.twitter.com/BEFvHOMyNs

— Screen Rant (@screenrant) July 5, 2023
You can't blame the cast, from a dedicated Cruise (does he have another mode?) to regulars like Ving Rhames, Simon Pegg, Rebecca Ferguson and Vanessa Kirby as the White Widow.
The new face of consequence is Hayley Atwell, cast as a thief with a skill set that makes Ethan sit up and take notice. She's a superb addition, as is "Guardians of the Galaxy" alum Pom Klementieff as a mysterious assassin.
Add one of the industry's best character actors, Shea Whigham, and you've got a cast worthy of the franchise.
The human villain? Esai Morales plays an old Ethan Hunt foe who resurfaces with far more lethal ambitions. The character underwhelms, in part, because it's the rise of Artificial Intelligence that's the true scoundrel here.
How timely. How cinematically inert.
The screenplay, credited to director Christopher McQuarrie and Erik Jendresen, flirts with our growing tech fears and other ripped-from-the-headlines themes. The results? Smart, probing questions and wildly dumb interpretations smash into each other like a soapbox derby race.
That's spy business, but "M:I" films often avoid the larger-than-life tropes from the sillier Bond installments.
Mission: Impossible - Dead Reckoning Part One | The Biggest Stunt in Cinema History (Tom Cruise)
"Dead Reckoning" simultaneously succumbs to sequelitis – even the characters make meta jokes tied to the M:I team's rap sheet – and moves beyond it. The action here is different, grittier, as if the "Bourne" films were fused with the franchise DNA.
One fight scene finds Ethan battling two foes in a tight street corridor, and it's exhilarating. The film's signature set piece takes place on, in and around a train, and it's both extravagant and far superior to a similar-minded scrap in "The Dial of Destiny."
Score another for Ethan Hunt and the actor who never stops running to save cinema.
HiT or Miss: "Mission: Impossible – Dead Reckoning Part One" packs more flaws than recent installments, but no franchise can match it's stunning, superior stunt work.