Instead, the actor's passion project, "Miles Ahead," is the anti-biopic. No cliched rise from obscurity. No moment where the musician hears his song on the radio for the first time.
And definitely no sequence featuring a childhood tragedy that helped fuel the music to come.
"Miles Ahead" is one curious film, albeit a mostly engaging one. We actually miss some of those boilerplate moments, if only to celebrate Davis' talent. Yet what emerges can be hypnotizing. Cheadle is Davis, and his transformation is more than enough reason to see the film.
Miles Ahead Official Trailer #1 (2016) - Don Cheadle, Ewan McGregor Movie HD
"Miles Ahead" delivers a raging, gun-toting superstar near the end of his remarkable career. He's alternately subdued and out of control, a jazz giant who doesn't trust a soul. He knows better.
And that's just one narrative thread.
We also get the young Davis, a short-haired musician blazing a creative trail thanks to his lovely muse (a dazzling Emayatzy Corinealdi).
"Miles Ahead" offers some structure for its fractured narrative. A Rolling Stone scribe (Ewan McGregor) tries to nab Davis for a comeback feature.
RELATED: 5 Reasons HBO's 'Vinyl' Is Unwatchable
There's also a mad dash for some recordings Davis isn't ready to part with just yet. The "record executive as mercenary" template is similar to what we saw in "Straight Outta Compton."
McGregor is our entry into Davis' discombobulated life. And boy, do we need it.
Davis' history is replete with greatness, and the kind of chronic drug use that kept him from achieving even more. The film doesn't discount that part of his life, but it's hardly the focus.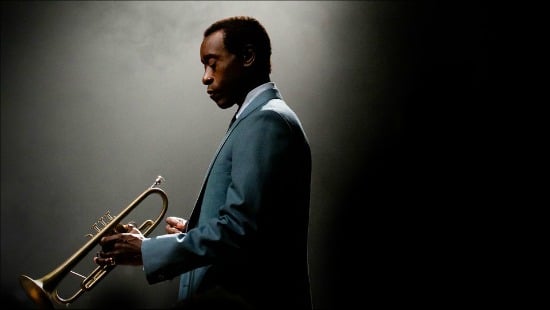 Cheadle disappears into the role, no mean feat given how familiar he's become over the past 20 years. His task is easier when we're watching the older Davis, complete with the frizzy hair and iconic shades. The actor also captures the younger, more buttoned down musician who burns with talent and hunger. In a way, that figure is more fascinating because he isn't Miles Davis quite yet.
He struts around as if he were, though. That's a grand bit of acting on Cheadle's part.
Don Cheadle 'Miles Ahead' Sundance Interview (2016) Variety
"Miles Ahead" plays the essential Davis notes: the womanizing, the drugs, the talent, the ego … the misspent energy.
Yet there's so much left out it's hard not to feel some frustration. We also realize Cheadle the director has a future behind the camera, but he's hardly a visionary.  A maestro like Oliver Stone might have fused the disparate elements into something extraordinary. There's craftsmanship here, but not a singular vision.
FUN FACT: One of Don Cheadle's first gigs came as an elementary school student in Denver. He played Templeton the Rat in a production of "Charlotte's Web." 
"Miles Ahead" may be woefully incomplete in capturing Davis' genius. It would take a miniseries to corral his influence on jazz and that roller coaster personal life.
It will still send you racing for the source material, both Davis' music and his unmatched legacy. That's probably something Davis himself would admire.