Industry News
Meghan McCain Schools 'Big Sick' Star, Forces Mea Culpa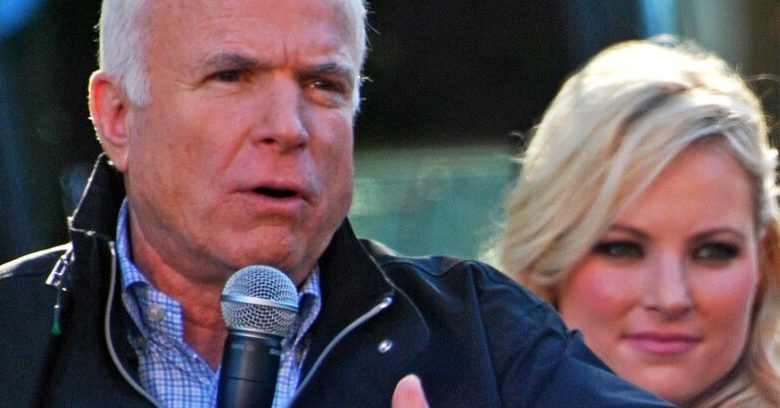 Meghan McCain is a force of nature on "The View."
The daughter of ailing Sen. John McCain currently inhabits the "token conservative" chair on the long-running talk show. In that role, she routinely outduels her far-left co-hosts as well as guests who deserve a fair but fierce roasting.
How?
She does her homework. Listening to co-hosts like Joy Behar and Whoopi Goldberg shows they often fail to do their due diligence.
Not McCain.
Turns out she's just as bold on social media. McCain scolded White House Aid Kelly Sadler recently for the aid's ghoulish swipe at her father, currently battling brain cancer.
"The Big Sick" star Kumail Nanjiani acknowledged Sadler's comment via Twitter. He also attempted to score points against her sick father with this poorly conceived Tweet.
What was said about McCain was vile, but I wish the McCain's had been as offended and vocal when vile stuff was said about other people/races/nationalities. Perhaps we wouldn't be in this moment right now.

— Kumail Nanjiani (@kumailn) May 12, 2018
He followed that message up with this:
This is one example. Years ago. He has had many opportunities since then to take a stand, as the rhetoric and actions of his party were turning worse and worse.

He also picked Sarah Palin as his running mate & ushered in this era of GOP politics. https://t.co/yWZbrHUbNn

— Kumail Nanjiani (@kumailn) May 12, 2018
Of course, no one is responsible to fight back against every and any slice of evil. Then again, the Left has turned just about everything concocted by conservatives as evil (sometimes even Hitler-lite). That's another angle for another day.
So McCain fired back to protect her father and his legacy.
You mean like he did here? I could give you literally thousands of examples of my father speaking up against bigotry of all kinds but this video sums it up pretty concisely. You know nothing about my family or my father Kumail, nothing. https://t.co/wxDngff7U9 https://t.co/2fgI2yWdRx

— Meghan McCain (@MeghanMcCain) May 14, 2018
Nanjiani quickly backed down.
Meghan, I did not mean to offend you. I could explain my point further but instead I will just say something I truly believe: if we had more politicians like your father, the world would be a better place.

— Kumail Nanjiani (@kumailn) May 14, 2018
Of course, he and his fellow liberals have said vile things about Sen. McCain. "The View's" own Goldberg once suggested a McCain presidency could mean she'd be back in chains, slavery style.
For more context, consider Nanjiani's own brand of hate. He once cursed out a gaggle of GOP members in an incendiary Tweet he later removed.
Twitchy caught it all the same.
His "Big Sick" co-star, Zoe Kazan, is equally crude on social media. She recently Tweeted about an alleged spike in LGBTQ deaths, saying both President Trump and the GOP were murderers directly tied to the increase.
Photo by ronnie44052 on Foter.com / CC BY-SA