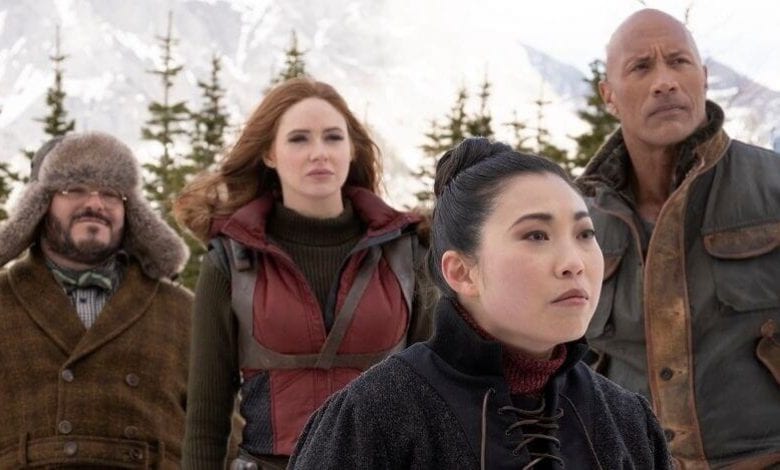 More of the same can be the best compliment to pay a sequel.
"Jumanji: The Next Level delivers just that, along with a double blast from the past.
The addition of Danny DeVito and Danny Glover gives this sequel a Vitamin B shot to the funny bone. The movie is still too long, too pleased with its most infantile gags and guilty of squandering scene-stealer Awkwafina.
Small demerits, all. "The Next Level" is worthy, apolitical respite from sober Oscar fare.
JUMANJI: THE NEXT LEVEL - Official Trailer (HD)
Our real-world heroes from the first film are back, and the bond they forged on the original "level" remains as strong as ever. Still, the love between Spencer (Alex Wolff) and Martha (Morgan Turner) has hit a generic snag.
That gets shoved aside when Spencer goes missing, presumably lost in the Jumanji game again. You'd think you'd send that video game console to the bottom of the sea after the first film.
You'd be wrong.
His friends rally to retrieve him but things don't go as planned. Spencer's Grandpa Eddie (DeVito) and the senior's old business partner, Milo (Glover), get sucked into the game accidentally. That means the video game avatars from the first film – Dwayne Johnson, Kevin Hart, Karen Gillan and Jack Black – inhabit some new characters (and comedy tics).
.@KevinHart4real is afraid of camels, and that makes @TheRock happy. pic.twitter.com/YGvGUGBij1

— Ellen DeGeneres (@TheEllenShow) December 10, 2019
Johnson's Grandpa Eddie is crotchety and too sure of his crusty wisdom. Hart's Milo talks … very … slowly, but it's impossible to get sore at him.
It's an amusing pair of comic turns that turbo charge the familiar action beats. You'll be surprised how much mileage the stars generate from crude impersonations.
Then again, we've been watching DeVito and Glover for decades, and their screen personas are etched in stone by now.
FAST FACT: The original "Jumanji" film, starring Robin Williams, earned $100 million back in 1995.
There's a new adventure afoot, of course, but "The Next Level" hardly cares. That indifference extends to the villain du jour (Rory McCann of "Games of Thrones" fame), who gets precious little screen time. It's as if the trio of screenwriters realized we care more about the banter than anything else.
They're right.
Need another franchise newbie? "The Farewell's" Awkwafina arrives mid-film – we won't spoil her place in the story – but something's missing. This comic firecracker is mostly wet in "The Next Level." It's clear director Jake Kasdan (son of Lawrence) had little idea how to leverage her spiky charms.
Some action sequences pop with bursts of humor and thrills. Others bombard us with CGI creatures, removing the element of realism the beasts would otherwise instill.
The Grandpa-Milo bond essentially powers the movie, above and beyond the steady stream of yuks. It's sweet and occasionally bitter, but it's obviously rigged to gin up our emotions. We see all the strings, but the lasting images of both DeVito and Glover sell it better than expected.
Naturally, "Jumanji: The Next Level" wraps with a sequel tease. Does anyone doubt they're hoping for a string of films to squeeze into future Blu-ray box sets?
HiT or Miss: Love the first "Jumanji" reboot with Dwayne Johnson and co.? There's no reason you won't smile early and often while watching "The Next Level."