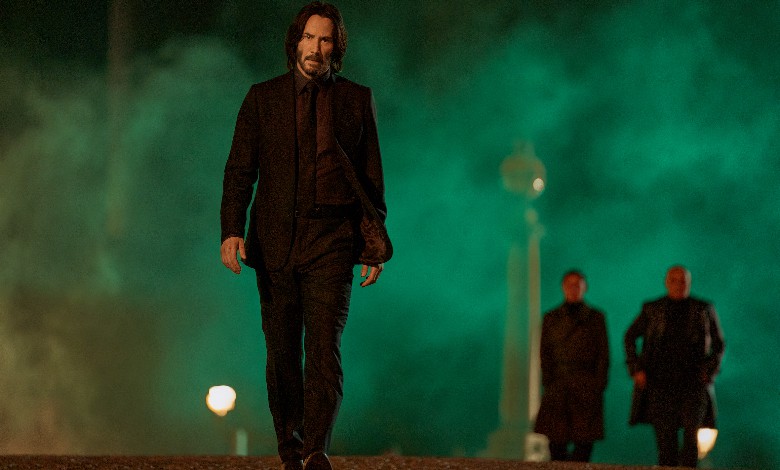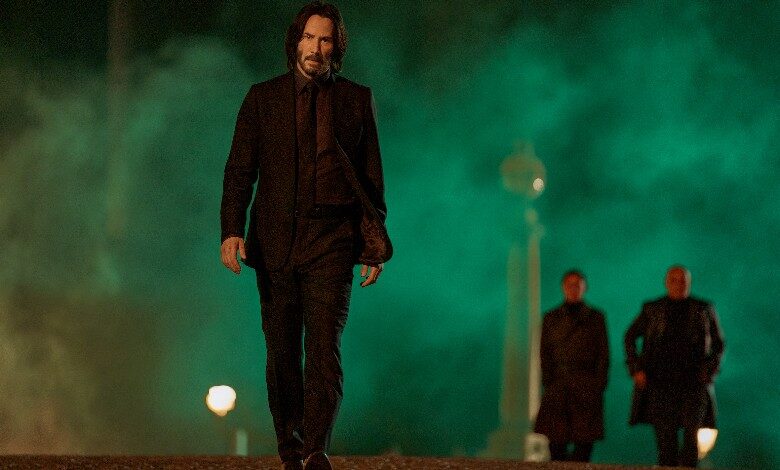 The "Fast & Furious" saga officially jumped the shark when two "family" members found themselves in outer space in the ninth installment.
C'mon, man!
The "John Wick" franchise hasn't reached that point. "John Wick: Chapter 4" offers more blistering action, salacious kills and new characters sure to keep fans cheering.
But dear Mr. Wick, played with deadpan panache by Keanu Reeves, is a tad on the indestructible side this time around. That's not just courtesy of his Kevlar suit which repels bullets with ease.
That unwelcome shift, and a third-act bid for sympathy that falls oddly flat, suggest the next "Wick" adventure may soon go the full "Furious."
For now, "Chapter 4" is a delirious blast brimming with guilty pleasures, glorious destruction and death.
So. Much. Death.
The "John Wick" films are doing their part to reduce the planet's population one sick kill at a time.
John Wick: Chapter 4 Trailer #1 (2023)
The story opens with John still adrift from the High Table, the assassin network that turned on him in a big way during "John Wick Chapter 3: Parabellum." Now, he's scrambling to officially sever ties with the group before it severs him from his ability to breathe.
And, we assume, hit the nearest animal rescue. Dude loves dogs.
That means a reunion with old friends, from Ian McShane's Winston and his trusty concierge Charon (Lance Reddick, who tragically died days before the film's release) to newly discovered pals. That includes Shimazu (Hiroyuki Sanada) and his daughter (singer/actress Rina Sawayama), a skilled fighter who cries out for a spinoff franchise.
Then again, so did Halle Berry in "Parabellum" and we've yet to see that happen.
John learns of a tricky path to freedom, but it means joining forces with a Russian clan none too eager to embrace him. And, of course, keeping dozens and dozens of assassins off his scent.
A kindhearted soul, a wonderful human, and a true friend. Be seeing you, Lance Reddick. pic.twitter.com/btBpdjLY5d

— John Wick: Chapter 4 (@JohnWickMovie) March 17, 2023
Two particular killers grab John's attention (and ours). Donnie Yen plays Caine, a High Table killer tasked with offing his old friend. A job's a job, but Caine doesn't have to like it.
Caine is blind, but that hardly slows him down. It's one of many elements that must be ignored to fully engage with the story. Yen makes that easier, courtesy of the star's quiet charisma and sly fighting style.
There's also Mr. Nobody (Shamier Anderson), another assassin who loves dogs AND is eager to get rich via John's scalp.
The film's gargantuan run time must be filled, of course, which means John challenges the High Table's Marquis (Bill Skarsgård) to a duel. Yes, Skarsgard's cold-hearted leader adds another sublime character in a series flooded with them.
The most unexpected treat? Meet Killa (an unrecognizable Scott Adkins buried in a fat suit). He's a mountain of a man, and his presence (and fighting chops) give "Chapter 4" a mid-film NOS boost.
View this post on Instagram
The latest "Wick" joins the pantheon of, "oh my gosh, is this movie gonna end?" running times. No film of its ilk should flirt with the three-hour mark, but "Wick" rarely leaves us bored. The action sequences are deliberate, intense and robustly fresh.
You'd think director Chad Stahelski would run out of novel ways to kill random thugs. Not even close. Each action smorgasbord serves up inventive chaos amidst production design appropriately multiple cultures with glee.
The 58-year-old Reeves never reveals the passage of time, even if he's rarely called upon to, you know, act.
You may feel queasy thinking about how numb we've become to the corpse stacking up like cordwood courtesy of the "Wick" franchise. And if you try to piece the plot together your brain may start to hurt.
Leave that for another day. We're here for big-screen adventure, and "Chapter 4" delivers … and delivers … and (well, it is 169 minutes long!).
HiT or Miss: "John Wick: Chapter 4" delivers a spirited ride that demands you let it wash over you without thinking about any one element too long.