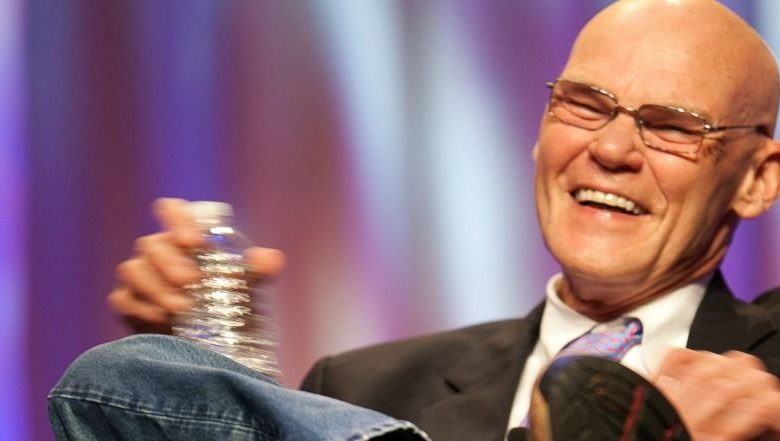 Since then, his colorful turns of phrase, instantly recognizable Louisiana twang and intense features have garnered him countless gigs as both a liberal pundit and as a pitchman for numerous products including Pepsi.
Carville and Matalin: Finding love across the aisle
The '92 campaign also helped him find his wife, Mary Matalin, who was President George H.W. Bush's prime strategist that year.
Their improbable yet enduring union across party lines has been the stuff of legend, but it also has no doubt prepared him for an even more improbable gig this weekend: interviewing Republican firebrand Sarah Palin at Politicon in Pasadena, Calif. this weekend.
As he prepared for the trip out west from his home in Washington, D.C., Carville shared insights into what he and Palin will talk about.
Full video: Sarah Palin endorses Donald Trump
"I'll ask Sarah about when she ran for VP, the experiences she had, her support for Trump when the rest of the party is less enthusiastic of rallying around him," says Carville. "She's been critical of the Republican Party establishment.
"Everyone knows I'm not going to vote for her, but instead of arguing, I'll get her insights into the future of the party, what it's like getting thrust on the ticket like this and how it changed her life. I hope they're interesting conversations and get some insight into her beyond the caricature of her in the lame stream media. I'm really not into asking her who the president of Uzbekistan is. That's not what I'm interested in."
One thing that Carville has taken an interest in is how Donald Trump managed to best a field of 16 other party stalwarts to become the presumptive Republican nominee.
"How did this happen? You had 17 people: nine governors or former governors, former senators, the foremost pediatric surgeon in the world and a woman CEO of a Fortune 500 company, and Trump as a Manhattan real estate mogul," says Carville.
"He exposed a significant part of the Republican base that had it with free trade, liberal immigration, and lower taxes on higher incomes. He basically came in and said 'this did nothing for you or the country' and blew up the party in the process. He completely destroyed every tenet of the party and proved himself to be far superior to the candidates with the rank and file.
Herman Cain on Donald Trump vs. the GOP establishment
"Now, the people who are supposed to make up the upper echelons of the Republican Party, by and large, these people hate Republican voters," Carville opines. "They're mad at them, don't understand them, are flummoxed and Republican voters hate him least. That's an unusual place for a party to be and what I want to explore with Palin. Usually the voters like some aspect of the party leadership and what they stand for, and in this case they can't stand them."
To hear the rest of the interview on the "Kozversations" podcast on the Radio Titans podcast network, in which he discusses his thoughts on the 2016 election campaign and how he wound up working for Fox News, visit the "Kozversations" Spreaker page.
---
Carl Kozlowski is founder and Chief Creative Officer at Radio Titans (www.radiotitans.com), and host/cohost of its shows "Grown-Ass Men," "Pajama Party," "The Koz Effect" and "Kozversations," plus Chief Guest Booker Winner of the world-famous Laugh Factory's "America's Funniest Reporter" contest.