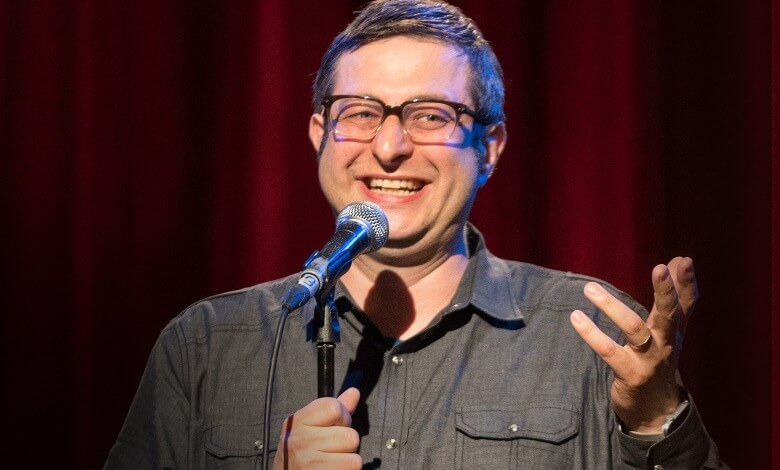 Eugene Mirman is best known for voicing Gene Belcher on Fox's long-running "Bob's Burgers."
To his comedy peers, the comic is the brainchild of the "Eugene Mirman Comedy Festival," a beloved event dedicated to alt-comedy theatrics.
"It Started as a Joke" avoids Mirman's animated fame to focus on the festival's final installment. It's a love letter to the comedy community and, for much of its running time, not much else. The experience is like hearing a bevy of inside jokes without knowing the punch lines or the players.
It's hard to begrudge a documentary like "It Started as a Joke." The festival as well as its founder have their hearts in the right place. It's still a slog that feels inadequate for a feature-length documentary until the narrative takes a deeply personal turn.
It Started As A Joke starring Eugene Mirman | Trailer
"Joke" assembles a who's who of modern comedy, including Wyatt Cenac, Mike Birbiglia, Kumail Nanjiani, Michael Showalter, Jon Glaser and Bobcat Goldthwait.
The emphasis, we're told, is on eccentric voices who don't align with mainstream crowds. Yet many of the players here have done just that. It's surreal to watch Jim Gaffigan, for example, share his riff on his wife's brain tumor knowing he told the same jokes on his Amazon Prime special "Nobel Ape."
Gaffigan is a comedic genius, but he's no one's idea of an alt-style talent.
The documentary veers from profiling Mirman to highlighting festival bits most of us missed over the event's 10-year run. Again, the festival didn't launch talent in any traditional sense. The players are mostly well known for a variety of projects. And more power to them.
The comedy perspectives are equally narrow – urbane and New York-centric. That's fine, too, but it yields a documentary out of touch for the masses.
#SXSW: Meet director Julie Smith Clem – "It Started As A Joke" https://t.co/7seQ9Xs6uk

"'It Started As A Joke' is a documentary that chronicles the decade-long run of the Eugene Mirman Comedy Festival in Brooklyn." pic.twitter.com/iVgdTXJr7J

— Melissa Silverstein (@melsil) March 12, 2019
Left unsaid here: there's never been a better time to be a niche comic.
Consider all the specialty platforms craving fresh content, from podcasts delivering unusual voices to niche streaming services hungry for atypical takes. It doesn't help that the jokes heard here fall in the "hit and miss" category.
Even the direct hits earn gentle laughs at best.
Janeane Garofalo comes off poorly in "Joke," sounding both defeated and sullen while describing her atypical stand-up approach.
The film goes out of its way to avoid Mirman's "Burger" times, save appearances by co-stars H. Jon Benjamin and Kristen Schaal as well as a very funny Mirman bit about sperm banks. Yes, he makes it work, and how.
Bob's Burgers interview with Eugene Mirman - "Gene" - Season 4
"It Started as a Joke" shifts violently in the final 20 minutes, focusing on Mirman's family. The stakes soar far beyond well-executed gags and communal bonding. In the process, Mirman leans hard on his irreverent humor to process his pain.
Suddenly, a pedestrian documentary has its purpose.
"Joke" ably deconstructs how humor, especially when crafted by professionals, can be an exquisite balm. It makes us wish the documentary touched on Cancel Culture and its penchant for extinguishing the "wrong" jokes.
For Mirman and his peers, the darkest humor can be the most healing.
HiT or Miss: "It Started as a Joke" will be embraced, if not cheered by coastal elites eager to see their favorite comics assembled in one documentary. Everyone else will find it all diverting until its gut punch of a finale.